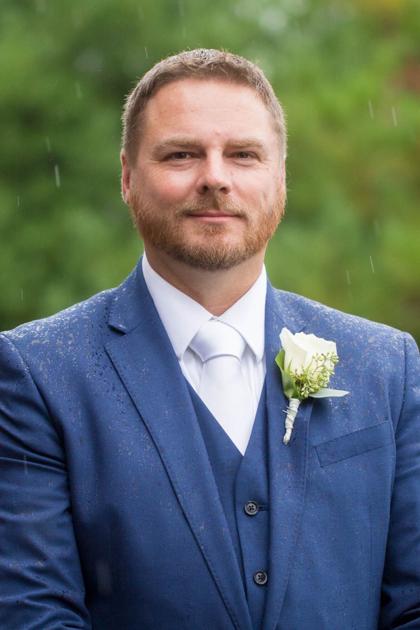 On Oct. 30, 2021, Jerry Matzdorf passed away at the age of 46 while holding the hand of his loving wife.
Jerry was born on July 15, 1975 to Arthur and Wanda Matzdorf. He graduated from Plymouth High School, class of 1993, and the University of Wisconsin-Milwaukee with his Bachelor's Degree in Management Information Systems, class of 1999. He enjoyed his current employment with CertaPro Painters as a commercial sales associate, where he could utilize his favorite skill—making connections with people. He most recently represented the city he loved by serving as an elected city alderman. Jerry also served on the Board of Directors for the Plymouth Mill Pond Lake Association, was proud to be a Plymouth Chamber of Commerce Ambassador and would always be one of the first to volunteer for many special events throughout Plymouth.
He married his best friend, Angie, in 2019 and never stopped going on adventures including their most recent hiking trip to the Dakotas to celebrate their second wedding anniversary. Although they did not have enough time together, they filled their eight years together with a lifetime of memories.
There were few things Jerry enjoyed more than a good stogie and two fingers of whiskey, but if they needed to be named they would include riding his Harley all the way to Sturgis for the 75th Rally, extensive travel including a two-week honeymoon throughout Italy, a good game of sheepshead, visiting and renovating their new cabin "Up North" with his self-taught handy man skills, participating in the high school Junge Kameraden German Band where he grew his pride for his German heritage and a love for lederhosen, homebrewing and making wine while anticipating the end result, and being a huge history buff with a special interest in World War II and was looking forward to a future trip to Normandy with Sawyer.
He will be lovingly remembered by his wife Angie; children Sawyer Paape and Alison Matzdorf; parents Arthur and Wanda Matzdorf; brother Kevin (Sara) Matzdorf; nephews Beau, Reid and Jack Dalton; maternal grandparents Merlin and Doris Mae Ninmer; uncle Randy (Carol) Ninmer; cousins Adam and Lauren Ninmer; aunt Paula (John) Mahloch; aunt Gail Matzdorf; aunt Carol Flanigan; in-laws Charlie and Jeanne Paape; and brother-in-law Joey Paape (Sara). Jerry will be greatly missed by his many friends, extended family and his three spoiled dogs Lennon, Molly and Katie.
Jerry was predeceased by his paternal grandparents Willard and Lucille Matzdorff.
A visitation to celebrate Jerry will be held on Saturday, Nov. 6 from 11 a.m. to 3 p.m. at the Suchon Funeral Home of Plymouth. Masks will be required. Though there are many opinions on masks and COVID, ours is that everyone will be safest if our family requires you to wear one during the visitation.
In lieu of flowers, a memorial fund has been established in Jerry's name.
The Suchon Funeral Home is assisting the family. For online condolences, please visit www.suchonfh.com.
The family would like to extend their sincerest thank you to the paramedics with Orange Cross Ambulance, the doctors and staff (especially the ICU nursing staff) at both Aurora Memorial Hospital and St. Luke's Medical Hospital for their exceptional care and compassion during this difficult time.
>>> Don't Miss Today's BEST Amazon Deals!
Originally Appeared Here