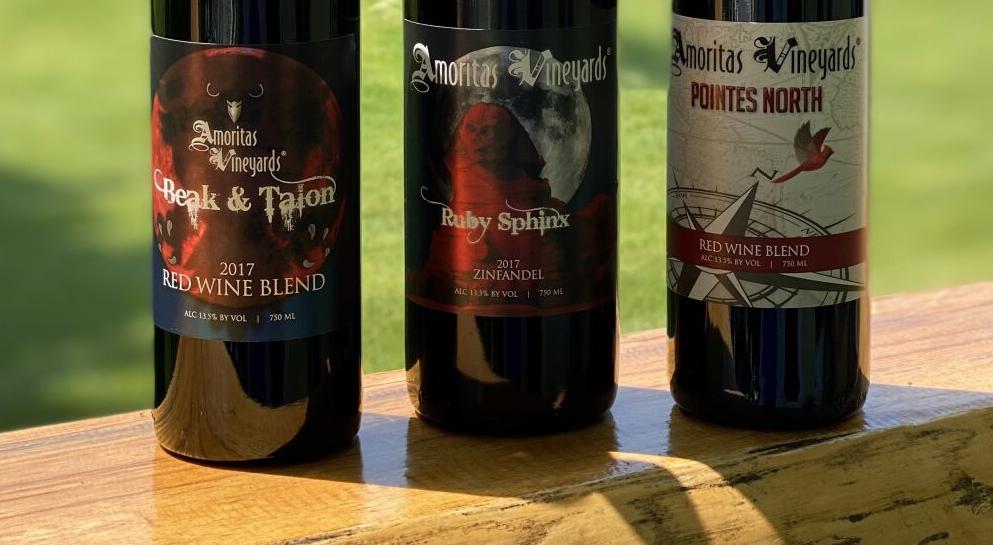 LAKE LEELANAU — If anyone is going to turn a lark into an actual event, it would be the Chief Jerky Procurer.
Following the success of its Mothers Day Weekend Truffle and Flight Pairing, Amoritas Vineyards in Lake Leelanau is giving fathers their turn at the tasting table.
But the wine-food pairing is a little different.
The Amoritas Vineyard Beef Jerky and Wine event is scheduled for June 18-20. Three reds from the Leelanau County winery are paired with three of the leading purveyors of dehydrated steak strips: Dockside Market, Maxbauer's Meat Market and Deering's Meat Market.
The idea for the event is Matthew Goodell, who owns Amoritas Vineyard with his father, Michael, and sister, Emily. Normally the operations officer at Amoritas, Matthew Goodell has added CJP (Chief Jerky Procurer) to his role.
"It's my new official title, at least for the next couple of weeks," Matthew Goodell said.
After the success of the Mother's Day Weekend wine and truffle pairings from Water's Edge Sweet Tooth in Traverse City, Matthew Goodell was looking to capitalize on the concept again in June.
"That was very popular and it seemed like a good idea," he said. "Being a father myself, we decided to follow it up with something a little more dad-centric like jerky."
And for anyone who questions jerky being a father-approved food, Matthew Goodell quickly dispelled that notion with his temporary title.
"I'm not the CJP for nothing," he said.
As with most good ideas (and a few bad ones), the concept wasn't necessarily serious at first. But then it germinated and worked well on closer examination.
"He's the one who went out and actually got the jerky," Michael Goodell said of his son. "It's usually, 'Ha, ha. Funny.' Then he went out and got the different jerkies and we found out, with certain wines, they pair really well."
The event will be held at the Amoritas Vineyards Tasting Room, 6701 E. Duck Lake Road (M-204). Cost is $18, or $8 for Amoritas wine club members.
In addition to putting a new twist on wine and food pairings, the event also dispels the stereotype of women preferring wine and men gravitating toward beer.
"We wanted to show our appreciation for fathers out there and we know there are plenty of dads that enjoy wine and maybe would need an excuse to get out and enjoy them," Matthew Goodell said.
Participants can vote for their favorite jerky. Those who vote for the event's most popular jerky will be entered into a random drawing for a $25 gift certificate to the winning provider.
The wine-jerky pairings will be:
Deering's Market paired with Pointes North, an all-Michigan blend
Dockside Market with 2016 Beak & Talon, blend of Cabernet Sauvignon and Merlot
Maxbauers Meat Market with 2017 Ruby Sphinx, a California Zinfandel
Josh Miller, the owner of Dockside Market in Greilickville, jumped at the chance to put a recipe that is more than 40 years old up against the others. Dockside Market has had the same main jerky maker for more than 20 years, Bob Mikowski.
"We're excited to be a part of it," Miller said. "Matt us a customer of the store and he likes our Dockside original recipe and wanted to put it with the wines we were using.
"It's fun. We're also in good company with Deering's and Maxbauer's."
The Mother's Day weekend event featured three flights of red and white wine with six different truffles. Matthew Goodell said the Father's Day weekend pairing will feature three red wines with three original flavors of jerky. At least for now.
"If this event goes well, we may try to expand with different flavored jerkies and different producers," Matthew Goodell said.
While Michael Goodell isn't sure what response to expect for the June 18-20 event, he advised contacting the vineyard in advance at www.amoritasvineyards.com or (231) 994-2300.
"It's been really well received," the elder Goodell said. "I think reservations would be a good idea."
Amoritas Vineyards is a family operation in Leelanau County. Michael Goodell says his business card reads: "Chief Financial Officer/Unpaid field hand."
Michael Goodell said he bought land for grapes on Amore Road in 2011 and planted the first grapes in 2013 "just in time for the two coldest winters." Amoritas, which now has 16 acres of grapes. It had a small harvest in 2015 followed by its first substantial grape harvest in 2016.
A tasting room opened in December 2017.
Daughter Emily Goodell is the viticulturalist and safety officer. She has a master's degree from University of California Davis and its wine program. Matthew Goodell has an associates degree from Michigan State University through Northwestern Michigan College and a degree in retail and consumer services from the University of Arizona.
"They're sort of the brains of the operation," Michael Goodell said.
Michael Goodell said his children keep coming up with ideas like the Father's Day Weekend Beef Jerky and Wine event.
"They're always looking at things with fresh eyes, I suppose," he said. "That doesn't mean everything we do is experimental."
>>> Don't Miss Today's BEST Amazon Deals!
Originally Appeared Here