Jeffrey Benedict and My New Favorites to set the stage at Abingdon Vineyards on Saturday at 3 p.m.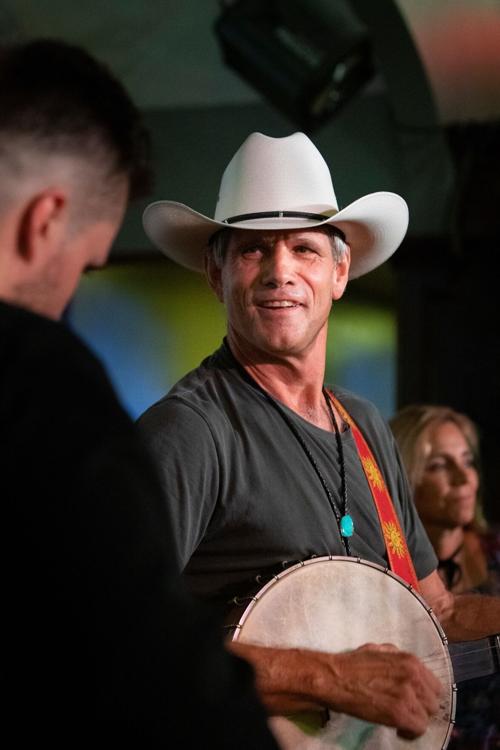 BY TOM NETHERLAND | SPECIAL TO THE HERALD COURIER

Like a car bought fresh off the lot, start a band. Rev it up on a diet of songs loved from styles numerous though seemingly unconnected.
That's essentially what Jeffrey Benedict did when he established My New Favorites.
Nine years later, he steers his outfit to Abingdon Vineyards on Saturday in Abingdon. It's a socially distanced show, the first performance of any kind for Benedict's My New Favorites in about six months.
"Because of this damned virus, we haven't been able to get together," said Benedict by phone from his home in Bristol, Tennessee.
For instance, he's written a stack of new songs, none of which the band has been able to practice or record.
"Yeah, this year has been so screwed up," he said. "It's been a mess. The last time we were on stage with this band was in August. Places are closed. We just hunkered down, waiting for this to be over."
While hunkered down, Benedict wrote songs. One of them, "Run, Run Rosalee," struck him with a blow clear to the marrow.
"I sat down to write a song about slavery in America," Benedict said. "The father is a slave, the daughter is a slave. He's telling her to run, run for your life, and he's not going to see her again."
Chances are, the Vineyards audience will not hear "Run, Run Rosalee." The band simply hasn't had time to practice the epic song.
"That's my favorite song I've written lately," Benedict said. "I get goose bumps and cry when I play it for myself."
Typical for most of the bands located within the Tri-Cities, My New Favorites zeroes in on mostly original material. When they perform covers, they're of the Allman Brothers variety or perhaps a dip into Louis Armstrong's considerable vat of jazz — with an Appalachian turn.
See, Benedict plays banjo, clawhammer style. There's nothing rock 'n' roll or jazzy about that. It's pure Appalachian.
"It's about combining music styles and songwriting to bring something to Appalachia and honky-tonk music that you don't expect," Benedict said. "It's danceable. If there's something about our sound that really jumps out at people, it's doing things with the clawhammer banjo that people don't expect us to do."
Like?
"We might do Michael Jackson's 'Beat it,'" Benedict said.
Seriously?
"Yeah, seriously," he said. "We can play the Allman Brothers on clawhammer banjo. We've managed that blend. My path is rooted in a lot of traditional music, rock 'n' roll, country, and jazz. We've actually played 'Minor Swing' by Django Reinhardt and Stephane Grappelli on clawhammer banjo."
Concoctions the likes of which would make Dr. Jekyll yearn and Mr. Hyde grin, such musical recipes energize Benedict.
"One hundred percent," he said. "Music can make me forget that I've been sitting there doing it for three hours."
Whether on stage with My New Favorites, at home writing songs, or simply listening to a favorite from the past, music transports the longtime musician from the here and now. It's a ticket to nirvana.
"It takes me out of time. There is no time when I'm doing music," Benedict said. "Besides, it's cheaper than beer and weed."