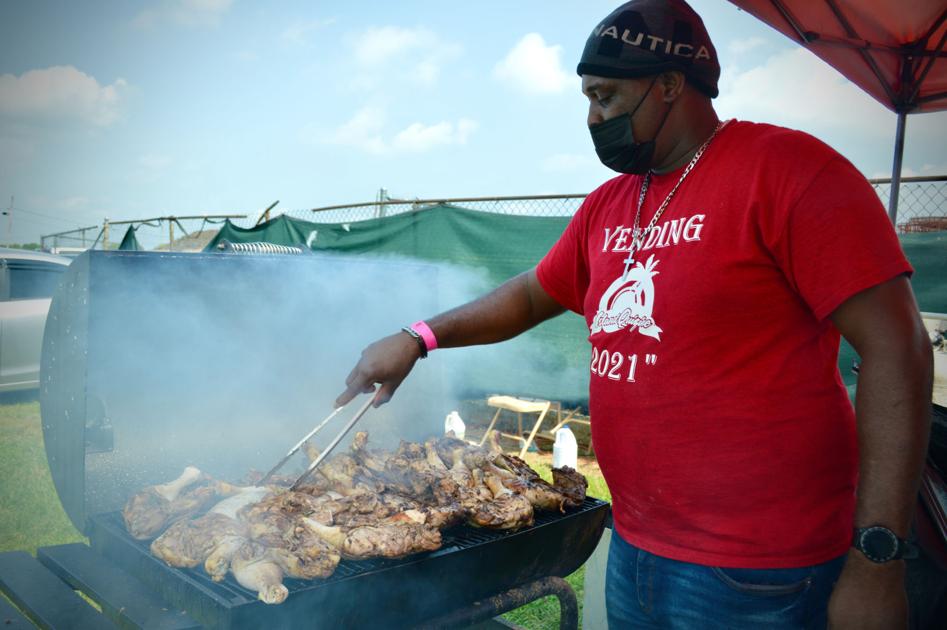 Nicole Hegins spun in a gleeful circle at the Frederick Fairgrounds on Saturday, snapping her fingers as reggae music thrummed through the air. 
"I'm just going to enjoy the blessings of this day," she said happily. 
Hegins and more than a thousand others flocked to Frederick on Saturday for the first-ever TrioFest, a festival celebrating Caribbean cooking and music. For Hegins, the day was extra-special — she was celebrating the recent birth of her first grandchild, a baby girl.  
She came to TrioFest for the music and the camaraderie, she said. "It's great, because everybody, I think, really needed to get out and unwind."
That's what the event's organizers, Vladimir Trench and Phil Wilson, had been hoping for. 
Both men grew up in Jamaica. Festivals featuring live music, wine and plenty of jerk and curry entrees make Trench think of his childhood on the island, he said. 
"People coming together — that's golden," Trench said.  
The festival's name is a reference to the three main components Trench and Wilson wanted to highlight — wine, jerk and curry. 
TrioFest attendees had access to wine tasting and food vendors, most of which offered traditional Caribbean cuisine like jerk chicken, curries, oxtails, rice and pasta dishes. Vendors offering other products — from bath soaps to picture books — had booths set up as well, all while a lively reggae concert played from a large stage.
People hauled pop-up tents and folding chairs from miles away to set up in the grass and enjoy the event, which began at noon and lasted until 8 p.m.
Kara McMillan came to sell her handmade bath and body products. Her 17-month-old daughter, Maia, ran laughing across the field while her mom kept an eye on her from behind the table.
McMillan said she was surprised at the strength of the crowd. 
"For the first one, it's a pretty big turnout," she said. 
Trench hopes to make TrioFest an annual event in Frederick, he said. He'd been hard at work planning Fest of Spring — another Caribbean festival scheduled for May 2020 — when the pandemic hit. 
That's when he and Wilson — who had the idea for TrioFest three years ago and was searching for a venue — started working together. The fairgrounds offered the wide expanse of outdoor space they'd been looking for. 
The pair had organized all-inclusive bus trips to the festival, leaving from cities as far away as Philadelphia and Richmond. But when the delta variant of the coronavirus began picking up, many people got nervous, Trench said, and the bus trips fell apart. 
Still, crowds poured into the fairgrounds all afternoon. 
While one security guard estimated 3,000 people would stop by the festival throughout the day, Trench and Williams said they hoped for a much bigger turnout next year and a bigger one the year after that. He's particularly excited about the potential to grow appreciation for authentic Caribbean food in the region.
"Not all good ideas work the first time," Trench said. "Look at the airplane, look at the rocket."
Trench moved to Frederick in 2018 from Montgomery County. 
"So now, this is my home," he said. "And I want to do something, I want to make a mark. I want to bring something to the county." 
Travis Francis traveled from Baltimore County for the festival, toting a tent for shade and a chair to sit in while he enjoyed the food. He hadn't visited the fairgrounds before, but shortly after arriving, he said he liked what he saw.
"I'd come back," Francis said.
>>> Don't Miss Today's BEST Amazon Deals!
Originally Appeared Here