It's rosé season, and these two posh pinks personify perfection for the coming summer sun.


Rosé season means two things to wine writers – a desperate search for the é on the keyboard and a plethora of pink puns.
Well I have the é nailed on cut and paste and am perfecty in the pink for writing about the wine that the UK loves almost as much as prosecco.
Why do we like rosé so much? Why do we appreciate a drop of pink even more than Lady Penelope does?
Well do have a soft spot roses the flowers, as well roses the chocolates, so perhaps it's hardwired?
And perhaps we like rosé because it solves the problem of what to drink wine-wise in summer. Why choose between red and white when you can have both in one glass?
Of course, let's be clear, rosé is not a mix of red and white wine at all; fun fact it's actually illegal to do that in France. Although it being France many other activities that one would have thought further beyond the pale aren't.
Instead for top quality rosé white wine grapes with black skins are used. The skin, that is normally quickly taken away when making a pure white wine, is instead left in contact with the juice for up to 24 hours. This gives it the blush we so love.
And the colour is important, as a general rule the subtler the pink the better the wine.
UP | Ultimate Provence and Château de Berne are top wines from Provence.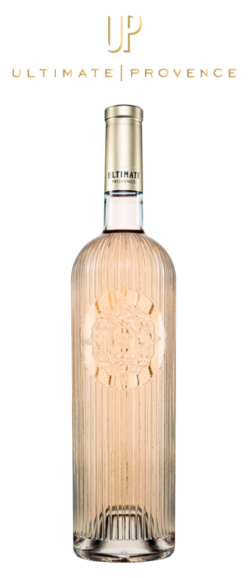 UP | Ultimate Provence is a very modern winery that uses a very recognisable, art-deco bottle for their rosé. Their UP Rosé is a blend of Syrah, Cinsault, Grenache and Rolle, with classic Provencal rosé notes of red berries as well as fresh citrus and herbaceous pine.
Slightly tart, it pairs very well with food especially seafood, but is also of course a classy glassful for welcoming guests to your garden, with 'that' bottle bound to also provoke comment.
And if you're looking for a VIP UP experience when we are all released, UP | Ultimate Provence winery set in  beautiful grounds on the edge of the Plaine des Maures nature reserve in Provence and is also home to a contemporary boutique hotel.
With 15 rooms and a full range of apartment-style accommodation, it has a bistronomy-style UP Restaurant, cocktail bar, retail space and more. Definitely worth checking and better than AirBnB.
---

More traditional in both bottle and outlook, Château de Berne has been making wine for  at least 200 years. Their flagship rosé, Berne Or, is a fresh and crisp blend of Grenache, Cinsault and Syrah with floral notes of freesia and stone-fruit notes, including peach and apricot, on the palate.
A reasonably priced quality rosé it's a Sunday lunch outside kind of wine that brings a bit of Provence to any postcode.
Château de Berne is also has a five-star Relais & Château estate, with a hotel and spa, private villa accommodation, as well as a cocktail bar, Michelin-starred restaurant, Le Jardin de Berne, and a cookery school. Château de Bernesources seasonal and local ingredients in its restaurants and farms its grapes organically.
Both rosés are imported by MDCV UK and  available to buy from Waitrose, Waitrose Cellar, The Wine Caverns online and the Kingscote Estate Vineyards retail shops in Bluewater and Lakeside, with a recommended retail price of £17.99.
Berne Or is available exclusively from Waitrose and Waitrose Cellar, with an RRP £13.49 (Currently on offer in Waitrose at £9.99)