How ravens inspired Samantha Sheehan's Poe wines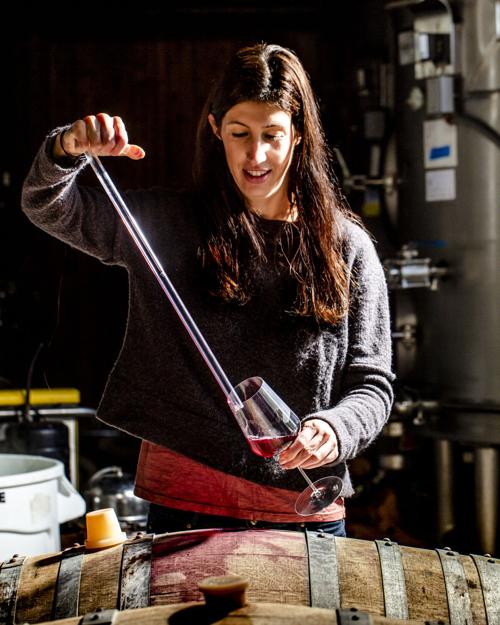 KATHLEEN REYNOLDS

For many, ravens symbolize doom and despair. To Napa winemaker Samantha Sheehan, whose Poe Wine receives rave reviews, they're symbols of good luck.
"I grew up in Toluca Lake in Los Angeles, near a pond and golf course," said Sheehan. "Universal Studios was in the hills on the far side, and I could see it from my upstairs bedroom window. Years before, they'd shot a movie called 'The Raven' and when it was finished, they let loose the wild birds from the film. Ravens are smart and the golf course with a pond was perfect for them. They'd roost in the willow tree outside my window and were interesting to watch."
Support local news coverage and the people who report it by subscribing to the Napa Valley Register. Special offer: $1 for your first six months!
Years later while she was learning the winemaking business, she worked for Ferrington Vineyard in Anderson Valley. The ravens that lived there (supposedly released after filming "The Birds" in nearby Bodega) reminded her of home.
Not surprisingly, when she became a full-fledged winemaker in 2009, she named her wine Poe in honor of the author of the foreboding poem "The Raven." The random numbers on the label are a tribute to Poe's fascination with cryptology, which means solving codes.
"Growing up in Los Angeles, I knew nothing about wine," said Sheehan. "I became friends with a French importer and traveled to Burgundy. I was about to enter Tulane University to go to law school." She paused, then said, "I changed my mind."
She eventually studied financing, but her heart was with the grapes. Although her parents weren't thrilled with the idea, she took a harvest job at a custom crush facility.
"They were understaffed. My hours were 7 a.m. to 2 a.m., six days a week. I'd pick up bins, dump the grapes, rush to rake them, then wash the bin. It was exhausting. Still, it was a delight; much better than working at (accounting firm) Deloite."
Aside from taking a few enology classes at UC Davis, Sheehan learned on the job.
"I found the community of winemakers more valuable to me than school. They answered my questions and were generous with their knowledge."
Poe wines are inspired by Sheehan's appreciation of the wines of Burgundy and Champagne. She uses the traditional Champagne method for her sparkling wines of rose, chardonnay and pinot noir. In 2013, Sheehan added to her line by making a nouveau wine from Pinot Noir in the style of Beaujolais Nouveau.
Poe wines, made in limited quantities, are sold directly to consumers throughout the United States and to premium restaurants. Local restaurants that carry it include the French Laundry and by the glass at Angele Restaurant. Poe also has a wine club with three different levels.
Her winery has received positive reviews from the San Francisco Chronicle, Bloomberg, LA Weekly, Pinotfile and 7×7.
In 2009, Sheehan began an affordable brand called Ultraviolet Wines.
"Ultraviolet has a lower price point that's made to appeal to newer wine drinkers. It's more restrained in style. Priced at $15.99, it's received great response."
The endeavor that's most recently captured her imagination is her line of citrus aperitifs.
"Called Mommenpop, they can be drunk alone or added to sparkling wine," Sheehan said. "Consumers are changing the way they drink. They're exploring and trying different types of beverages such as ciders and craft beers. Mommenpop is a product that appeals to buyers who want something different."
How do making wine and citrus aperitifs differ?
"Completely," Sheehan said and laughed. "It's taken us five years to figure out citrus. There's completely different equipment. The peak season for citrus is now."
For Mommenpop aperitifs, she sources quality growers and distributors of orange, blood orange and grapefruit.
"I worked with a perfumer, people in the spirits world and chefs. It took a whole community to learn. Citrus only takes six months of production."
Sheehan believes in using minimal-intervention farming, maintaining vineyard biodiversity and using organic grapes. For Mommenpop, she uses only fresh local citrus.
The Good Food Foundation recognizes leaders in quality, sustainability and socially responsible production. Mommenpop d'Pampe earned a 2021 Good Food Award for Spirits in the Western Region.
Sheehan makes Poe at Farella Vineyard in Coombsville. Since neither Poe nor Farella has a facility suitable for wine tasting, in 2017 they teamed with Forlorn Hope Wines and opened Outland Tasting Room at 920 Franklin Street in downtown Napa.
"Outdoor space was limited, so when COVID restrictions occurred, we had no choice but to close the tasting room temporarily," said Sheehan. "Now Zellers owns the property and they've beautifully remodeled the front alleyway with plenty of outdoor seating for Outland."
Whole Foods will soon have Poe among their wine offerings. Other local sources include Acme Fine Wines and Sunshine Foods in St. Helena; Be Bubbly, Outland and Fatted Calf in Napa. Their website for direct purchase is poewines.com.
5 ideas for clever wine storage
These Napa County residents are not getting the COVID-19 vaccine. Here's why. 
Lower COVID-19 case numbers and growing vaccination protection are making visitors more willing to resume travel. 
A hospital spokesperson said the pandemic ravaged revenues of the Providence hospital network, causing a $300 million net operating loss last year.
Following a six-day jury trial in Napa County Superior Court, a jury convicted a 36-year-old Napa man of 17 charges involving child molestation.
Southwest Napa residents are continuing to resist general plan changes that could increase housing density near Foster Road in the next two decades.
An argument escalated into a victim being stabbed with a 6-to-8-inch-long screw, and an arrest on suspicion of assault, police reported.
American Canyon City officials protested a conceptual plan to build a series of six roundabouts to ease Highway 29 congestion. 
Non-fungible tokens are hot among collectors. Will they also work to sell high-end Napa Valley wines?
A big construction project is meant to solve Jameson Canyon traffic tie-ups where Highway 12 meets Interstate 80 in Solano County.
Napa's Cambria hotel should restart construction this month.