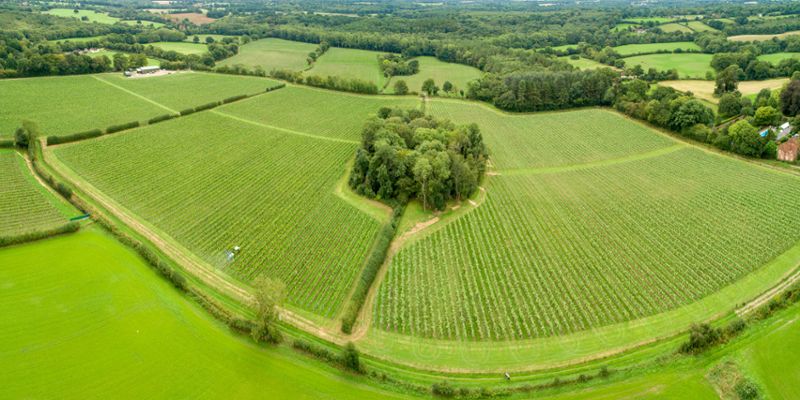 Sussex, UK (04 March 2021) – Highweald Beverages, a British drinks company operating within the English wine and craft beer markets, has joined the UK's top 10% of land-under-vine owners, following its acquisition of Sussex-based Pookchurch Vineyard from a prominent, established UK wine producer.
Pookchurch Vineyard is a 100-acre commercial vineyard that has been producing English sparkling and still wine since 2018, including grape varieties such as Pinot Noir, Pinot Gris, Bacchus and Chardonnay. The acquisition of Pookchurch is the second made through Highweald Beverages' subsidiary brand, Highweald Wine, following the purchase of the award-winning Lakestreet vineyard in early 2020. Collectively, the two vineyards brings Highweald Wine's land-under-vine ownership to 124 acres. 
The acquisition of Pookchurch adds 800% to production across the Highweald Beverages wine portfolio, increasing potential total yield for 2021 to 225 tonnes of grape, as demand for UK wine continues to grow.
Commenting on the acquisition, Robin Langton, General Manager of Highweald Beverages, said: "We're extremely excited to welcome Pookchurch Vineyard to the Highweald Wine portfolio and are currently in the process of creating extensive plans to optimise production and quality. An additional 100-acres of vineyard space hugely expands our opportunities, and I am excited to see the exceptional wines we will make over the coming years."
Investment Director, Stephen Bayliss added: "The purchase of Pookchurch Vineyard not only adds great value to the Highweald Beverages portfolio but evidences our drive and ambition to become one of the major operators within the English wine industry. Joining the top 10% of land-under-vine owners in the UK is an incredible achievement and shows the hard work and dedication that has gone into the Highweald Beverages project since its inception in 2020."
In addition to its English wine businesses, Highweald Beverages also owns two craft breweries – Sussex-based 360° Brewing Company and Welsh brewer, Conwy Brewery. The breweries have a combined brewing capacity of up to 1.5m litres per annum, the equivalent of 4.5m, 330ml cans.
Supported through investment from the Cadman Capital Group, Highweald Beverages aims to further expand its market share within the English drinks market by continuing to seek complementary businesses, vineyards and land within South East England and beyond.
About Highweald Beverages
Highweald Beverages was founded in 2020 and takes its name from the High Weald region of southern England – an Area of Outstanding Natural Beauty that is renowned for its production of stunning English Sparkling Wines, which are made using the classic Champagne method. Since its inception, Highweald Beverages has grown rapidly to acquire ownership of Lakestreet Vineyard, Pookchurch Vineyard, 360° Brewing Company and Conwy Brewery. 
To find out more, please visit www.highwealdbeverages.com.  
About Cadman Capital Group
Cadman Capital Group is a boutique independent specialist private equity investor focused on the lower mid-market space targeting primarily UK SMEs with an EV of between £5m – £25m. Cadman combines creative deal structuring, specialist expertise plus superior levels of support and advice for businesses. Cadman's transactions are structured on a deal-by-deal basis providing flexibility over traditional PE firms both in terms of structuring and investment timescales. 
To find out more, please visit www.cadmancapital.com.