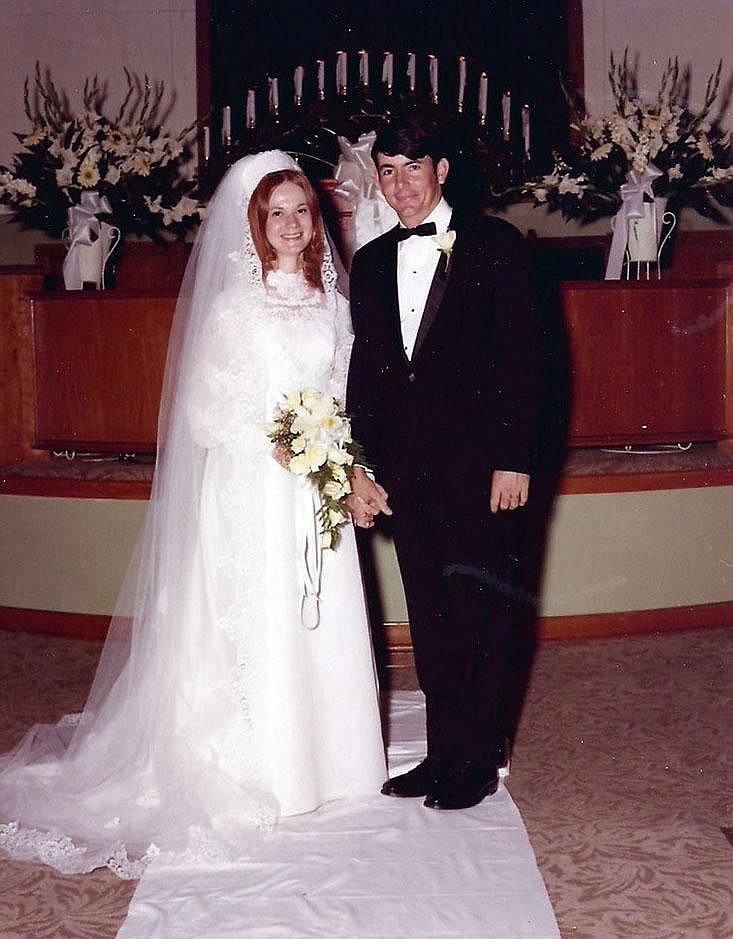 Cheryl Laney and Jim Owens were married on May 8, 1971. They met while working at the hospital at Fort Leonard Wood, Mo. "She caught my eye, and I asked people around the hospital who she was," he says. "The thing I remember is that pretty red hair."
(Special to the Democrat-Gazette)
Jim Owens saw a beautiful girl walking down the hall while he was at work in late 1970 and he knew he had to meet her.
"She caught my eye, and I asked people around the hospital who she was," he says. "The thing I remember is that pretty red hair."
Cheryl Laney was a civilian employee, an administrative assistant to the budget analyst at the hospital, and Jim was in the military and worked for an ear, nose and throat physician.
"The hospital was only five stories and everybody that worked there kind of knew each other," says Jim, who grew up in Story, Ark.
A woman from Cheryl's hometown, St. James, Mo., worked in the same clinic as Jim, and she was happy to introduce them.
They went out to eat together, something they did often in the months after they met.
"There was not a lot to do there," says Cheryl, who was 23 at the time, just months younger than Jim. "We did outdoors-type stuff and went bowling and to movies and just common activities like that."
Cheryl went fishing with Jim on occasion.
"I always got my line tied up or I lost the fish or something, so in the boat I mostly would read while he was fishing," she says.
She and Jim had only been dating for a few months when he arrived at Cheryl's apartment with an engagement ring.
"I was surprised. He just came in one afternoon and he just said, 'We need to get married. Will you marry me?'" Cheryl says. "Of course, I said, 'Oh yes, I will. I'll certainly marry you.'"
They had barely discussed marriage, Cheryl says, but no matter.
"The heart knows what the heart wants, I guess," she says. "He was a pretty perfect fit and one thing led to another."
Jim had the ring in his possession for a couple of days before he proposed but he saw no reason to wait.
"I'm pretty much a spur of the moment type of person and I already knew that's what I wanted to do," he says. "I didn't see any reason to beat around the bush."
The ring fit her perfectly.
"It did not have to be resized or anything. He had done a bit of thinking about it, I guess, and it was quite a very happy moment," she says.
They had a short engagement, partly because Jim was to be discharged from the military soon.
"He was making plans to move to Arkansas and I suppose that was one reason for the speedy wedding," she says.
"I wasn't going to leave her behind. That was all in the plan, I guess, for the both of us," he says, even though he insists he wouldn't have waited to propose regardless of his pending military status.
They exchanged their vows on May 8, 1971, in First Christian Church in St. James. A reception followed at a restaurant in nearby Rolla, Mo.
"We had a big Italian wedding and reception," Jim says. "It was really a thing. I had never seen anything like it, being from Story, Arkansas."
There was a band and ample traditional Italian food — rigatoni and meatballs, spaghetti and other pasta dishes — and there was alcohol.
"My father's family all liked to have a party and dance and sing and so it was quite festive," she says. "We had this beautiful champagne bubbler with all that great food and dancing and everything. It was quite wonderful and I have an album of wedding pictures with all of my family."
They lived in Fort Leonard Wood, Mo., until December 1971, when they moved to Little Rock.
Cheryl remained in civil service after that, and she retired from the Department of Housing and Urban Development in 1996. Jim has been in the flooring business since 1979. He owns Ron Pack Carpet.
Their daughter, Jennifer Owens Buie, lives in Little Rock, with her husband, Matt.
Cheryl didn't know much about cooking when they first married, and she was busy working in those early years, too, so they ate out quite a bit. She has since mastered some of the traditional Italian dishes served at their reception almost 50 years ago.
"My favorite thing in the whole world is spaghetti and meatballs and Cheryl can make it better than they could then or now," Jim says.
Jim and Cheryl enjoy golfing together and have taken classes through the University of Arkansas at Little Rock about wine and cheese pairings and they have enjoyed wine tasting tours in Napa Valley, Calif., and throughout Germany and France. They have a small wine cellar and during the pandemic they have participated in virtual wine tastings.
"We bought the wines and then we got on a Zoom and we literally had a wine tasting with a winemaker in California," Jim says. "We're probably going to do that a couple times more."
The years have flown by, Cheryl says.
"We have done well, Jim has provided for us well," she says, "and with Jennifer and her husband, Matt, we are certainly one happy family."
If you have an interesting how-we-met story or if you know someone who does, please call (501) 425-7228 or email:
More News
The first time I saw my future spouse:
She says: "I thought he was so handsome. He had really dark black hair, and of course it was very short, being in the military. He was very slim and trim. I could tell he was an outdoorsman, and he had a great personality."
He says: "She was just gorgeous. I saw that beautiful hair, and there was just something there the first time I ever saw her. I guess it's hard to explain."
On our wedding day:
She says: My mom and I had gone to look for gowns some time before, and just getting ready with the bridesmaids and having everyone there with us … it was just a really special day."
He says: "I was thinking it was the happiest day of my life. I had really gotten to know her then."
My advice for a long happy marriage:
She says: "Everyone has problems every now and then but talk about them and communicate and work them out."
He says: "We don't necessarily have to agree about everything all the time but we all have to compromise at some point."
Cheryl and Jim Owens will celebrate their 50th anniversary in May. The years have flown by. "We have done well, Jim has provided for us well," she says, "and with Jennifer and her husband, Matt, we are certainly one happy family."
(Special to the Democrat-Gazette)