Monday, October 5th, 2020
It's wine-making season at Vineyard at Evergreen Farm
By Leslie Gartrell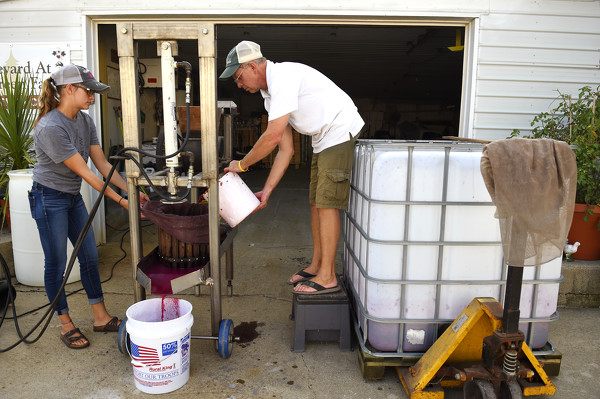 Chris Dues, right, fills his press with grapes. His daughter Gina helps make win. . .
COLDWATER – You don't have to go to Napa Valley or Paris to find a well-crafted bottle of wine.
Chris Dues, 59, has been making wine since he was a teenager. Growing up in Coldwater, Dues said he'd often find wild fruit and berries along the railroad tracks near his home. At 16, he decided to make his first batch of wine made from foraged elderberries.
"I'd just pick it and make wine," he said. "Back then the drinking age was 18, so I wasn't that far off from that (age), and my friends thought it was pretty cool."
The first bottle of wine was terrible, he said, but he was hooked. Dues tinkered with wine while he worked full-time and managed the farm.
Daughter Gina, 23, said she grew up watching her dad make wine. The youngest of the five Dues children said she spent a lot of time at home with her mom and dad.
The father-daughter duo could often be found in the basement, listening to music and making wine. Chris Dues said his wine-making hobby picked up after the majority of his kids had moved out, save for Gina. Once she graduated from high school in 2017, their efforts started to get more serious.
The wine the pair made was popular among friends and family. The two were told they could sell their wine if they wanted. So they did.
After acquiring state and federal wine licenses in 2015, Chris set to work converting the commercial poultry barn he built in 1979 into a wine-tasting room. Finally, the Vineyard at Evergreen Farm opened for business in 2017.
"We're not out to put wine in every retail store," Chris Dues said. "We've got a few retail locations, but for the most part we want to see people's smiling faces when they come in here."
The winery features 20 different types of wine, of which all but two are locally sourced. The Dueses grow their own grapes, elderberries, blackberries, raspberries, rhubarb, peaches, cherries and dandelions for their wines.
What the Dueses don't grow, they get sourced locally. Chris Dues said the grapes for their Vidal Blanc wine, which is a popular grape for "ice wine" production, comes from local growers Chuck and Lisa Alig of Fort Recovery. Tom and Theresa Lochtefeld of Coldwater supply grapes for their Chambourcin variety, which is similar to a Cabernet.
He noted the only fruit they don't grow or get locally are strawberries and pineapples. Some varieties of wine are made with what fruit is available at the time, such as their pumpkin or crabapple wine.
Grapes aren't picky about their soil type and can grow in poor soil, Chris Dues said. However, the type of soil grapes grow in can make a world of

difference when it comes to taste.
"Soil makes a huge difference, and that's something you can't change," he said. "That's what makes some regions more or less popular" to grow grapes.
A wine sommelier can taste agricultural differences through the grapes, and some can even tell where, how and in what type of soil a grape had been grown. But even bad soil can be used to a wine maker's advantage.
"Sometimes that actually works to the wine maker's benefit," he said. "That creates a different flavor level that's going to make something that you're used to trying different than somebody else's."
The Frontenac variety of wine uses a grape formulated by the University of Minnesota to be cold-hardy. The plants and grapes both can withstand Ohio's simmering summers, unpredictable falls and the extremes of winter. Whether the winter is mild or freezing and frosting, the plants can hold their own.
Like all good things worth waiting for, wine-making is a lengthy labor of love. Growing grapes for wine is a three-year process alone.
After planting in spring, the Dueses said they get to "babysit" the grapes over the summer and fall while they grow. The plants are periodically pruned over the winter and into the following spring.
After the first year of growth, the wine-makers said the fruit growth has to be pruned or cut off as soon as it develops so the plants can better establish a root system. Unfortunately, nothing can be done with the fruit that's cut off, save for composting, Chris Dues said.
After three years the grapes will be ready for harvest and production. The Dueses said they recently harvested grapes for their Frontenac wine, which is their first estate wine. A wine-maker has to have control over the whole process, from planting to bottling, to call their wine an estate wine, Chris Dues said.
The Dueses know their grapes are ready for harvest by judging the sugar content in its juice using a refractometer. Since they aim for a standard of 12% alcohol for all of their wine varieties, he said they look for a reading of 21% Brix, which measures the sugar content.
Once harvested, the grapes are crushed and fermented for roughly eight to 10 days. After fermenting comes pressing, which involves separating the juice from the skins, seeds and solids.
This is where the wine-making process differs for the Vineyard at Evergreen Farms. Instead of using a commercial filter to rid the wine of floating yeast and sediment, the Dueses use a still process to naturally filter and clarify their wine.
The fermented wine is moved to a large holding tank where it sits for about a month. After sitting still for so long, the yeast particles naturally settle at the bottom of the holding tank.
The wine then gets racked, or moved, into another vessel to siphon off the clear wine from the cloudy stuff at the bottom of the tank. The vintners say wines are usually racked two or three times. The finished product has the same clarity and taste as that coming from an expensive commercial filter.
That's not to say it won't have some differences. Some fruit wines, such as their apple variety, can vary batch to batch and result in some fruit solids left in the finished product.
Once the wine has been bottled, it's ready for consumption. Their fruit wines are all made the same way as a traditional grape wine. The dandelion wine is the only variety that's made differently, involving a process similar to making tea.
A good bottle of wine won't last long after opening, Gina Dues said. Variables such as the type of wine, where it was purchased and what kind of cork is used can change how long a bottle of wine will last after opening.
Wine from the Vineyard at Evergreen Farm is made to be consumed within seven days of opening or else patrons run the risk of oxidizing their wine. Too much oxygen can leave behind a metallic taste, she said.
A wine stopper won't do much to keep oxygen out, and bottles with screw caps don't stand a chance of lasting long, Chris Dues said. If people want to prolong the life of their wine, the Vineyard at Evergreen Farms sells canisters of wine preserve gas that can be siphoned into the bottle to extend its life.
Not a big drinker? No need to worry. Wine is as good on greens, meats and pasta as it is in a glass.
Cooking with wine is nothing to fear, Gina Dues said. A bottle of their apple wine nearing its peak can be used in a marinade for pork chops or in a pan sauce for chicken. Reducing a wine by simmering will accentuate its dominant characteristics, such as sweetness or acidity. Red wines suit red meats well, such as roasts, stews or even chili when cooked low and slow.
Wines labeled as cooking wines aren't needed to make a good meal, and neither is expensive wine. In fact, a lower-quality wine may be preferred when slow-cooking a dish rather than deglazing a pan. But if you're looking to impress, add a small dash of higher-quality wine at the end of a long braise to make it taste as if that's the wine in which the dish been cooked the whole time.
The Dueses said they're excited to be open for business again and can be found at the Vineyard at Evergreen Farm, 4249 Siegrist-Jutte Road, Coldwater, from 6-10 p.m. Fridays and Saturdays or by appointment. The father-daughter duo said they're excited to bring back mulled wine at the tasting room in apple, pumpkin and pear varieties.