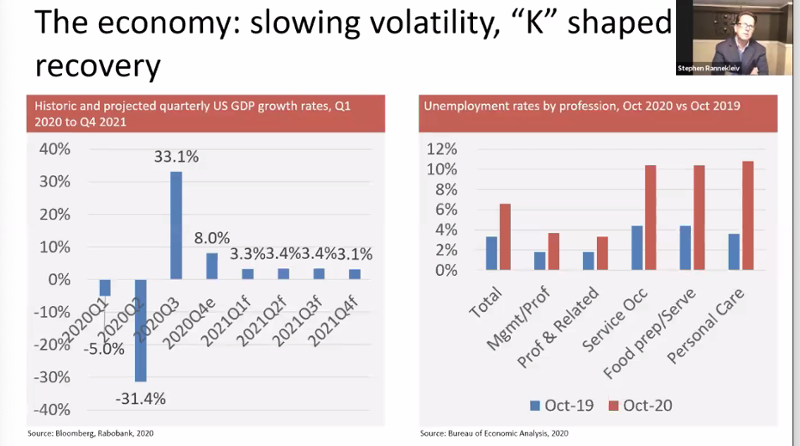 As Americans were focused on domestic crises and disasters in 2020, turmoil was rippling across the globe and that uncertainty may bring new challenges, and opportunities, for the U.S. wine industry.
The biggest new barrier to the foreign wine trade was the additional U.S. tariffs on European wines that went into effect Jan. 12.
While discussing the global wine market during a session at this year's virtual Unified Wine & Grape Symposium, the executive of a French wine and spirits firm said wineries had initially mitigated some of the impacts of the first round of U.S. wine tariffs by adjusting the alcohol levels of their wines and shipping in bulk.
Janko Pelagic who is the CEO of CIVS (Compagnie Internationale de Vins & Spiritueux) said the ongoing decline of the U.S. on-premise market and the new tariffs have compelled many of Europe's major exporters to refocus their efforts on the European market and the U.K.
But Pelagic maintained an optimistic tone and said international trade disputes have been happening for centuries. He used the 1703 Treaty of Methuen as an example. Struck during the War of the Spanish Succession, the treaty essentially shifted England's wine market to Portugal.  "The market always finds a way," he said.
When confronted with disruptions and uncertainties, he said one should focus on new opportunities rather than the challenges. He said the move to e-commerce has helped wineries connect with new and often younger consumers through digital channels.
Pelagic discussed the global market with Turrentine wine and grape brokerage president Steve Fredricks and Stephen Rannekleiv who manages Rabobank's global beverages research group.
Rannekleiv said more global uncertainty is coming in future years as China assumes more power and global influence. He used the recent disputes between China and Australia as an example of how companies seeking to enter the global market can find themselves in the middle of a trade dispute. "If you align with one, you can get sideways with the other," he said. "Now it's harder to be neutral. You have to pick sides and wine is getting caught in the crossfire."
Pelagic said China accounts for a large and growing share of the global luxury market so Europe's top producers have to stay invested there and many have already spent years cultivating strategic relationships. "It just takes a lot of time and energy to have successful relationships over there," he said. 
As the year progresses, Rannekleiv said the U.S. could see something of a "K" recovery in that certain sectors improve steadily while others, such as the service industry, continue to struggle.
He said the on-premise market will be one of the last to recover and likely will be very different than what the wine business remembers as the pre-pandemic normal. Independent, full-service operators, who have traditionally been the best route to the three-tier market for smaller wineries, have suffered the most.
Rannekleiv said volatility in international markets and affordable capital could bring strong interest in the wine business from a diverse group of investors. He said private equity is flush with cash and with their expectations on returns a bit more tempered than in past years they could be looking at wineries and vineyards.
As almond prices have fallen interest in vineyards could be rising. "Almonds used to be the no-brainer investment and now it's become less so," he said. "Maybe vineyards will come up as an alternative, but can you come up with the (winery) contracts?"
The recent investment in Russian River Pinot icon Williams Selyem by the owners of Domain Faiveley in Burgundy is the type of deal that could be more common as global investors seek to park their wealth in the relative stability of the U.S. wine industry.  
Fredricks said the global market is similar to what has been seen in the United States in that it is still dominated by grocery retail and e-commerce.  It appears the Southern Hemisphere will see a slightly smaller than normal crop this vintage and there likely won't be much excess global supply. Just as in the U.S., Fredricks said the struggles in on-premise have resulted in consumers shifting to higher volume, lower priced brands and the market is being driven by demand rather than supply. "The excess inventory has really been whittled down to more of a balance," he said. "Grocery stores around the world are doing better and value wines in those stores are doing better."