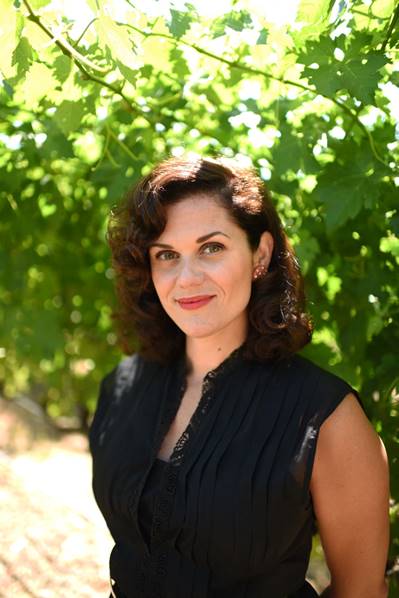 NAPA VALLEY, Calif. – March 2, 2021 – Distinguished Vineyards & Wine Partners (DVWP) is excited to announce the appointment of Ginevra Altomara to the newly created position of trade marketing director. In this role, Altomara will report to DVWP Vice President of Marketing Kate McManus to oversee trade, retail and digital marketing for DVWP's acclaimed portfolio of wineries. The DVWP portfolio includes Argyle Winery in Oregon, MacRostie Winery and Vineyards in Sonoma County, Markham Vineyards and TEXTBOOK in Napa Valley, and DVWP's new philanthropic wine partnership with the James Beard Foundation, Dough Wines.
Altomara began her career in the New York City restaurant industry, where she was the wine and beverage director for such high-profile restaurants as 27 Standard, Artisanal and Django, before moving to the distributor side of the business in 2005. In the years since, Altomara has served as the trade marketing director for Marnier-Lapostolle, which became the first Chilean winery to earn Wine Spectator's "Wine of the Year" honor during her tenure. Altomara went on to become the luxury trade marketing and education manager for the Napa Valley portfolio of Treasury Wine Estates. Prior to joining DVWP, Altomara spent two years with Wine Australia, where she oversaw increasing trade awareness of Brand Australia in the USA. Additionally, Altomara has worked seven harvests in Chile, is a certified advanced sommelier, and is nearing completion of her WSET diploma.
"Ginevra is a wine scholar, an educator, and a passionate storyteller with a gift for sharing her knowledge in a way that is approachable, engaging and fun," said Kate McManus, who took over DVWP's marketing program in 2019. "From our adoption of the Bynder Digital Asset Management system, which will launch next month, to our virtual wine education and sales tools to our highly personalized approach to trade and customer outreach, we are always striving to provide more value and support to the trade partners who play such a key role in driving awareness of our wineries. Ginevra's wealth of experience in all aspects of the wine industry will be an invaluable asset to DVWP, and to our trade partners."
"I was drawn to Distinguished Vineyards for the exceptional quality of the wineries in its portfolio, and the character of the people who guide the company," said Altomara. "I've been proud to include the wines of Markham, MacRostie and Argyle on wine lists in the past, and I am looking forward to building even greater awareness of these iconic American wineries with our friends in the trade. On a personal note, I am also excited to be a part of a company that believes business can be a force for good. From sustainability to social justice and inclusivity, Distinguished Vineyards is helping to chart a new path for social responsibility in the wine industry." 
About Distinguished Vineyards & Wine Partners
Formed in 2008, Distinguished Vineyards & Wine Partners is a dynamic mid-size wine company that includes a collection of iconic wineries from some of the world's most prestigious wine regions. Recognized as benchmarks for their appellations, the Distinguished Vineyards portfolio includes the highly acclaimed Argyle Winery in Oregon's Willamette Valley, MacRostie Winery and Vineyards in Sonoma County, Markham Vineyards and TEXTBOOK in Napa Valley, Wither Hills in New Zealand, and the recent launch of Dough Wines in partnership with the James Beard Foundation. Dedicated to excellence, social equity and sustainability, Distinguished Vineyards includes more than 1,000 acres of sustainably certified estate vineyards. Wither Hills holds Sustainable Winegrowing NZ accreditation, and its estate vineyards are certified organic by BioGro NZ, Argyle in Oregon is LIVE Certified, MacRostie is Certified California Sustainable Winegrowing, and Markham Vineyards is certified both Napa Green and Fish Friendly Farming. For more information, visit www.dvwinepartners.com.