Feb 03: The much talked about Etna wine project started by Angelo Gaja in partnership with Alberto Graci in 2016 has produced both the Etna Red and Etna white wines which have already drawn international excitement and attention since the first Release in 2019 of the Etna Red 2017 and subsequent Releases of Bianco 2018 and 2019, but according to the legendary Angelo Gaja of Barbaresco and the 'Prince of Piedmont', the project is still a Work-in-Progress. Subhash Arora reports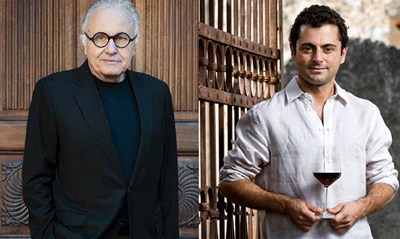 Age is just a number, they say. To 80-year young Angelo Gaja old age begins when regrets outnumber dreams. When he had been around 72 years old, Arora had asked him how he could carry on so sprightly and full of enthusiasm, he said, 'work is my passion that keeps me active and young!' When he passed on the mantle to his children Gaia, Rossana and Giovanni in 2013, one would have thought he was on his way to retirement finally. But lo and behold! In 2016, he was very excited about his new project in Etna and the enthusiasm was inspirational and contagious.
'My curiosity for Etna had been fermenting inside me for decades. During my very first trip in the 1990's with my friend Giacomo Tachis (the late legendary Tuscan enologist, known as the father of Super Tuscan wines, who transformed Italian winemaking in the 1960s while working for Piero Antinori and who helped in creating Sassicaia. Solaia and Tignanello-editor), I was captivated by the charm of that steaming Mount Etna, with its black earth and immaculate snow cap. It was as if it had an elegant mink coat resting on its shoulders!'
Also Read : Gaia Gaja: Dynamics of a Family Business in an Iconic Italian Winemaker
'Etna is the highest altitude wine zone in Europe, and its local varietals, both red and white, are among the latest ripening grapes, clearly an important factor given our concern for climate change. In 2016, thanks to our meeting with Alberto Graci, a young Etna producer in love with his land and believing also in our artisanal working methods, we started a joint venture on the slopes of the volcano. We jointly own 27 acres of vineyards around the areas of Biancavilla, Belpasso and Bronte. We have 74 more acres that we hope to turn into vineyards and build a new wine cellar to be readied in 2022', he says.
Etna, like Langhe (in Piemonte-Gaja's family winery is situated in Barbaresco in Lange), is a wine zone known for its elegant, enigmatic and intriguing wines. 'For years now we've been talking about the high quality reds produced on the northern slopes of Etna, thanks to the pioneers who have proven the value of the varietal Nerello Mascalese,' he says.
'Our challenge was to explore different altitudes, orientations and soils on the southern side of Etna, an area little explored, with Carricante, the white grape varietal which has received little notoriety in the past. Today we are betting on its great potential.'
Also Read : Italy: Gaja and Graci gear up for their First Etna Harvest
'The project has only just begun. Nature will determine the timing of its evolution. We've christened the wine with the name IDDA which means She in Sicilian dialect. It is in honour of Etna-a name by which the locals refer to their Live volcano, expressing amazement and awe not only because it's a mountain with volcano erupting occasionally but also because she projects her own identity and personality.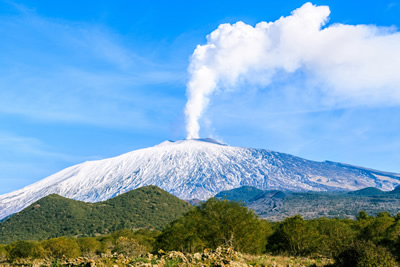 IDDA Rosso 2017 and 2018 (average price $49), and IDDA Bianco 2018 (avg. price $25) and 2019 (avg. price $33) are already available in the market (Source: Wine Searcher).  But the new cellar is still under construction and the Etna project will be launched officially only in 2022. Till then, it is work-in-progress for Gaja and Graci.
The labels have been designed by late Giacomo Bersanetti, who worked with Gaja for more than 30 years. He was unfortunately snatched away by Covid last March, this being his best work for Gaja as the last project. 'The label designs evoke various images and elements: from the three-dimensional altitude of the mountain to our terraced vineyards, says Angelo, expounding, 'the colour of the Mediterranean Sea expresses the white wines while the colour of lava represents the red wines. The expanding pattern represents the Spiral-one of the most common geometric figures in Nature,' he says.
Also Read : Star Interview : La Casa Nostra of Angelo Gaja
This is a project that has been anticipated for many years, being the subject of much excitement in the Italian wine scene, thanks to the team of young Graci and not- as young- Gaja and the duo is expected to add significant value to the already popular Etna region in the world of wine. It might be available in India through Gaja's distributor- Brindco.
Subhash Arora