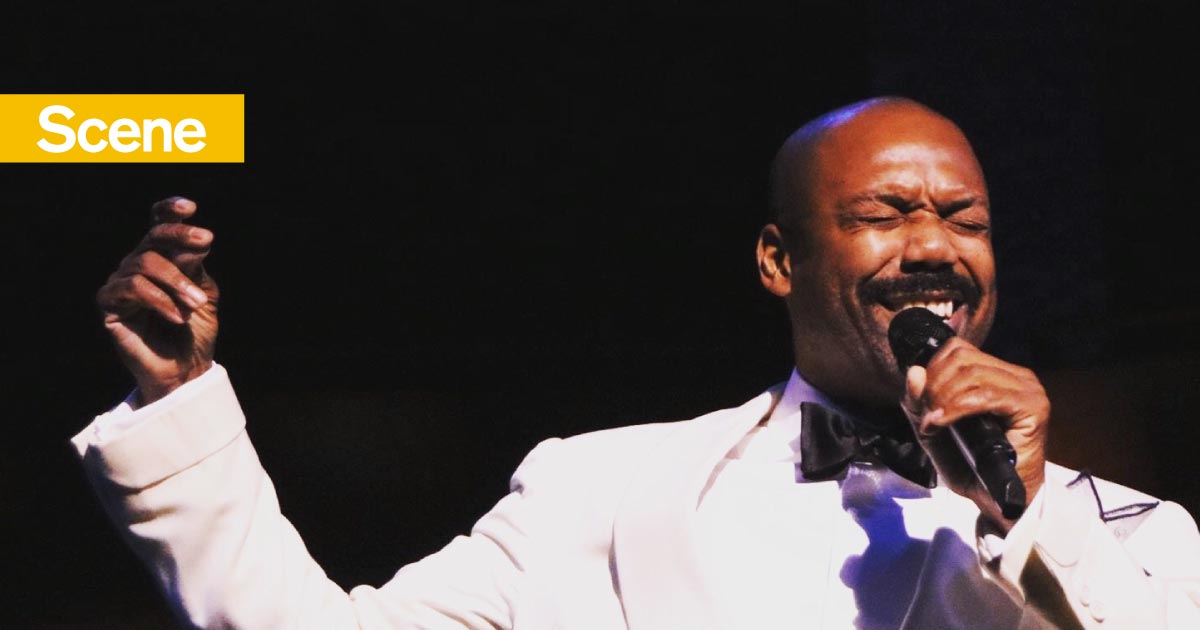 As a young girl in Brooklyn, New York, alumna Dwana Smallwood knew she was a dancer,
but she never dreamed she would become a business owner. "The language I speak is
dance," says the dancer, choreographer and educator who founded Dwana Smallwood Performing
Arts Center in the neighborhood where she grew up. The word "entrepreneur" didn't
register, even as she designed and sewed T- shirts, created custom dolls, and braided
hair to pay for dance classes.
T. Oliver "Tim" Reid (B.M. Music '93) was practically born performing in Gastonia, North Carolina. While at UNCSA,
he had enough savvy to supplement his classical voice degree with dance and acting classes to create his own customized training program for musical
theater. "It's part of my DNA," he says. "I have to be creative, and I have to be
a strong leader."
Louis Jeroslow (B.F.A. Design & Production '95) arrived at UNCSA with a wide range of interests developed through arts magnet
schooling in Miami, Florida. While Design and Production focused his future, his insatiable
desire for knowledge set the stage for an extraordinarily varied career, from Blue
Man Group to winemaking.
Since discovering theater in a sixth-grade writing assignment, Sean Murray (B.F.A.
Drama '89) nurtured a goal of becoming an actor. After earning his degree, he spent the
next 14 years collecting accolades as an actor, director and producer. Determined
to take ownership of his career trajectory, Murray and his husband, Bill Schmidt,
formed the award-winning Cygnet Theatre in San Diego, California, near where Murray
grew up.
While their experiences are unique, these four alumni share characteristics that are
common among successful entrepreneurs, according to Iris Cole, who teaches a course
for the new academic minor in entrepreneurship that is offered by the Division of Liberal Arts. These characteristics include vision; creativity; people, team and partnership building;
resiliency; and a growth mindset, she says. And the alumni agree that those traits
— if not born at UNCSA — were definitely nurtured in the conservatory environment.
 
After studying in the contemporary dance program at UNCSA, Smallwood became a principal dancer with Alvin Ailey American Dance Theater
for 12 years. During that time, she appeared on "The Oprah Winfrey Show," after which
she was asked by Oprah herself to become the architect of the dance program at the
Oprah Winfrey Leadership Academy for Girls in South Africa. She spent four years there.
While in South Africa, Smallwood had an "aha" moment that led to the next phase in
her career. "That was where I came closer to finding my purpose," she said. Smallwood
felt called to give back to the neighborhood she had grown up in by opening her own
dance school. "Brooklyn had given so much to me. And I wanted not just to give back
but to say thank you. I'm not sure where I would be if that neighborhood had not supported
my dreams."  
Dwana Smallwood helped to develop the dance program for the Oprah Winfrey Leadership
Academy for Girls in South Africa.
In 2013, after returning from the Winfrey Academy, Smallwood followed her vision by
establishing a nonprofit organization and then searching for a facility in Brooklyn.
After one look at a 4,000-square-foot loft with soaring ceilings, skylights and huge
windows, she knew she had found her creative home. "I knew this had to be an arts
space," she says of the former stone-and-granite business. "I knew I could build a
space here where kids could feel safe, be free from bullying and relax in the lobby."
Smallwood recalls helping organize an international tour for the School of Dance while
at UNCSA. Advanced dancers learned how to assemble dance floors and to set up lights,
and then traveled to Europe, taking classes and performing alongside their peers in
Germany, England and Scotland. "I was gathering all the things needed, pulling all
the details together. You have to be prepared for anything and be ready to change
on a dime," she says. "I went so many places I never thought I would go, and met so
many people I wouldn't have met otherwise."  
She says that was good training for starting a business. "Nothing is ever what it
seems. So you adjust, you adapt." 
Reid started flexing his entrepreneurial muscles while a student, connecting with peers
and campus leaders to organize, finance and produce an all-student production of "Little
Shop of Horrors."  
Since graduating, Reid has spent 20 years on Broadway, most recently in the Tony Award-winning
"Hadestown" and "Once on This Island." He also created and produced his own cabaret show, "Drop Me Off In Harlem." Now he
is flexing those same entrepreneurial muscles as a founder of Black Theatre Coalition,
aimed at removing the "illusion of inclusion" in American theater. The coalition works
to reshape the ecosystem for Black theater professionals who have been marginalized
by systemically racist and biased ideology.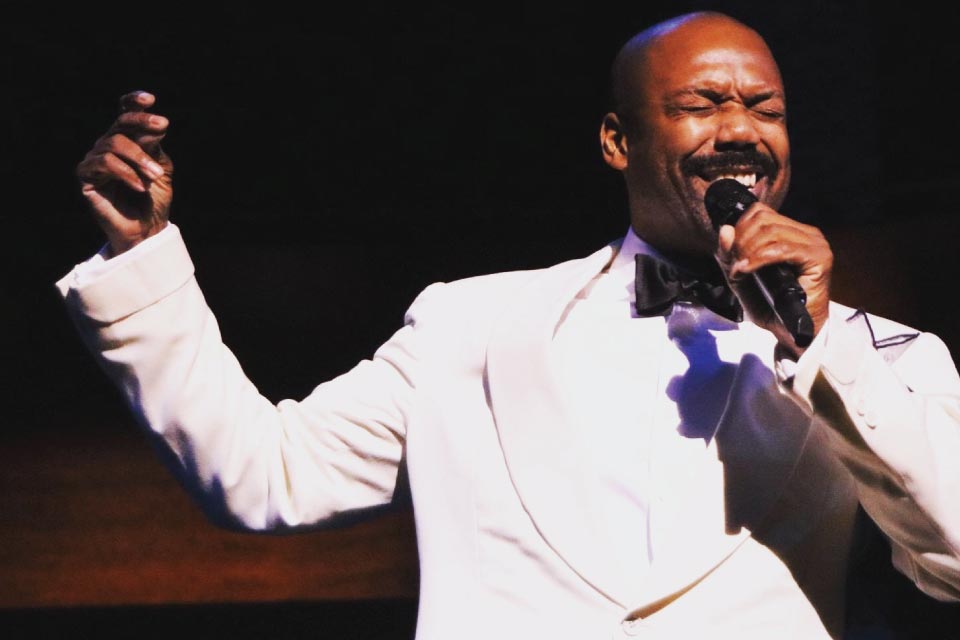 T. Oliver "Tim" Reid performs at an opening night gala for the New York Cabaret Convention.
Reid says he never thought of the performing arts as anything but entrepreneurial.
"It requires all the skills you have as a performer — music, dancing, acting — plus
people skills and communications, being able to fundraise and express your ideas to
get attention," he says. "UNCSA is great for that because there are so many people
with different skills and knowledge, some of the brightest minds."  
While Jeroslow focused on Design and Production's lighting program, he took extra
classes in welding, technical direction, set construction and drawing. "I took every
class they would let me into," he says. "I wanted to absorb everything I could fill
my head with." His driven pursuit of knowledge fueled a career that has encompassed
— often simultaneously — touring with rock bands; building and managing show components
for Blue Man Group; flipping houses; teaching helicopter pilots; and making wine as
a partner at Elkin Creek Vineyard, creators of award-winning European-style wines in North Carolina's Piedmont region.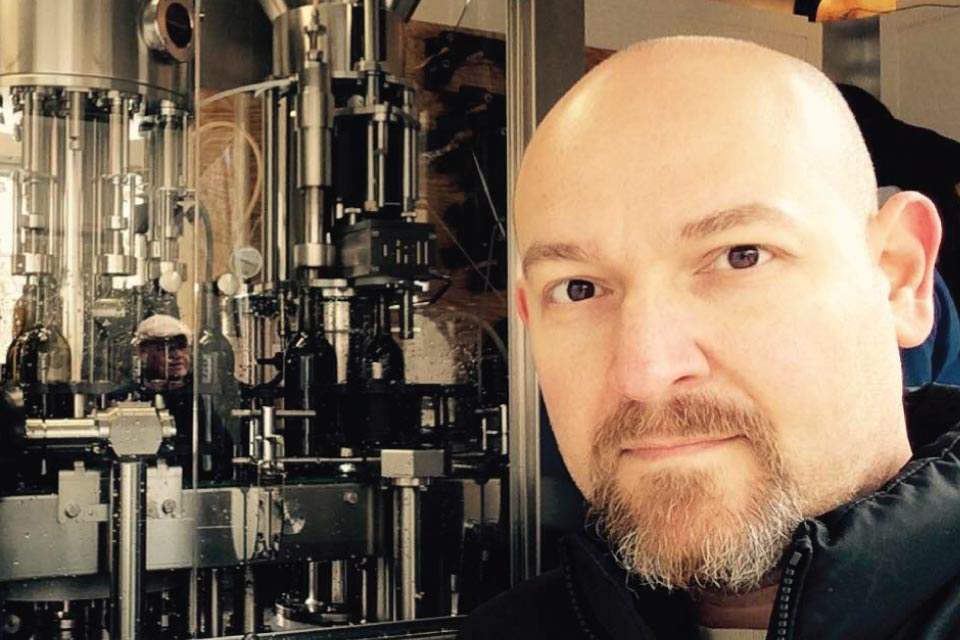 Louis Jeroslow is co-owner of Elkin Creek Vineyard.
Jeroslow says UNCSA was instrumental in teaching him problem-solving and collaboration,
two critical skill sets of an entrepreneur. "You have to leave your ego at the door
in a collaborative environment," he says. "Everyone is bringing ideas to the table,
and the point is to find the best outcome for the project."
At UNCSA, Murray learned to be versatile. "We weren't taught just one way of working.
We were given a lot of different options," he says. "I left with a lot of threads
I then wove together to find my own way." As an actor in training, he was required
to learn about costume design, set construction, lighting and other crafts. "I loved
it," he said. "Not everyone did. I couldn't get enough, and now, 20 years later, I
tap into those skills every day."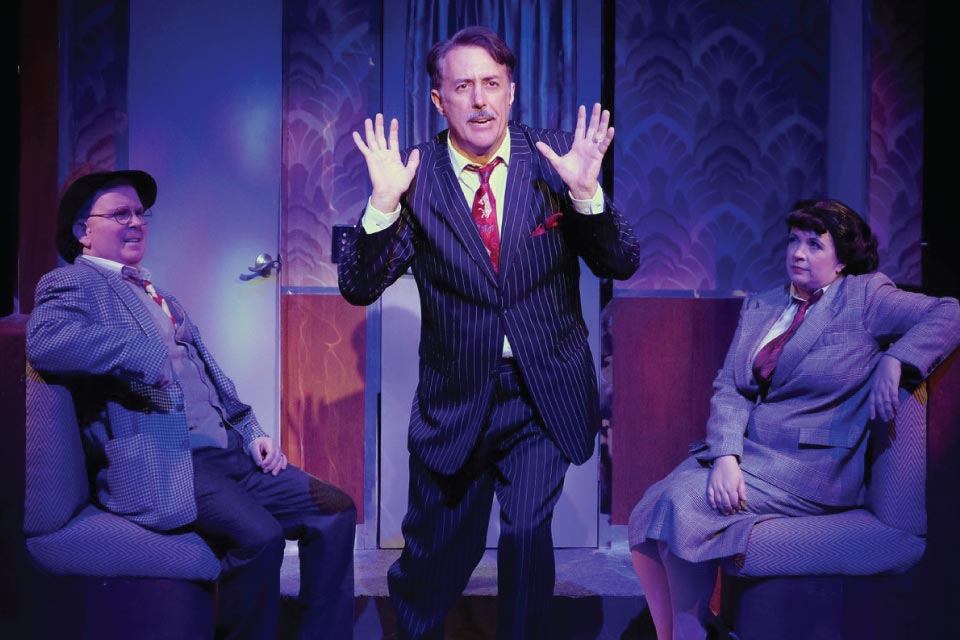 Sean Murray stars in "On the 20th Century" at Cygnet Theatre.
He also learned to take risks, which helped him take the leap to found Cygnet Theatre. "It was terrifying. We had no idea what it would take, but we took a deep breath
and we went for it," he says. Cygnet has grown from a startup theater organization
in a strip mall storefront with an annual budget of $20,000 to an organization with
a 246-seat theater in the arts district and a budget of $3 million. "When you produce
something yourself, you are responsible for its success," he says. "You can't blame
someone else if it doesn't succeed, but you don't have to wait for someone else to
approve what you are doing or making."  
Like artists and entrepreneurs across the globe, these alumni faced a big problem
in 2020: how to keep their dreams alive during a pandemic that caused so many organizations
to cancel, suspend or severely curtail operations for more than a year. Conservatory-instilled
resilience helped them pivot and power through.  
With performance opportunities limited and his passion fueled by the death of George
Floyd, Reid focused on his Black Theatre Coalition (BTC), determined that when Broadway
reopens, there will be opportunities for all. "There were no Black general managers
working on Broadway when 
it shut down," he says, adding, "Less than one percent of Black artists working in
theater will make it to Broadway."  
Through its apprentices, fellowships and workshops, BTC advocates for inclusive hiring
practices on Broadway and throughout professional theater and is working to make sure
that artists of color are ready when opportunity knocks. Reid's five-year plan calls
for a 500% increase in Black performers working at the top level of their fields.  
Across the country, Murray has used the past year to indulge one of his passions:
supporting the work of new playwrights, particularly writers from underrepresented
populations. Cygnet has offered online readings of new plays by Black and Asian writers.
"We weren't going to do something just to be doing something," he says. "We were only
going to do something that was meaningful to us and supported our vision."
Passion was also the lifeline for Smallwood's organization. "I watched institutions
and businesses devastated," Smallwood says. "I was fearful, but I could not embrace
that as my fate." With classes moved online and her dream "surviving, but on life
support," she turned again to the neighborhood that had always supported her. Parents
and donors came through, and she was able to eventually open her doors for hybrid
instruction, retaining her staff of 14. She has spent the year writing grant proposals
at the rate of two per week, creating videos to market her programs, and planning
for the next emergency.  
UNCSA gave me the tools I've needed to meet any challenge. That's been the case all
along, and it's true now.
Louis Jeroslow
A sigh of relief — both hesitant and triumphant — is in her voice as she asks, "Did
I just make it through that?"  There is no hesitation for Jeroslow in describing how
he and his many ventures have survived. "UNCSA gave me the tools I've needed to meet
any challenge," he says. "That's been the case all along, and it's true now."
>>> Don't Miss Today's BEST Amazon Deals!
Originally Appeared Here