English wine critic Jancis Robinson has said publicly that she can taste when a wine is biodynamic. Robert Parker has said biodynamic wines taste better. And French wine importer Kermit Lynch (who owns a vineyard in France) said he could taste the difference between conventional and biodynamic grapes. Until now, many considered such statements to be purely subjective.
Now a new broad-based study from two economists Magali Delmas of UCLA and Olivier Gergaud of Kedge Business in France, who reviewed wine scores from dozens of French wine experts, say the data backs up these assessments.
Their study, entitled "Sustainable practices and product quality: Is there value in eco-label certification? The case of wine" was published in the journal Ecological Economics. 
The two professors drew data from three major French wine publications, aggregating more ratings on more than 128,000 French wines scores from more than 30 French wine experts from 1995 to 2015. Wines ranged in price from $5 to $450.
"With organically grown wines, we saw an increase of 6 points in their scores compared to conventional or sustainable wines. With biodynamic, there was an increase of 11.8 points in their scores, compared to conventional or sustainable wines," said Delmas, Professor of Management at the UCLA Institute of the Environment and the Anderson School of Management where she is also the director of the UCLA Center for Corporate Environmental Performance. 
Gergaud heads the Food, Wine & Hospitality Center of Excellence at Kedge in Bordeaux and is also an adjunct professor of economics at NYU. He sits on the Editorial Advisory Board of the Journal of Wine Economics. 
The study included scores from three French wine publications, including Gault & Millau, Gilbert Gaillard, and Bettane Desseauve. 
A previous study conducted by the two professors that looked at California wines was hampered by the low number of organic wines—only 1 percent—in the U.S. wine scores. The French study, 8 percent of the wines were from certified organic or biodynamic vineyards.
The study divided wines into conventional, reasoned wines (or lute raisonnée, similar to sustainable wines in the U.S.), organic and biodynamic. (Both Biodyvin and Demeter biodynamic wineries were included in the biodynamic group).
"What was most surprising to me was that we found a significant difference between organic and biodynamic versus conventional, but no difference between conventional and sustainable," Delmas said.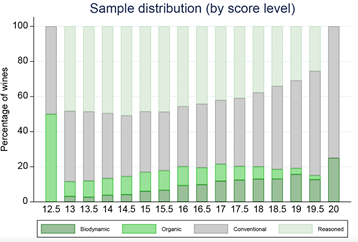 "It's unclear to me what the reasoned wine producers are doing," she said. "We see in a lot of Industries that have these self defined labels, which are not stringent, that producers use them to look good. But they did not result in higher scores, overall." 
In their paper, the two authors wrote, "The self-proclaimed [reasoned] label received, in the best-case scenario, scores similar to those of conventional wines.This indicates that non-certified sustainable practices can be associated with greenwashing and endanger the perceived value of eco-labels more generally."
"Policy makers need to be mindful of the risks of 'greenwashing' associated with the use of eco-labels," the two authors concluded in their paper.
In addition to having a broader sample of organic and biodynamic wines, the French study had a larger group of tasters, Gergaud said.
"In this study, at Gault & Millau alone, where we spoke with the former editor Pierre Guigui, he was not the only one reviewing the wines. Although he reviewed many of the wines, many others also participated—sommeliers or wine merchants or other wine professionals," Gergaud said.
Gergaud said that the scores used in the study consisted of reviews done in both blind tastings as well as non-blind tastings, which, he said, improved the quality of the data.
Guigui said the findings did not surprise him, since, he said, he sees the organic and biodynamic wines winning more awards in European competitions and becoming among the most sought after from top somms.
"The results are consistent," he wrote in an email. "In 2018, the Concours Mondial de Bruxelles had 9,180 wines in competition, of which 11.8% were organic and biodynamic. Logically, there should have been the same proportion [11.8%] of distinguished wines and yet these wines obtained 30% of the awards."
"We are not saying that all organic or biodynamically grown wines taste better," said Gergaud. He added that the "conventional" category also included wines that may have been practicing organic but were not certified. "If we had been able to eliminate those, the differences may have been higher," he said.
The two professors also conducted an earlier study in 2014 in which they asked organic and biodynamic producers in California why they chose to follow these practices. While 35 percent said the primary reason was to provide a clean environment for future generations, the second most popular answer (with 20 percent of the respondents selecting it) was, "to improve the quality of the grapes."
Guigui said that the number of organic and biodynamic wines featured in The Guide to the Best Wines of France 2020 proves his point, which he said agrees with some of the top sommeliers in France. 
"Of the 95 estates with three stars, 44 are organic, including 15 which are also biodynamic.  Organic wines represent 12% of the vineyards in France and biodynamic wines less than 1%. In The Best Wines of 2020, 46% were from (certified) organic vines, including 15% which were biodynamic."
In their conclusion, the two study authors wrote, "our findings indicate that eco-certification [organic and biodynamic] has a positive effect on wine expert scores."