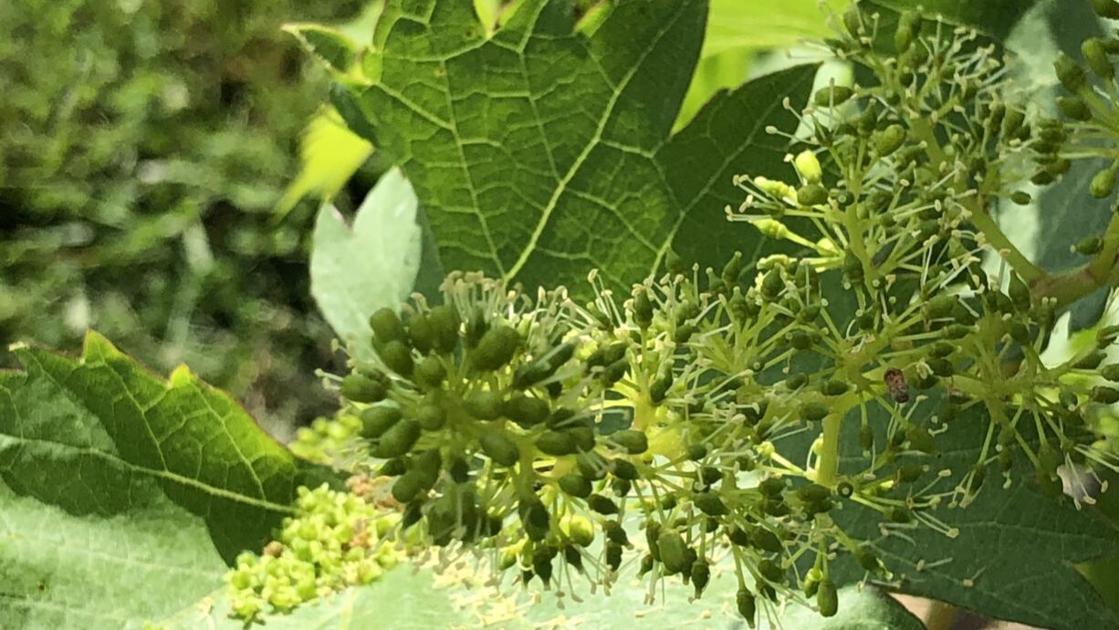 The Fosterville vineyard of CJS Vineyards & Aurelius Winery.


Provided



Chris Scholomiti
Special to The Citizen

Wow, June has been hot, hot, hot — several 90-degree-plus days!
Rainfall has been a little light, but not drought-like. This has caused the grape vines to grow profusely, so we're about a week ahead of a "normal" year. But I guess it's rare we get a "normal" year here in the Finger Lakes. Vinifera (old world grapes: Riesling, chardonnay, pinot noir, etc.) and hybrid (Cayuga, chambourcin, baco noir, etc.) grape vines start to bloom at about 10-15-inch shoot growth. The wild grapevines you see in the fields and woods typically bloom one week before our wine grapes. Little tiny white flowers open up; grapes are self-pollinating, no bees or birds required! Then, about a week later, the grapes start to form.
This pre-bloom, bloom and post-bloom periods are critical times to spray for downy and powdery mildew prevention. Downy mildew is a pathogen, not a true fungus, that affects grapes and many other vegetables and fruits. The weather was perfect for downy mildew on June 7-10, with high humidity at night, water on the leaves for extended periods, and mid-70s temperatures at night. So, if vineyard managers didn't spray before that period, they could be in for trouble. The good news is there are several different types of spray material to use: protectants (protecting the plant from getting the pathogen), post-infection material (eradicating the pathogen after an infection episode) and anti-sporulants (preventing spores from being formed and spreading the disease to other vines).
>>> Don't Miss Today's BEST Amazon Deals!
Originally Appeared Here