Finger Lakes Wines and Grapes: Early warmth not so nice for wineries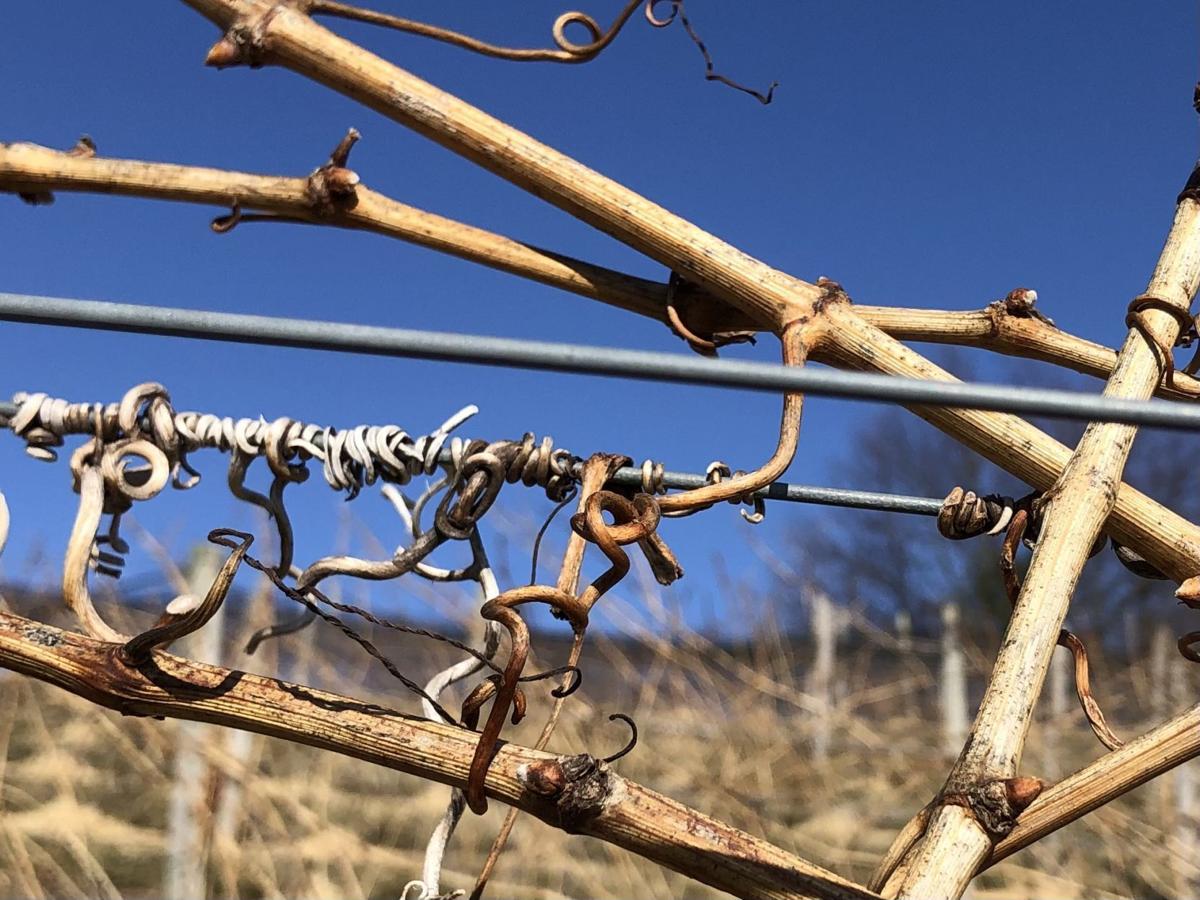 Chris Scholomiti
Special to The Citizen

Spring is here, with a mild start. We've seen 60-plus weather and even one day in the low 70s.
That's fairly warm for mid-March; we don't want it too warm for an extended period this early in the growing season. The grape vines are still dormant and we'd like a gradual warming trend through spring, with bud break occurring in May. If the buds come out too soon, there is a good chance for spring frost damage, and that's not good. Hard freezes that can occur in April would kill off any early green growth and damage the crop. So let's hope Mother Nature is kind to us.
We're out in our vineyards lowering the moveable catch wires that we use on our trellis system. It's quite a job, as they're always entangled with the vine's growth from last year. Next, we check the wire tension and fasteners holding the wire on the vineyard line posts, and then pruning begins.
We do "balanced pruning," a technique based on the size, age and variety of the vine. Typically, we remove about 80% of the buds from last year's growth. We leave enough buds to produce a good green canopy to support the fruit. We don't want too many buds, as this will cause a large underdeveloped crop, or too few buds will produce a small crop with excess canopy vegetation. We estimate the first few vines and then weigh the pruned wood to determine how many buds to retain. Our formula for a vine is to leave 20 buds for the first pound of pruned wood, and an additional 20 buds for the second pound of pruned wood. Therefore, if we weighed 1.5 pounds of prunings off one vine, we would leave 30 buds on that vine. After pruning, we will tie the remaining canes (wood) to the trellis system to help support the crop and position it for the upcoming growing season.
I was able to attend the BEVNY 2021 (Business, Enology, Viticulture) Conference virtually in early March. Last year the conference was held live with a trade show Feb. 26-28, then the COVID-19 pandemic exploded and the world changed. This year, they did a great job presenting the conference online for three days, but I really missed the interaction with other vineyard and winery people that we usually only get to see once or twice a year.
The business sessions really emphasized that New York wines (especially Riesling) are great food wines, with their freshness and lower alcohol content, and they should be marketed that way. We also learned that March 13, 1435, is considered the "birthday" of Riesling. That was the date that the first written reference to Riesling was found in Germany in the court of Count John IV in Katzenienbogen. So on March 13, we celebrated the 586th birthday of Riesling in our tasting room by pouring three different estate Rieslings: dry, semi-dry and semi-sweet. It was fun!
Winemaking seminars covered topics such as maintaining good relationships between grape growers and winemakers, and different types of vessels for fermenting and aging wines. Grape growing sessions were about New York state's sustainable viticulture program, and what climate change may mean to grape-growing regions like the Finger Lakes. This was interesting because we got to hear from some German winemakers and a Dr. Hans Schultz from Gesienheim University in Germany, as well as Dr. Lisa Cleckner from the Finger Lake Institute in Geneva. Hopefully next year for BEVNY 2022 we can all get together again in person!
Meanwhile, in between vineyard work, we're busy at our place bottling some of our wines. We've also seen a nice flow of visitors in the tasting room for a typically slow time of the year. With spring here and better weather, many Finger Lakes wineries are reopening their doors for wine tasting. So check out your favorite vineyards and wineries and see what's new. It would be a good idea to call ahead and check on the hours of operation, and see if reservations are needed.
Chris Scholomiti is co-owner and winemaker at CJS Vineyards & Aurelius Winery, located at 6900 Fosterville Road, Aurelius. The winery's tasting room is now open by appointment. The winery also offers curbside pickup and direct wine shipments. For more information, questions or comments about the column or wine and grape-growing in the Finger Lakes, email wine@cjsvineyards.com, call (315) 730-4619 or find the winery on Facebook.