Feast for Families is virtual food, wine tasting to raise funds for Child & Family Resources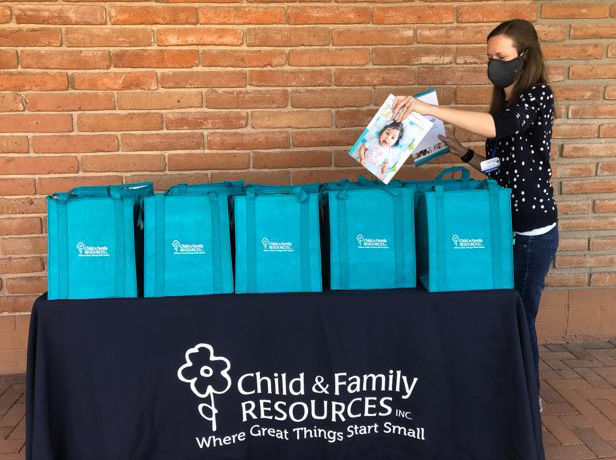 By Loni Nannini
Special to the Arizona Daily Star

A 50th anniversary calls for a celebration, and in lieu of an in-person event during the pandemic, Child & Family Resources is planning the next-best thing: A virtual feast.
The Feast for Families Virtual Event, a fundraiser that will include a four-course tasting and wine pairings with instruction by Feast chef and owner Doug Levy, will take place from 5:30 to 7:30 p.m. Thursday, April 8. The cost is $100 per person and registration is required at www.childfamilyresources.org/feast by April 1.
"We were forced to postpone the 50th anniversary we had planned last April when everything shut down, and when we decided to cancel it, we reached out to chef Doug at Feast and he was more than happy to help us pivot and create a unique virtual experience that we are so excited about," said Chelsea Barber, development and marketing assistant for Child & Family Resources. "I can't wait to learn some new tips and tricks for cooking. I have cooked more during quarantine, but haven't necessarily improved my skills."
The in-home event segues perfectly with the philosophy of the nonprofit, which provides free home services to children, youth, and families. Services are comprised primarily of support that has transitioned from in-person visitations to virtual visits during the pandemic. Programs include Healthy Families and First Steps, which provide prenatal and child development education and support. Additionally, the organization offers programs for parents and guardians of teens; provides hands-on training for best practices to local child care providers and offers special resources for teenage parents. It also spearheads a variety of programs and workshops geared toward middle school and high school students.
Barber said the virtual programming necessitated by the pandemic was fully implemented within a week of statewide shutdowns last year.
"We serve 30,000 people in 13 cities across the state of Arizona with a plethora of different programs to different demographics. We are really good at helping parents with communication and at building relationships between children and parents. Our whole mission is to build strong communities where children can reach their full potential and to build resilience in children and their families; to be able to do that at a time when it is most-needed is truly rewarding," Barber said.
That mission speaks to Levy, who has built Feast around the idea of community for the past 20 years. "You won't see and hear a bunch of TV or radio ads or see Feast coupons: We believe the best way to advertise is to contribute to the community and let people see we are doing that. With any luck, they will appreciate what we contribute and that gives them a reason to come join us and have a bite," said Levy.
His philosophy has carried the restaurant through the pandemic during the past year, when Feast has been open for carry-out only and sales have dropped by about 50%.
Levy said in spite of the challenges, he has been gratified to give back.
"We have discovered the amazing generosity of this community and have tried to support ourselves as a means of supporting others — front line workers, health-care workers, people who are homeless and those living in poverty — and it has worked out beautifully. We have prepared over 6,500 meals and fed everyone from Youth On Their Own to Covenant House and every hospital and numerous shelters," Levy said.
For the fundraiser, Levy took inspiration from Zoom wine tastings that he offers through Feast and built a menu that features partially-prepared foods that participants can complete at home with virtual instruction. The four-course tasting and paired wines, which run the gamut from French and Oregon vintages to Arizona selections, will be available for pick-up on April 7 at Feast, 3719 E. Speedway.
Ultimately, Levy views the endeavor as another opportunity to give back and promote awareness about a nonprofit that has been giving back for half a century.
"This menu is kind a fun, interesting, off-the-beaten path way to enjoy an evening and support an organization that has been fantastic in the community for 50 years," he said.
Contact freelance writer Loni Nannini