Visitors to the Napa Valley can enjoy a plethora of wine tasting options to sate every vinous craving. Whether one's pleasure is Cabernet Sauvignon, Chardonnay, or Pinot Noir et al, a winery exists at which to sample every incredible varietal, including those that sparkle. The Napa Valley produces some of the best bubbles; after many decades of perfecting the methode tradtionelle, it is getting harder to discern the finer bubblies from Champagne. Domaine Carneros, in particular, provides shimmering proof. The small grower/producer has become a benchmark for California sparkling wine, reflecting both the individuality of its Carneros AVA terroir and the craftsmanship of its French legacy.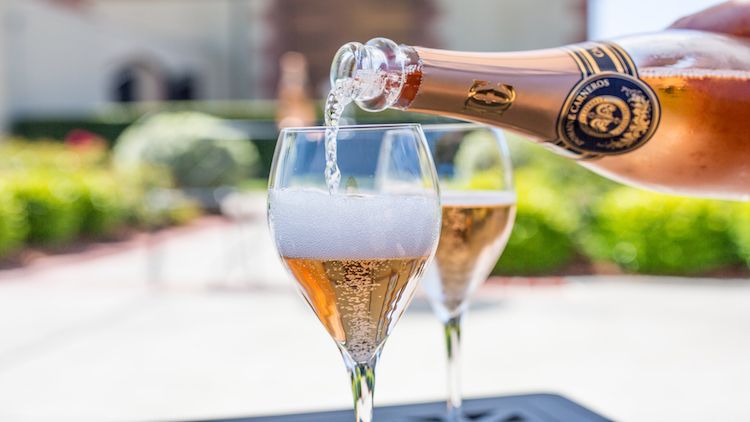 Their offerings include 100% estate and sustainably grown Brut and Rosé wines, in everyday to luxury cuvees, with interesting Late Disgorged and Ultra Brut options. Its luxury cuvee, Le Rêve, made in limited quantities annually, is regularly described as American's best sparkling wine. And there is no better place to indulge than at the Domaine Carneros Château, an iconic Northern California landmark architecturally inspired by the historic Château de la Marquetterie owned by Champagne Taittinger in France's Champagne region. Situated atop a knoll and overlooking endless rolling vineyards, the elegant property houses the winery's facilities, beautiful salons for visitors, and a conservatory-style Jardin d'Hiver that takes its inspiration from the glass buildings created by Gustave Eiffel in the mid-late 1800's to protect plants and citrus trees on the Place de la Concorde in Paris.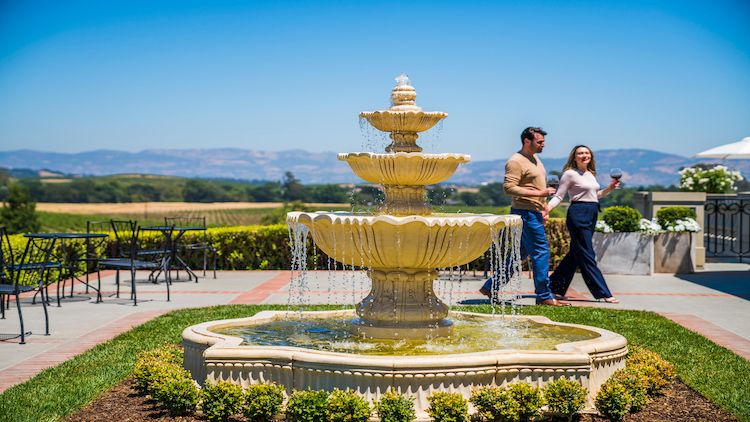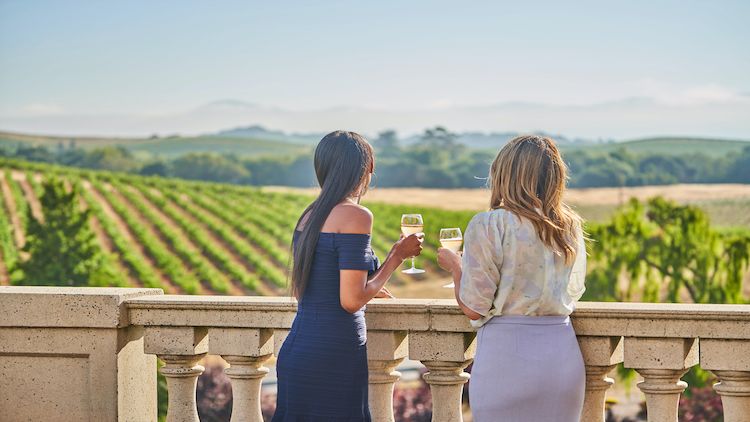 Within this elegant environ, or even virtually, Domaine Carneros provides world-class hospitality experiences that cater to guest preferences. From meticulously prepared current-vintage wine and food-pairings (choose from a selection of cheeses, charcuterie, and caviar) to exclusive, private, custom-curated virtual events, sparkling fans will find something to love within the wide selection of still, sparkling, or mixed wine flights. On site fan favorite experiences include:
The Ultimate Chips & Dip ($350 per couple) – Caviar and sparkling wine are the food and wine pairing equivalent of Cracker Jacks and baseball – they simply go together. Add rich crème fraîche and the crunch of a potato chip for an elevated pairing. Sample three of the estates most highly treasured wines alongside three ½ ounce servings of Tsar Nicoulai Caviar's finest artisanal caviars: Estate, Reserve and the rarest, Crown Jewel.
Bubbles & Bites ($90) – Experience the versatility of sparkling wine in this specially curated pairing highlighting the flavors of Asia. Includes four savory Asian-themed bites and one sweet, paired with four sparkling wines: Ultra Brut, Estate Brut, Brut Rose, and Vermeil Demi-Sec. Led by a seasoned wine educator, this experience presents a new side of sparkling wine.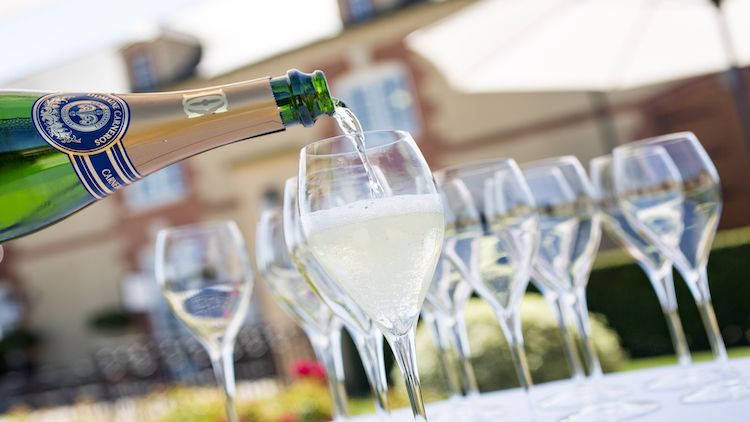 For virtual experiences, Domaine Carneros offers private 30-minutes guided tastings in the comfort of one's own home. Their team can help create an experience for any group size or occasion – from a Zoom happy hour, to team building, to a family get together. Guests are invited to select from one the pre-curated virtual tasting options, or they can customize the experience to include additional food items or wine accessories. Here are two favorites: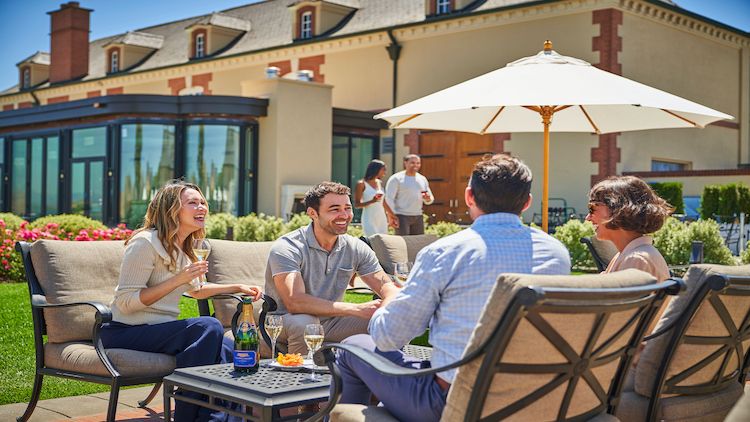 Epicurean Delight ($110) – Pair two classic wines, an Estate Brut and an Estate Pinot Noir, with specially made Salumi from Sonoma based Journeyman Meat Co. where Pete Seghesio crafts artisanal salumi, sausage, and cured meat in this shop dedicated to creating Italian-style meats with the same skill and attention that goes into producing wine.
Best-Loved Bubbles  ($200) – A trio popular bubbles – the classic Estate Brut Cuvée, fruity and floral 2016 Brut Rosé, and the epitome of Domaine Carneros, the Le Rêve Blanc de Blancs.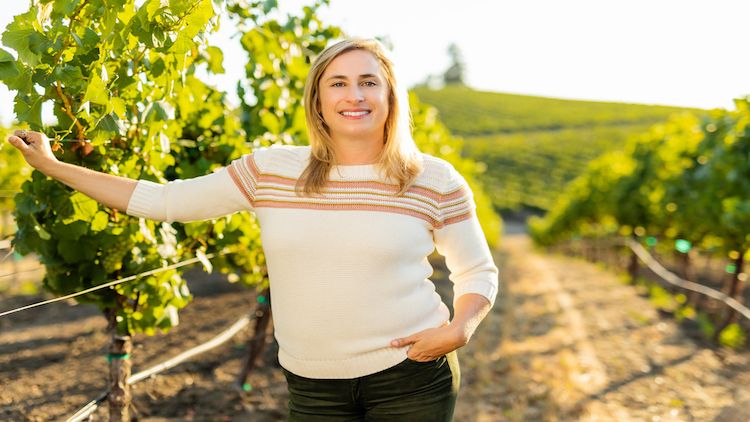 The Domaine Carneros winemaking team is led by Sparkling Winemaker Zak Miller, Pinot Noir Winemaker TJ Evans, consultant Eileen Crane, Domaine Carneros' founding winemaker who oversaw the planning and construction of the winery, and industry veteran Remi Cohen (pictured above) whose appointment as CEO carries forth the Taittinger tradition of visionary female leadership.
The Domaine Carneros château and tented terrace is open for outdoor tastings in accordance with California's Covid mandates. Contactless curbside wine pickup is also available. For more information, call 800.716.2788 or visit www.domainecarneros.com
Domaine Carneros is committed to the sustainability of its land and has been certified by Fish Friendly Farming (FFF), and holds both the Certified California Sustainable Winegrower (CCSW) and the Napa Green designation.
Photos courtesy of Domaine Carneros