Dan Dawson, Dan the Wine Man: What Wine Should You Drink With Salmon?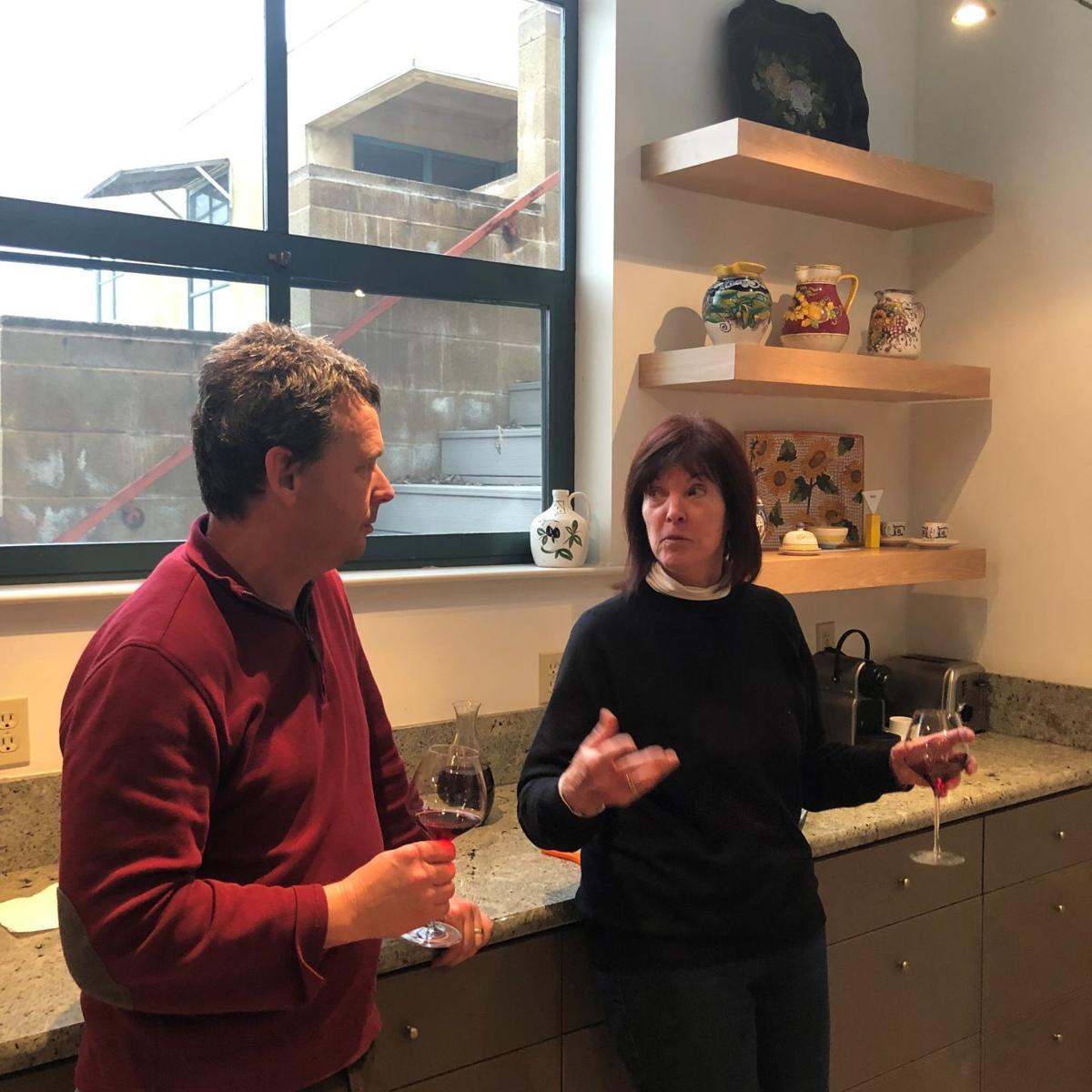 DAN DAWSON

Editor's note: Each week, Dan Dawson, aka Dan the Wine Man, peruses the story written by Napa Valley Register food writer Ken Morris (published in the Tuesday Food section) and comes up with ideas for wines that make a match. Find Ken Morris' story, "The Wonderful World of Salmon" from the Tuesday, May 11, Register at bit.ly/2QblMoC.
If there's anything I love more than salmon it's wine with salmon. So if you're looking for a wine expert for recommendations with salmon, I'm your guy.
Pairings wines with salmon doesn't take a genius. It's one of those meats that can match nicely with both reds and whites, crisper and richer. There are some rules and philosophies to share with you but, really, the target for wine pairing happiness is pretty big. Multiple options can make pairing confusing, but it also makes it fun. That's what I'm here for – I bring the fun and good tastes and drop the confusion in the recycle bin.
Support local news coverage and the people who report it by subscribing to the Napa Valley Register. Special offer: $1 for your first six months!
Nice salmon recipes in Ken's "Cooking For Comfort" column in Tuesday's food section. The ingredients and techniques flatter the salmon, each in their unique ways. From a wine perspective Ken's recipes are fantastic…easy to hit the bulls-eye.
While I could make multiple wine recommendations for each dish, I'll give you one per. Two are available at Gary's Marketplace in St Helena, one is available direct from the winery. Good chance you can have free delivery within Napa Valley.
But first, "Dan, wines with salmon…your thoughts."
1. If you'd like a deep dive into wine and salmon pairing, go to Wine Folly, the exceptional online wine guide for wine lovers of any knowledge level. Search "Wine Folly Salmon Pairing" and it should be your top result.
2. Yes, farmed salmon pales in comparison to wild. But you know what? Farmed salmon is still pretty good, readily available and affordable for most. I always have a pound or two in the freezer for a quick and tasty mid-week dinner.
I buy mostly from Whole Foods as they profess environmentally responsible aquaculture. That said, Raley's, Nob Hill Foods and Grocery Outlet have Atlantic and/or Steelhead salmon fresh and in stock for under $10/pound.
3. Please humor me as I wax eloquent on a food and wine epiphany. The year is 1999, I'm dining at the counter, alone, at Wildwood Restaurant, Portland Oregon. Before me is their pan-seared wild salmon with wild mushrooms and a glass of Bethel Heights Pinot Noir, Willamette Valley.
It was one of those ah-ha moments when all the food and wine pairing pieces fell perfectly into place. Since that meal, my first choice to pair with a glorious filet of grilled salmon, simply seasoned, is a Willamette Valley Pinot Noir.
4. Let's say salmon is on the menu and you can't get out to buy that perfect wine for the meal. No worries. If the salmon is poached or baked and heavy on the citrus flavors, pop a bottle of your favorite Chardonnay, one you always have on hand because you love it. If the seasoning is more intense and the fish is grilled or pan-fried, pop your favorite Pinot Noir.
This Week's "Cooking for Comfort" Food & Wine Pairings

— Bergstrom Pinot Noir "Cumberland Reserve" Willamette Valley 2017 with Slow-roasted Salmon with Parsley-Garlic Sauce
— Villa Ragazzi Sangiovese Napa Valley 2016 with Pesto-crusted salmon
— Rudi Pichler Grűner Veltliner "Terrassen" Smaragd, Wachau, Austria 2018 with Grilled Salmon with Miso Glaze
My wine pick for the Slow-Roasted Salmon harkens me back to my 1999 epiphany. The slow roasting technique (250 F for about 20 minutes) doesn't give the crusty top I desire to pair salmon with Pinot Noir, but the sweet paprika, parsley and garlic give the necessary "oomph" to match a lighter bodied, high intensity red wine.
Gary's Marketplace in St. Helena carries the Bergstrom Pinot Noir "Cumberland Reserve" Willamette Valley 2017 ($42). Medium/light bodied, very aromatic, bright and equally earthy as fruity, it's a natural with the slow-roasted salmon.
Order online at GarysWine.com and be sure to choose the St Helena store on the home page. If buying the Bergstrom isn't in the cards for you, ask your favorite wine shop for a Willamette Valley Pinot recommendation. Just say, "I want the same experience Dan The Wine Man had in Portland in 1999." See where that gets you.
The pesto in Ken's Pesto-Crusted Salmon gets me thinking about Italian reds, and Sangiovese in particular. The herbaceous/peppery undertones of Sangiovese are a natural match with pesto.
Choosing a Chianti or other Tuscan Sangiovese would be fine, but instead I'm keeping this wine pick in our own back yard with Villa Ragazzi Sangiovese, Napa Valley 2016 ($42). The Ragazzi, with a distinct earthiness and Pinot Noir-like intensity, could well be confused for Italian. And we all know how good Italian wines are with food, don't we? Basil, garlic, parmesan, pine nuts, bacon (bacon!) and of course salmon…great pairing. I especially like how the wine's tannins "smooth out" from the salmon fat and olive oil.
Buy winery-direct at VillaRagazzi.wine. Owner Michaela Rodeno will contact you to coordinate either convenient pick up or local delivery. 3 bottle minimum purchase required.
Grilled Salmon With Miso Glaze can go many different directions. I choose to take a path less traveled with the dish. Rudi Pichler Grűner Veltliner "Terrassen" Smaragd 2018 ($40 at Gary's Marketplace) is from Austria, a small but important wine country, especially when food and wine pairings are concerned. "Grűners" can take many forms…crisp and light to rich and oily.
The Rudi Pichler Grűner Veltliner is more robust than most of its peers with an oily texture and depth of earthy soul, qualities that explain how it stands up to the recipe's strong flavors – miso, tamari, and fresh ginger in particular. The wine's intensity of peppery, grapefruit, stony, salt and pepper flavors are a turn-up-the-volume kind of food and wine pairing. Like grilled ribeye and Napa Cab, but different, if you know what I mean.
Buy the Rudi Pichler online at GarysWine.com. Play your cards right and you could have the wine delivered tonight just as the Miso Salmon is coming off the grill.
Have you tried one of Ken's recipes and bought my wine recommendation to pair with it? If the answer is yes, good for you, and I'd love to hear all about it. Drop me a line.
Photos: Barrels of Fun St. Helena, 2021
Barrels of Fun, 2021
Barrels of Fun, 2021
Barrels of Fun, 2021
Barrels of Fun, 2021
Barrels of Fun, 2021
Barrels of Fun, 2021
Barrels of Fun, 2021
Barrels of Fun, 2021
Barrels of Fun, 2021
Barrels of Fun, 2021
Barrels of Fun, 2021
Barrels of Fun, 2021
Barrels of Fun, 2021
Barrels of Fun, 2021
Barrels of Fun, 2021
Barrels of Fun, 2021
Barrels of Fun, 2021
Barrels of Fun, 2021
Barrels of Fun, 2021
Barrels of Fun, 2021
Barrels of Fun, 2021
Barrels of Fun, 2021
Barrels of Fun, 2021
Fractional ownership is not new to Napa County, officials say. Pacaso's CEO says the company "is listening" to the concerns of neighbors. 
The defendant was accused of repeatedly returning to the rural property of a 72-year-old woman whom he did not know.
"'Low income' is a higher income than some would expect" in Napa, said the city's housing manager about a still-costly housing market.
A big construction project is meant to solve Jameson Canyon traffic tie-ups where Highway 12 meets Interstate 80 in Solano County.
American Canyon City officials protested a conceptual plan to build a series of six roundabouts to ease Highway 29 congestion. 
Water use restrictions passed by the City Council are meant to reduce Napa's consumption by 15% from last year's levels.
Temporary permits allowing outdoor restaurant service on a block of Main Street will stay in effect through February, Napa's city manager has …
The culinary video producer and host to a winemakers' collective will strike out in a new direction, with open-air acoustic music next to its …
These Silverado Middle School students are studying speed in the real world. 
Like lobster? Napa Valley Lobster Co. might be right up your alley. 
Dan Dawson is a former Napa Valley wine merchant and sommelier. These days he helps small California wineries connect with folks who want their wine but don't know it yet. You can reach Dan via his website, DawsonWineAdvisor.com and @dawsonwineadvisor on Facebook and Instagram.