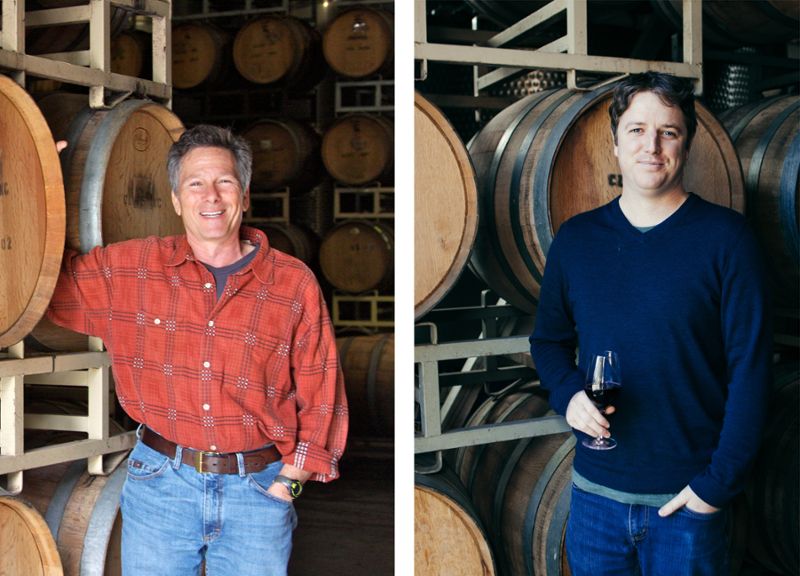 SONOMA, Calif.  — After 19 years as head winemaker at Cline Family Cellars Charlie Tsegeletos, has retired. He is succeeded by Tom Gendall, in a newly created position, Director of Winemaking and Viticulture.
Tsegeletos's successful career in the wine industry spans 41 years. He started his winemaking journey in 1980 after graduating with a degree in Agricultural Science and Management from the University of California at Davis. He enjoyed winemaking roles at Pendleton Winery, Hacienda Wine Cellars and D'Agostini Winery prior to joining Glen Ellen Winery where he held the position of Senior Director of Winemaking for 15 years. In 2002, Tsegeletos joined Cline Family Cellars and managed all winemaking, production operations, and grower relations. During his tenure, he played a critical role in building the company's portfolio of nationally and internationally recognized wine brands including Cline Family Cellars, Cashmere, Farmhouse and Jacuzzi Family Vineyards. He also produced and helped launch the highly successful brand, Red Truck wine in 2003, which the company later sold.
In 2007 when Jacuzzi Family Vineyards launched, Tsegeletos spearheaded the winemaking program, developing over 20 wines made from unique Italian varieties. He partnered with family-owned growers who helped preserve these lesser known varieties throughout Northern and Central California. Tsegeletos collaborated with these growers to ensure the unique flavor characteristics of each varietal were maintained, and he enhanced the flavors in the cellar by embracing Italian winemaking traditions.
At Cline he successfully grew the winery production from seven to thirty-five wines for the domestic wholesale, export, and direct-to-consumer channels. "Charlie had a profound effect on our business in the 19 years that he had been here. His contributions have been many, with numerous accolades and awards culminating with Cline Ancient Vines Zinfandel 2016 being ranked #40 in the Wine Spectator Top 100 wines in 2018 and being awarded Winemaker of the Year by North Bay Business Journal in 2019," said John Grant, CEO of Cline Family Cellars.
Outside of Cline, Tsegeletos was past President of the Sonoma Valley Vintners and Growers, mentored many men and women in the wine business, served on wine judging panels, and continues to be a well-respected member of the Sonoma community.
"We are immensely grateful to Charlie for his many years of winemaking and management at Cline and his friendship, and we wish him the best in his future endeavors," said Fred Cline.
Tom Gendall began his career at Cline in 2016 after holding winemaking positions at Sojourn Cellars, Arrowood Vineyards and Winery, Bryant Family Vineyard as well as Pegasus Bay in New Zealand, and Weingut Keller in Germany. Along with managing the Cline Family Cellars portfolio of wine brands, Gendall works closely with Hilary and Megan Cline to craft the recently released GUST wine brand.
"Tom played an integral role in getting our vineyards and winery California Certified Sustainable and certified Sonoma County Sustainable furthering the company's commitment to sustainable winegrowing and business practices," said John Grant.
Gendall earned his Bachelor Degree in Viticulture and Oenology from Lincoln University in New Zealand. 
About Cline Family Cellars
Cline Family Cellars, established in 1982, is a family-owned winery in Sonoma, California, built on a passion for winemaking and rooted in respect for the land. Fred and Nancy Cline started Cline Family Cellars in Oakley, California, making the first vintages from original plantings of Mourvèdre, Zinfandel, and Carignane, some of which dated back to the 1880s. In 1989, Fred purchased a 350-acre horse farm in Carneros and moved the winery to Sonoma County. While Cline is most well-known for Zinfandel, Fred was also one of the original Rhone Rangers, and began planting varietals that included a number of vineyards dedicated to Syrah, Viognier, Marsanne, and Roussanne. Since those first plantings, Fred and his wife Nancy have continued to plant vineyards throughout Sonoma County, expanding to include more classic varieties like Pinot Noir, Merlot, and Chardonnay. To learn more please visit clinecellars.com