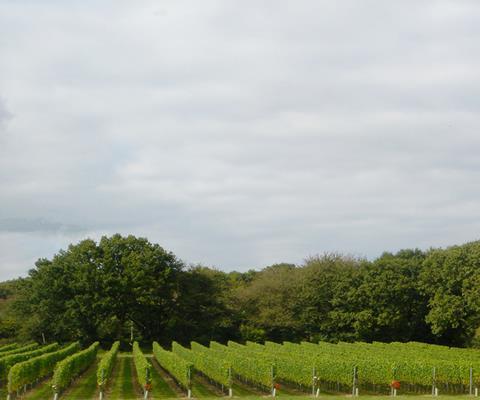 Gusbourne produces sparkling wine in its own vineyards in Kent and West Sussex
Top story
Revenues at English sparkling wine producer Gusbourne have fizzed higher as drinkers ordered more from the company's own website during lockdowns.
In a trading update for the 12 months to 31 December, the business said net revenue for the year was expected to be up by 29% to around £2.1m, which reflected like-for-like growth of 24% in the first half and 33% in the second.
Gusbourne, which produces sparkling wine in its own vineyards in Kent and West Sussex, experienced significant growth in direct-to-consumer sales as the company adapted to the impact of the coronavirus pandemic on the UK on-trade. The business also expanded overseas in 2020.
DTC sales for the year are expected to make up about 30% of net revenue, while exports generated 32%.
Gusbourne said it planned to continue to invest in the growth and development of DTC and overseas sales over the next few years.
CEO Charlie Holland added: "We are delighted to have achieved another year of strong overall sales growth with particularly pleasing performance in the DTC and overseas sales channels.
"A successful harvest in the autumn of 2020 has added to our wine stocks for future resale and we have strengthened the balance sheet with a new long-term asset-based lending facility from PNC.
"We remain enormously excited about the opportunity to build the Gusbourne brand across all markets, producing the finest vintage English sparkling wine using only grapes grown in our own vineyards whilst focusing on the luxury end of the sector."
Morning update
Coca-Cola European Partners has moved a step closure to completing the €5.2bn (£4.7bn) acquisition of Coca-Cola Amatil after receiving regulatory approval from watchdogs in Australia.
The European Coke bottle revealed its offer to buy its Asia Pacific counterpart back in October 2020.
Amatil is one of the largest bottlers and distributors of ready-to-drink non-alcohol and alcohol beverages and coffee in the Asia Pacific region, as well as the authorised bottler for Coke's brands in Australia, New Zealand, Fiji, Indonesia, Papua New Guinea and Samoa.
The combination of the bottlers would create a broader and more balanced footprint for CCEP while almost doubling its consumer reach.
CCEP today received approval for the acquisition from the Australian Foreign Investment Review Board.
The deal remains subject to the green light from the New Zealand Overseas Investment Office and shareholders in Coca-Cola Amatil, as well as court approval and other customary conditions.
After a volatile end to January thanks to the ongoing GameStop saga, the FTSE 100 started the new month on the front foot, rising 0.7% to 6,451.71pts this morning.
Early risers include Marston's, up 3.3% to 85p, Associated Britsih Foods, up 3% to 2,181.3p, and B&M European Value Retail, up 2.2% to 547.2p.
While SSP Group, McBride and AG Barr were among the fallers, down 1.7% to 285p, 1.4% to 77.7p, and 0.9% to 485.5p respectively.
This week in the City
Amazon will reveal its latest quarterly performance on Wednesday.
Unilever unveils results for its final quarter on Thursday, following a better-than-expected performance in the third quarter.
Pig producer Cranswick is scheduled to update the market on Thursday, as well as catering giant Compass, while in the US, KFC and Pizza Hut Yum Brands reports quarterly results, alongside confectionery group Hershey and tobacco firm Philip Morris.
Finally, Friday brings an update from Danish brewing group Carlsberg.