Charitable groups concerned about change in raffle law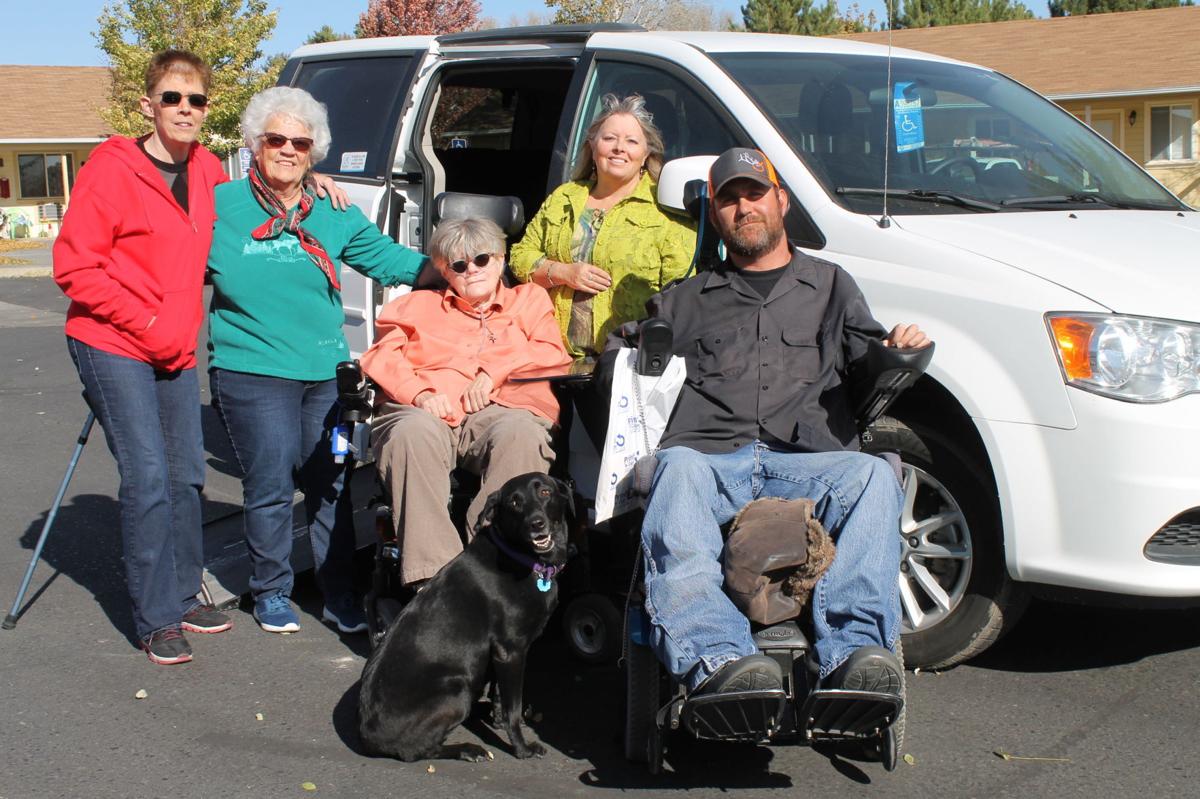 TIM BURMEISTER
Elko Daily Correspondent

One year ago, Marge Warmbrodt and her Friends for Life group started gearing up for another fundraiser.
Friends for Life has been doing fundraisers for people in Elko County and the surrounding area for 25 years. One of the first fundraisers the organization worked on was for Andy Bell, who was paralyzed in a rodeo accident in 1998 while a junior at Spring Creek High School. Some of the funds raised after the accident were used to purchase a used van and a computer with voice recognition. In 2009, Friends for Life raised $34,000 to buy Bell a new GMC van.
Last year, Friends for Life was planning a fundraiser for Bell to purchase a van with a lift and all the adaptations for a handicapped driver. But this time the plans for holding a fundraiser ran into some roadblocks.
As Warmbrodt was getting ready for the fundraiser for Bell, she saw a message that Elaine Cassell of the Elko Soroptimist club posted on Facebook. Cassell said she had recently learned that all charitable fundraisers that use raffles or other games of chance have to register with the Nevada Gaming Control Board. Friends for Life was planning to do raffles at the fundraising event for Bell.
"For the last 25 years, we've had little fundraisers, and most of the time it's been raffles," Warmbrodt said.
Warmbrodt talked with Cassell, and got the Gaming Control Board's charitable event application.
"I was just really concerned about the questions that they ask on the application, how they apply to our organization," Warmbrodt said. "You have to submit your application 30 days in advance with a $25 fee. And you have to tell them where your raffle is going to be, what you're going to raffle, who's going to sell the tickets, where you're going to sell the tickets, are you doing it online or at a place."
The application also says "approval must be granted prior to conducting event advertising or ticket sales." This means the delay between when an application is submitted and an event can be held could be at least a couple of weeks longer than 30 days.
Support local news coverage and the people who report it by subscribing to the Elko Daily Free Press.
Warmbrodt wondered how all these requirements would work when Friends for Life wants to quickly hold a fundraiser to help with someone's medical emergency, and people donate items as the event approaches and the details of the raffles might not be worked out until the last minute. But Warmbrodt went ahead and filled out the application and sent it in, and the Gaming Control Board approved the Bell fundraising event.
Then Covid hit, and plans for a community fundraising event had to be canceled.
"So we had to abandon everything," Warmbrodt said. "So we were thinking, 'Oh, we'll have a raffle online.' But we had not checked that particular thing on the application. So I was back to square one."
Friends for Life could have reapplied to sell raffle tickets online, but Warmbrodt learned they would have to make sure no one outside of Nevada purchased the tickets online. The regulations require a lot of information about any online raffle ticket sales, including "a detailed description of the technology the organization will use to ensure ticket sales are only made to persons who are physically located in Nevada at the time of purchase."
Warmbrodt didn't see how all these regulations would fit into the way Friends for Life has been doing fundraisers for the past 25 years.
"We always depend on volunteers to sell the tickets, so how do you know who's going to be selling them? And we do sell across state lines, because we've got family and friends that buy tickets just to support us? They're not so much interested in winning as they are in supporting the cause."
Working on the law
Warmbrodt called Nevada Assemblyman John Ellison and talked to him about what was going on with Friends for Life, and he agreed that the rules should be changed so charitable fundraisers can be done with fewer restrictions.
"The gaming commission needs to look at bigger things to fry other than little people trying to raise money for the community. It's not gaming. I can't understand that," Ellison said during a recent interview.
Warmbrodt asked the Friends for Life board members to contact Ellison. Billie Crapo, chief executive officer of the Elko Area Chamber of Commerce and a member of the Friends for Life board, is one of the people who have expressed their concerns about the charitable raffle regulations.
"As someone that runs a nonprofit organization, and sits on several other nonprofit boards, I understand the importance of fundraising, especially raffles; they have been a major part of their fundraising efforts," Crapo wrote in an email. "Without the dollars raised through raffles, many organizations would be unable to support the people in need in our community. The changes in fundraising could be detrimental to our nonprofits. The Elko Area Chamber appreciates our State Assemblyman John Ellison's continued fight for our small nonprofits and rural Nevada."
Ellison has also heard from people involved with other charitable organizations throughout the region.
"I am getting a lot of calls," Ellison said. "The guy that called me this morning, he was really upset."
Ellison is working on a bill to change the regulations. Currently the Legislative Council Bureau is doing research on the history of gaming regulations and charitable fundraisers. Recently Ellison learned that two other state legislators are also working on bills to change the charitable lottery regulations.
"They are seeing the same problem," he said.
Ellison said the current legislative session is bogged down because the Capitol is too shut down and there have been a lot of technical problems with trying to do everything online. But he is hoping his bill or one of the other bills dealing with gaming and charitable fundraising can make it through the process and get approved.
Charitable lotteries and games are quite popular. In 2019, although many people did not yet know about the requirement to register with the Nevada Gaming Control Board, the Board registered about 410 charitable lotteries and games throughout the state. The numbers dropped in 2020 because of Covid restrictions. The Board registered 87 events in February but only six in April. Still, the Board registered a total of about 282 charitable lotteries and games in 2020.
The change in the law
It was actually 30 years ago, in 1991, that the Nevada Legislature enacted laws which required the Gaming Control Board to regulate charitable lotteries and gaming. In 2019, these laws and regulations were amended with the passage of Assembly Bill 117. A fact sheet from the Gaming Control Board says, "In general, the amendments were largely aimed at allowing increased fundraising activities, and to streamline the approval process for charitable organizations."
Prior to the change in 2019, a charitable organization did not need to register with the Gaming Control Board if the total value of the prizes offered did not exceed $2,500 and the organization operated no more than two charitable lotteries per calendar year, or if the tickets were only sold to members and their guests during a special event and all the prizes offered by the organization did not exceed $15,000 in a calendar year. An organization had to register with the Gaming Control Board if the total value of prizes offered within a calendar year was between $2,500 and $25,000, and had to get approval from the Board if the total value of prizes was between $25,000 and $500,000.
Members of the Gaming Control Board's enforcement division said in an email that allowing organizations to proceed with a charitable lottery without registration if the prizes were worth less than $2,500 caused problems.
"This was extremely problematic in that without a registration requirement the board had no ability to provide adequate regulatory oversight to ensure organizations holding events were in fact qualified, and if so, were fundraising within the specified legal parameters," the enforcement division said.
After the revised law went into effect in October 2019, a lot of people involved with charitable fundraising began to learn about the requirements through various word-of-mouth channels.
Elaine Cassell said she heard about the regulations last year when the Soroptimist governor-elect in Nevada sent an information sheet to the Soroptimist clubs around the state.
"I was glad to know about it," Cassell said, "and I wanted to make sure that the others up there in the Elko area, that we partnered with at different times to help, I wanted everybody to know about it. I didn't want anybody in trouble."
Cassell was working on the Elko Soroptimist club's annual wine tasting fundraiser when she learned about the charitable lottery requirements. The fundraiser was less than 30 days away when Cassell contacted the Gaming Control Board.
"The gal that I spoke to at the Gaming Control Board was very nice, was very helpful," Cassell said. "The paperwork was easy. You just tell them what you're doing."
The Soroptimist club in Elko did get approval for their wine-tasting fundraiser in time for the event.
Cassell said she understands why the requirements are in place, and for an organization like the Soroptimists — which plans fundraisers months in advance — the requirements may not be much of a problem.
"But for a group like Friends for Life who do things on a more spur-of-the moment … that makes it hard."
"Friends for Life, they're amazing," Cassell said. "I've worked with Marge on a couple of things. I know how she's feeling, because when an emergency hits you want to help right now. … Some people may forget what happened in five weeks … They were ready to do it then, but not now."
Cassell pointed out that there are options for holding a fundraiser event without having a raffle. Donated items can be sold at a live or silent auction. But Warmbrodt said raffles have been a good and a fun way for Friends for Life to raise money for many years.
James Douglass, the exalted ruler and the building fund chairman for the Great Basin Elks Lodge in Elko, found out about the raffle requirements from Jeni-Lei Powell of Ruby Mountain Pawn in Elko.
"She informed us that Ducks Unlimited had gotten warned or something to that effect at one of their banquets about this new law," Douglass said.
Douglass said the Elko Elks probably made more than 20 calls to the Gaming Control Board in Las Vegas as they were working on the charitable lottery application to make sure they got everything right. Douglass also had to put together a lot of paperwork to provide proof that the Elks is a qualified nonprofit organization. He called the Elks national headquarters in Chicago to get some paperwork sent to him by next-day air.
"My number one take is, if you're going to do this, reach out to the Gaming Control Board and ask your questions," Douglass aid. "Had we not done that, I would say that it would have been a mess for us."
"They have been really good about working with us and walking us through the process."
Talking with the Gaming Control Board, Douglass learned that the requirements affect any organization doing fundraising with a raffle or any games that involve an element of chance.
"Your 4-H, your Little League, high school football, cheerleaders, it affects everybody," Douglass said.
"I feel sorry for all these other organizations that are trying to get through this process. I can see the time I spent doing it," Douglass said.
Douglass suggested that maybe a better system would be to require each organization that is planning charitable raffles to do one application that would qualify them to do several raffles throughout the year, rather than requiring applications with a lot of specific details about each raffle.
Political organizations
Lee Hoffman, chairman of the Elko County Republican Party, found out about another change in the charitable fundraising law when he was planning the county's Lincoln Day Dinner in early 2020. Political organizations can no longer hold fundraiser raffles.
The law that had been in place since 1991 said an "alumni, charitable, civic, educational, fraternal, political, religious, state or local bar or veterans' organization that is not operated for profit" can hold a lottery fundraiser. The revised law which went into effect in 2019 struck "political" from this list.
"Nevada Revised Statute 462 does not authorize political organizations to hold charitable lotteries in Nevada in support of fundraising for political candidates," the Gaming Control Board said in an email. "However, this restriction does not prevent other types of fundraising events to include both live and silent auctions, or events which solicit political campaign donations, etc."
Hoffman said he thinks it was the Nevada Republican Party's vice chairman who let people throughout the state know about the change.
"We were all left in sort of a scramble mode because raffles are typically a part of our fundraising effort," Hoffman said. "And pretty much most of the county parties ended up trying to do something different. … We did auctions and avoided doing any kind of a raffle."
"I always worry about all legislation, because somebody will stick something in there that you don't really understand until later," Hoffman said.
Confusion about the law
As people involved with charitable fundraising have talked with each other about the new regulations, there has been some confusion.
The law says people who violate the charitable lottery regulations are guilty of a "gross misdemeanor." Some people have heard the fine for violating the regulations can be all the profits from the raffle. But the Gaming Control Board said in an email that they are not interested in seeking harsh penalties.
"When identifying charitable organizations who have failed to comply with state lottery laws, Board agents take immediate action to provide the organization with dedicated service and education," the Board said. "The Board's goal is to motivate the organization to take the appropriate corrective actions and to aid them in future compliance."
The Board said they interpret the law to say the gross misdemeanor penalty would apply to those who operate illegal lotteries that "are intended to defraud money or property from members of the public."
Some people are confused about the rules involved with online sales of charitable raffle tickets. The application says a $500 "online technology review fee" must be paid "if a qualified organization proposes to use communication technology to facilitate online ticket sales." Reading through the law does not make it perfectly clear when this fee applies, but the regulations do say the Gaming Control Board's chair or the chair's designee may "waive all or part of this fee if the qualified organization submits proof that the Board has previously reviewed and approved the use of the communications technology for a similar lottery …"
Some people involved with charitable fundraisers have heard the new law prohibits people under 18 from selling raffle tickets for a fundraiser. However, the Gaming Control Board said in an email that "the selling of lottery tickets by individuals under the age of 18 is allowed as long as the ticket sales are supervised by a member of the organization and oversight is established to include the appropriate controls of all lottery tickets sold and money received."
The regulations that went into place in 2019 do say that "qualified organizations shall prohibit and prevent … a person under the age of 18 from purchasing tickets for entry into or collecting winnings from any charitable lottery offering a cash prize."
Every state has different rules for charitable raffle fundraisers. In Montana, for example, the Gambling Control Division provides a list of raffle guidelines, but says "a license or permit is not required to conduct a raffle in Montana," and "nonprofits may sell raffle tickets outside the state of Montana if the purchase is not prohibited in the jurisdiction in which the purchaser resides."
Many people involved with charitable organizations in Nevada do not think it is likely the state will completely do away with the requirement that charitable organizations register their raffle fundraisers, but many are hoping that Ellison's proposed bill or a similar one will make it through the Legislature this year, and changes will be made to make the process easier and to make it possible for organizations to quickly put together a raffle fundraiser.
"It would just be nice if it was a whole lot easier," Douglass said.
"The gaming commission needs to look at bigger things to fry other than little people trying to raise money for the community. It's not gaming."

— John Ellison, Assemblyman