Calistoga solidifies policy to limit tasting rooms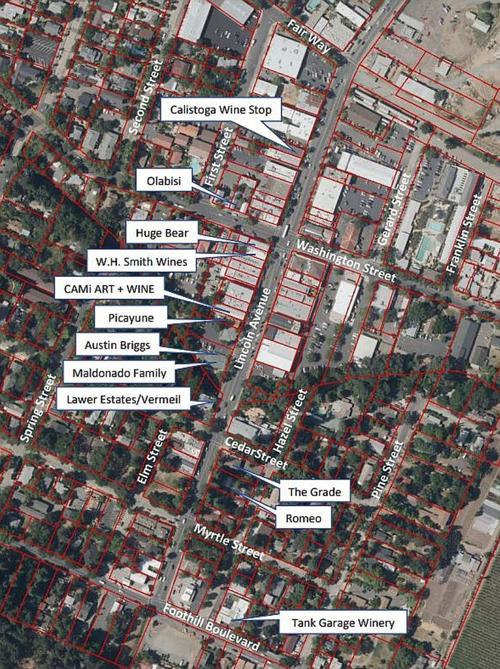 The city of Calistoga has formally adopted a policy to limit the number of new wine tasting rooms each year to two per calendar year.
At a meeting this past Tuesday, the city council unanimously agreed to allow a total of 12 wine tasting storefronts on Lincoln Avenue, and 18 in the downtown commercial district, including two storefronts along Washington Street.
A secondary use requirement was also adopted, requiring 25% of the tasting room, preferably in the front of the store, for another use, such as non-wine related retail, and to be local-serving.
The resolution, rather than an ordinance, does not change the city's zoning code, but will provide clarity to city statutes and guidelines for city officials when considering future tasting room applications. Existing standards within the code will remain in place.
The resolution also provides a more general "tasting room' definition to include the possibility of, for example, a whisky tasting operation.
The last time the city considered new tasting room standards was in 2015 and nothing was resolved at that time, staff said.
Earlier this year, the Calistoga Planning Commission recommended revising the current standards in an effort to been to provide consistent approaches in permitting and regulating tasting room uses while maintaining a balance and diversity of commercial development.
Currently there are 10 tasting rooms downtown, with one more recently approved. The policy will limit the number in the entire town to 26.
Under the policy, that number would be relatively easy to adjust should the situation arise, said Planning Director Zac Tusinger, adding the city usually gets an average of one tasting room application per year.
Mayor Chris Canning noted the policy could affect commercial property owners by eliminating possible tenants.
Councilmember Don Williams said he had received 15 emails from residents and 11 were supportive of the measure.
The measure passed unanimously, with Councilmember Lisa Gift abstaining due to a possible conflict of interest.
WATCH NOW: BOTTLES OF WINE RETURN TO EARTH AFTER A YEAR IN SPACE
Kristin Smart was the daughter of Napa's Vintage High principal Stan Smart. Although Kristin never lived in Napa, the disappearance generated …
At least a third of Brookdale Napa's 75 residents have tested positive for the virus, internal emails show. The outbreak is one of 13 active a…
Experts say the spike is the result of a pandemic economy and far from normal. In the meantime, skyrocketing home values could displace renters.
A 65-year-old man alleges two female Napa State workers sexually abused him and a doctor sterilized him more than half a century ago.
First American Title had sued Placer Title Company for unfair competitive practices and breach of fiduciary responsibilities.
Christian Curtis, former longtime bartender at the Calistoga Inn, passed away at age 46 from complications of COVID-19.
Long Meadow Ranch Wine Estates declined to purchase fruit that had already been contracted for, the lawsuit alleges, resulting in a loss of $4…
The 19th-century Yount mansion in Napa is a few months away from becoming a group home, despite the fears of some nearby residents.
Sylvia Moir will become interim chief of Napa Police pending an approval vote by the City Council.
A deteriorating two-story concrete building in remote south Napa County wetlands once relayed news from Asia to the rest of the United States …
PHOTOS: TAKE A STROLL THROUGH NAPA VALLEY VINEYARDS 2019
Lives of the Vines
Lives of the Vines
Lives of the Vines
Lives of the Vines
Lives of the Vines
Lives of the Vines
Lives of the Vines
Lives of the Vines
Lives of the Vines
Lives of the Vines
Lives of the Vines
Lives of the Vines
Lives of the Vines
Lives of the Vines
Lives of the Vines
Lives of the Vines
Lives of the Vines
Lives of the Vines
Lives of the Vines
Lives of the Vines
Lives of the Vines
Lives of the Vines
Lives of the Vines
Lives of the Vines
Lives of the Vines
Lives of the Vines
Lives of the Vines
Lives of the Vines
Lives of the Vines
Lives of the Vines
Lives of the Vines
Lives of the Vines
Lives of the Vines