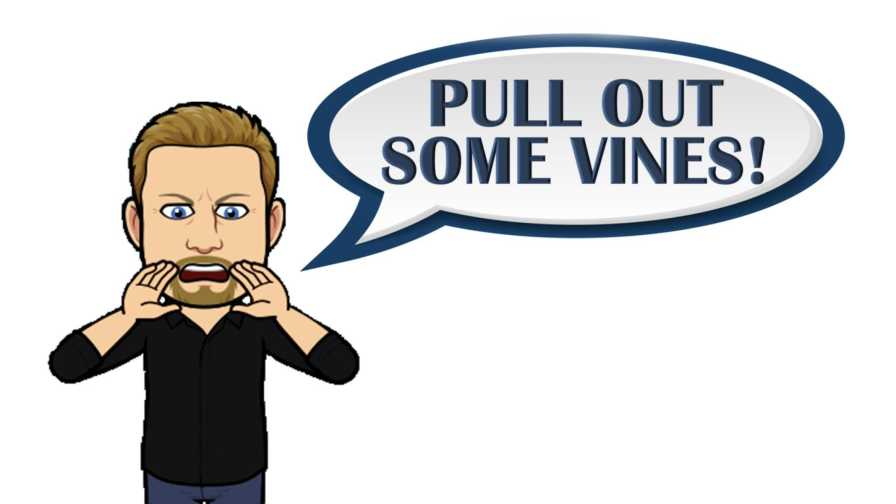 In the face of stagnant demand, California wine grape growers should take a hard look at their plantings and consider pulling out any vines that aren't up to par. That was the message Allied Grape Growers President Jeff Bitter told growers at the annual State of the Industry presentation at February's Unified Wine & Grape Symposium in Sacramento.
Bitter has been careful in recent years to refrain from telling growers that they flatly should not plant. In fact, he noted that as recently as last year the answer to the question, "Are you saying I shouldn't replant grapes?" was "Not Necessarily," though growers were advised to dig up non-performing vineyards.
But that sure changed this year, as Bitter went so far as to create an emoji of himself to get his simple message across. What changed is that it took the industry a couple of years to realize that it has been facing slackening demand since about 2015. At first, the buzzword was "premiumization," that consumers were going after better wines.
"The industry was largely hiding behind this term to divert attention away from lackluster overall wine shipments and toward apparent consumer willingness to pay more for better quality wine," he says.
It hasn't helped that California wine exports, which comprised about 13% of the state's total production, continue to struggle to maintain volume. The U.S. dollar has been relatively strong since 2015. But not all of the loss can be blamed on the strength of the dollar.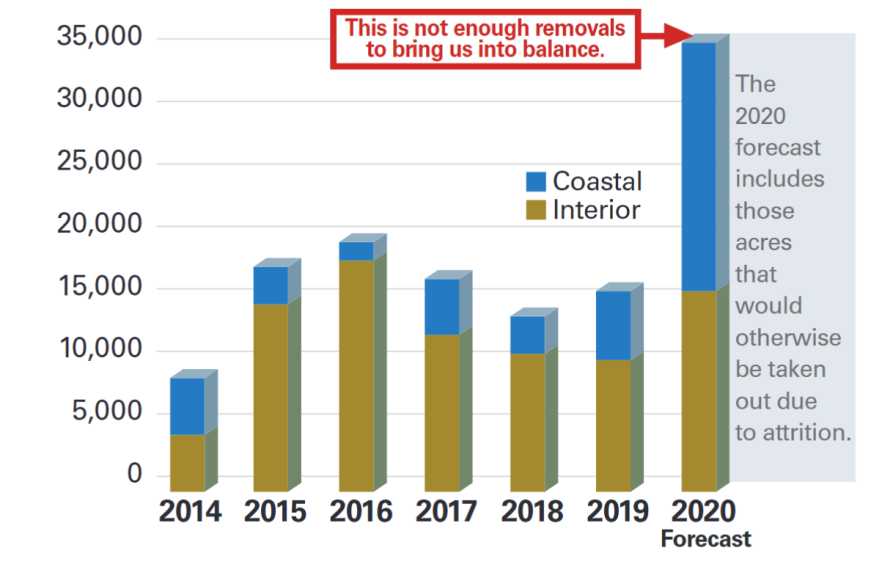 "Much like the U.S. consumer, the foreign consumer also has shifting tastes and preferences, along with hundreds of options to choose from with regard not only to wine, but beverage alcohol in general," he says. "Having an affordable product is certainly a benefit, but the challenges associated with enticing a foreign consumer to pick up a bottle of California wine go well beyond price."
But as inventories piled up, it became clear that change was necessary. The industry needed a new target. "Given today's wine shipment capacity," says Bitter, "our industry is comfortable at four million tons (or less) crushed."
That means the bearing acreage base needs to be 560,000 acres or less. The state has climbed to more than 590,000 acres the last two years, which means California is oversupplied by at least 30,000 acres of wine grapes.
"It sounds worse than it is," says Bitter, "30,000 acres is only about 5% of our acreage."
Other speakers during the State of the Industry sounded a similar clarion call.
Steve Fredricks of Turrentine Brokerage says we have experienced wine gluts before, but this is going to be tough.
"A lot of the 2018 (crop) is still in the (bulk wine) marketplace as we begin 2020," he says.
Danny Brager of The Nielsen Company noted that wine's share of the U.S. beverage alcohol market dropped for the first time since 2002. But on the bright side, the current market share is still good historically. Today it's 17%, while Brager says in 1960 it was just 7%.
Mike Veseth, "The Wine Economist," says it's easy to overreact to the current rough times in the industry. He noted that wine is not alone, and that sales of beer, soda, water, and milk are all relatively stagnant.
"And that's just the stuff we drink," he said. "The problems we have are normal for consumer goods in the U.S. and around the world."
---
California Wine Grape Crush Down Nearly 10%
The 2019 California wine grape crush was announced just one week after the State of the Industry, so it came as welcome news that the total was 4,085,772 tons, down 9.3% from the 2018 crush of 4,506,010 tons.
Red wine varieties accounted for the largest share of all grapes crushed, at 2,135,112 tons, down 12.8% from 2018. The 2019 white wine variety crush totaled 1,755,141 tons, down 4.3% from 2018.
Tons crushed of raisin-type varieties totaled 61,051, down 26% from 2018, and tons crushed of table-type varieties totaled 134,468, down 5.6% from 2018.
The 2019 average price of all varieties was $790.43, down 5% from 2018. Average prices for the 2019 crop by type were as follows: red wine grapes, $990.07, down 2.9% from 2018; white wine grapes, $580.66, down 8.6% from 2018; table grapes, $262.60, up 36.8%; and raisin grapes, $244.88, down 19%.
---
Priorities for Removal
Bitter says California wine growers should definitely be considering the removal of the following grapevines.
Virused vines in all regions — mostly 'Cabernet Sauvignon'
Generic reds in the Central Valley
Labor-dependent vineyards
Unfavorable 'Pinot Noir' clones — mostly those in older vineyards, but also 'Pinot Noir' in unfavorable locations
Yield-challenged grapes in all regions — particularly low-yielding 'Chardonnay'


7
7
5

California Wine Growers Urged to Pull Out Vines


David Eddy is the editor of Meister Media Worldwide's American Fruit Grower® and Western Fruit Grower® magazines. See all author stories here.