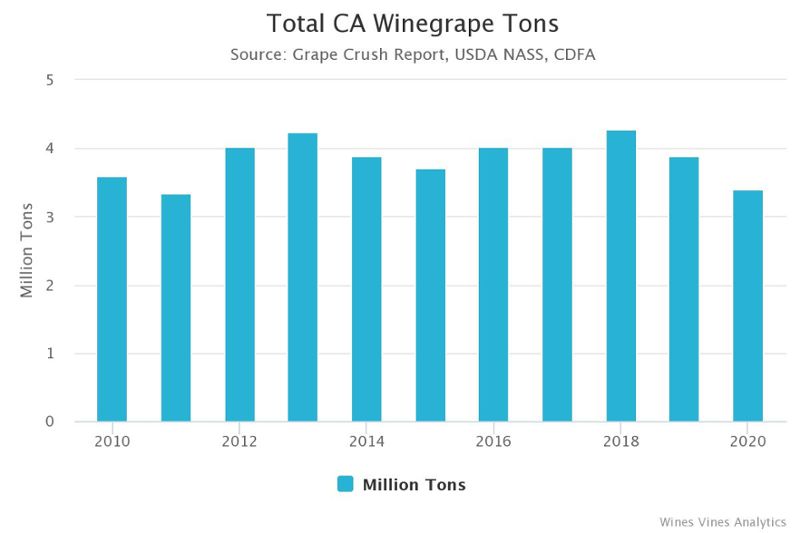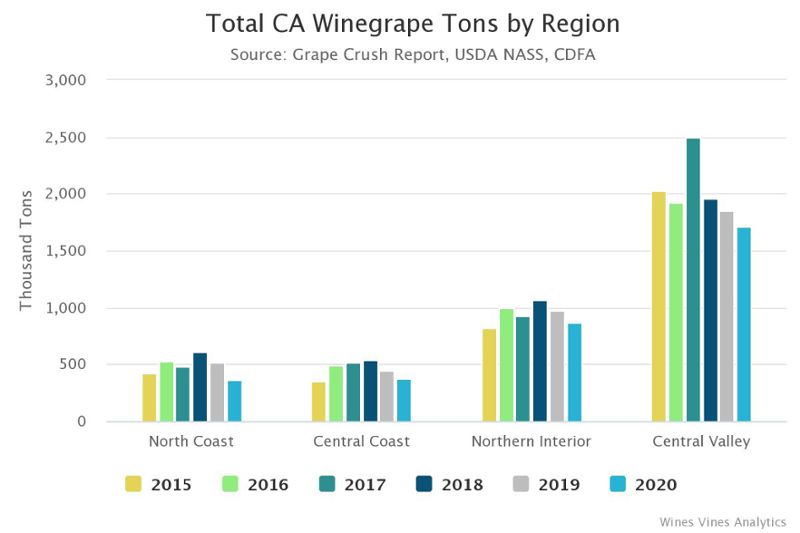 In its preliminary crush report released yesterday, the California Agricultural Statistics Service (CASS) said 3.4 million tons of wine grapes were crushed in 2020, down 13 percent compared to 2019 when roughly 3.9 Million tons were crushed.
Red wine varieties accounted for 1,813,964 tons, down 15.9 percent from 2019 and white varieties totaled 1,590,335 tons, down 9.8 percent. The 2020 average price of all varieties was $674.72, down 16.8 percent. Average prices for red wine grapes were $791.33, down 22.4 percent and for white wine grapes were $554.74, down 5.9 percent from 2019.
The overall number, 3.4 million tons, was right in line with industry expectations. "It's not surprising to see the total number because it's exactly what the people who look at this all year long thought it would be," Allied Grapegrowers President Jeff Bitter said. "It's comforting to know what we've seen develop in the marketplace is a function of what we assumed about the crop – that it was 15-20 percent below what we would have had with an average crop."
Napa and Sonoma Grape Prices Fall
CASS said grapes produced in District 4 (Napa County) received the highest average price at $4,577.62 per ton, down 20.7 percent. District 3 (Sonoma and Marin counties) received the second highest average price at $2,417.48 per ton, down 15.1 percent.
Average Napa Cabernet Sauvignon grape prices fell by $1,823 per ton in 2020.
The average Napa Cabernet Sauvignon price in 2019 was $8,008 per ton but came in at $6,186 in 2020, a decline of 23 percent. Napa Chardonnay prices, on the other hand, rose by one percent.
The report said 46,903 tons of Napa Cabernet Sauvignon were crushed compared to 81,810 tons in 2019, a 43 percent decrease and 34 percent below the five year average.
The report showed similarly dramatic declines in price and tonnage for Sonoma Cabernet and Sonoma Pinot Noir. It indicated 28,771 tons of Sonoma Pinot Noir were crushed in 2020, down from 47,178 tons in 2019, a drop of 39 percent.
Sonoma County Cabernet Sauvignon prices fell 21 percent; while Sonoma County Pinot Noir prices were down 20 percent. The report said 31,486 tons of Sonoma County Cabernet Sauvignon was crushed, making it the second lowest Sonoma County Cabernet crop since 2000. Sonoma County Chardonnay tonnage fell to a level that was 29 percent below the five year average. Sonoma County Chardonnay pricing was down 3.7 percent.
"We certainly had a light crop which you can see in the numbers," Brian Clements with Turrentine Brokerage said. "We also had the added effect of grapes from sub-appellation mountain regions that bring some of the highest prices being rejected, damaged, or destroyed. Together with the light crop and the fires and smoke-taint rejections, those grapes weren't delivered."
"Forty-six thousand tons is the lightest Napa Cab Crop in 11 years," Clements said. "Not to be overly dramatic but 23 percent down on price is pretty incredible."
Elsewhere on the North Coast, Mendocino Chardonnay prices fell 15 percent and Mendocino Cabernet prices fell 16 percent. Lake County Chardonnay prices dropped 16 percent and Lake County Cabernet prices fell 23 percent.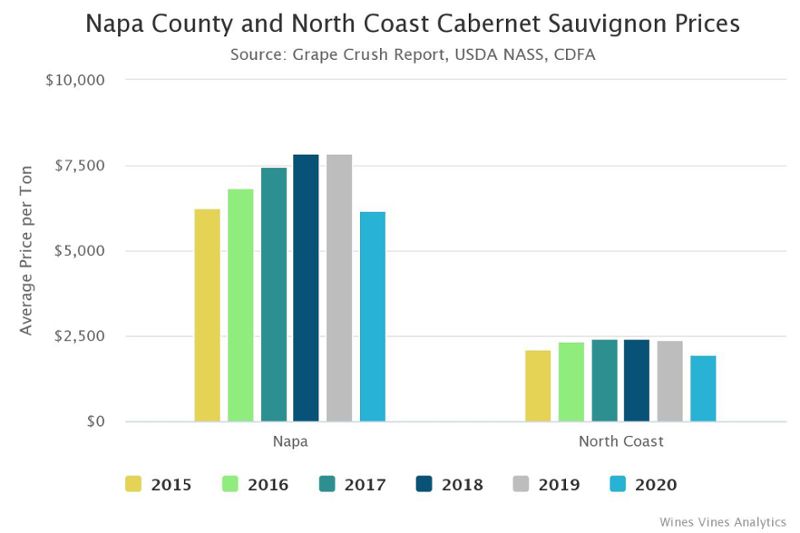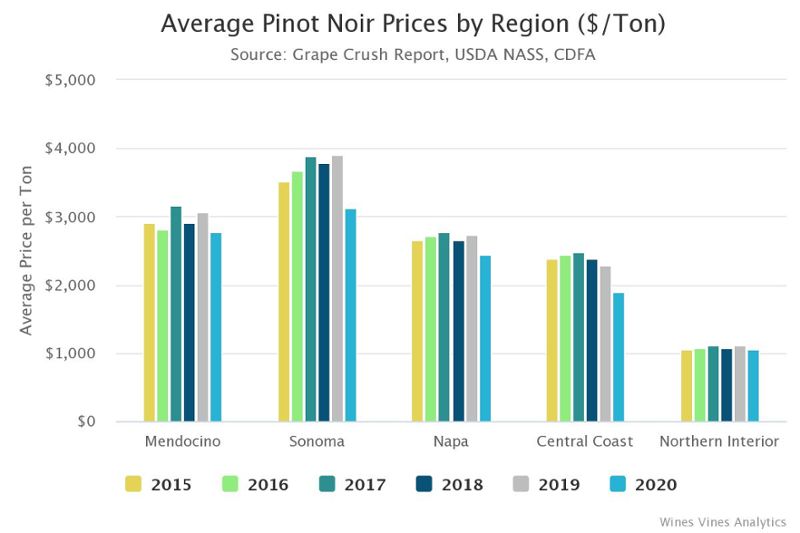 Central Coast Numbers Down A Little Less Dramatically
In 2020, the Covid-19 lockdowns led to pantry loading and demand off premise for wines priced below $15 per bottle down, and below $10, increasing demand for Central Valley grapes. At the same time, restaurant closures put downward pricing pressure on the more expensive coastal areas that are typically priced higher.
The Central Coast went into 2020 with an oversupply of bulk wine and grapes and some growers even leaving fruit hanging in 2019. On-premise shutdowns in 2020 posed an additional challenge but then some inventory quickly moved into California brands sold off premise.
Chardonnay prices in District 8, primarily Paso Robles, were down 8 percent in 2020, according to the report. Cabernet Sauvignon tonnage fell 10.5 percent while pricing on Paso Robles Cabernet was down 4 percent in the report, though in some instances it had already been selling for record low prices before 2020.
Pinot Noir was down 19 percent in Monterey County and 15 percent in District 8 (San Luis Obispo and Santa Barbara).
The market along the Central Coast was affected by smoke rejections on the North Coast with buyers coming down to the Central Coast to buy grapes, while there were rejections of Pinot Noir in Monterey County because of smoke, and even to a lesser extent in Santa Barbara.
"I think we're going to be down $200 million in value on the Central Coast, reflected by a lighter crop and lower district averages," Audra Cooper, a broker with Turrentine Brokerage said.
What's Driving the Bus?
Glenn Proctor with The Ciatti Company said some of the price pressure on 2020 grapes was the result of concerns about smoke exposure, but said smoke exposure wasn't the main driver – that much of the downward pricing was an adjustment following 2018 and 2019. "We had a big 2018 crop and 2019 crop where we potentially didn't crush 200,000 tons and a flattening of overall case goods growth," Proctor said. "We saw more available fruit; wineries renegotiating pricing contracts down; and the market trying to readjust out of contracts from an oversupply."
"It's tough, he said. "Prices have to be adjusted to make sense to the consumer but they also need to be sustainable for the grower."
Proctor said there's some concern from a North Coast perspective about off premise growth at competitive pricing leading large producers to use a California appellation more – the worry being that the California appellation is taking bandwidth from regional appellations. He said usually when one sees a migration to a California appellation, other players step up with new brands or introduce new packaging. "We haven't seen that type of entrepreneurial investment yet in some of the coastal areas," he said.
"This goes back to the presentation I gave at Unified," Bitter from Allied Grapegrowers said of the overall supply picture. "This situation we're in now has been created by a sudden change in supply. We could either have achieved that through pullouts, which we were recommending last year at Unified, or we could achieve it through some kind of crop loss. We've achieved it through both, having reduced acreage this past year and having the short crop, we brought ourselves back into balance."
Bitter acknowledged, though, that all it takes to get back to a situation of oversupply is one large crop.