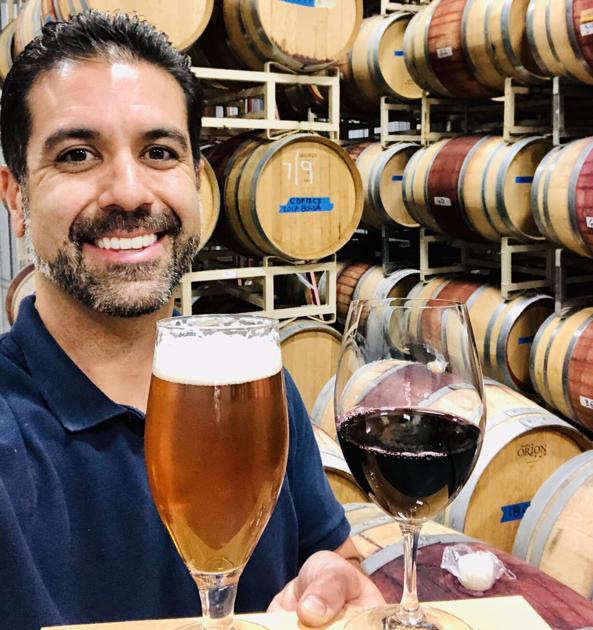 By Kate Frey
At the bright-white, Spanish-style Castillo de Feliciana (Castle of Happiness) Winery tasting room in Milton-Freewater, surrounded by profuse beds of fragrant herbs and brilliantly hued flowers, beer is brewing.
It joins an array of friendly, approachable, Spanish-style wines and a very popular sangria on draft and is the latest creative effort of winemaker/brewer Chris Castillo, who even as a child noticed breweries.
He describes the billowing steam and rich smells emanating from breweries in his homeland Pacific Northwest and seeing the strenuous efforts of the hardworking brewers in an industrial landscape that seemed cool and mysterious.
Growing up, Castillo said, he described himself at heart a naturalist who loved the natural world and biology. As a young adult, not knowing quite what he wanted to do, he took a "safe" route in college and majored in biology.
His father was a dentist, and there was a family expectation that he would become one also. The benefits were many. When it came to applying to dental schools, the realization that being a dentist was not something he wanted to do hit him "like a ton of bricks," and it was hard to tell his parents.
After graduation, Castillo took some time off to try and discover a path forward, and while in a bookstore, saw a book on home brewing and bought it. After a read through, he was hooked. Here was a way to connect his interest in biology with art and science.
With a newfound interest in beer brewing, he looked for jobs in breweries and got his first start as a temporary worker at Pike Brewing Company in Seattle bottling beer.
Next came a cellar worker position at Maritime Pacific Brewery in a Ballard, Washington, neighborhood. There he lived his early impression of breweries, and in the chilly cellars he washed kegs, moved heavy equipment and scrubbed floors among the wholesome odors of cooking grain.
As there wasn't the possibility of moving from what Castillo describes as "the theater of going from hand to mind," he next found an open brewer position at Mac & Jack's Brewery in Redmond, Washington. There, as they brewed 20 barrel batches (one barrel is equal to two full-size beer kegs), over two years he learned how to make beer on a production level.
Still, he found himself looking for what else was out there that involved fermentation.
At the same time, his parents, Deborah and Sam, both wine enthusiasts and his father a hobby winemaker, started a winery in the Walla Walla Valley. His father had been making wine in the household garage and had progressed to wines that were increasingly good.
Castillo approached his parents about taking a couple years off to participate in the Walla Walla Community College Enology & Viticulture program. After the first harvest in the program, his parents' winemaker left for another opportunity, and they asked if he would like to become the winemaker for the winery.
Castillo told them, "I'm here to do it, so let's go for it." An ensuing stressful few years learning how to make and sell wine commenced. He's since garnered "double gold" in the Seattle Wine Awards for his 2014 Tempranillo "Reserve" and 2015 Estate Malbec, as well as "platinum" in the Sip Northwest Best of the Northwest publication for his 2016 Graciano.
After his first few years into winemaking, Castillo notes he "missed brewing quite a bit and had to keep the brewer in me hidden," though he kept brewing for his own use at home. He says, "Many home brewers have thoughts and aspirations to make and sell their beer." His wife, Emily, suggested he get a tap going at the winery.
Now he is busy with the grape harvest for about three months, and adding beer production in the slower months will allow him to keep his passion for creation flowing. He describes how many brewers and winemakers tend to specialize in one beverage or another, and he feels lucky to be able to engage in both.
Winemaking has influenced his beer brewing and given him a thorough understanding of how important water quality, chemistry and pH are to the brewing process as well as cleanliness of the winery and equipment in making a quality product.
He really likes the balance of art and science involved in winemaking and brewing and that each beer and wine uses basic ingredients, yet each brewery and winery's products and flavors are so different. He believes there is always room for another because of each business' differing philosophy, ingredients and product flavors.
Castillo envisions the new beer offerings as something wine tasters will enjoy beginning or finishing tasting with or that will appeal to beer enthusiasts. The first release will include a pale ale brewed with imported European malts and fruity Yakima Valley hops and a refreshing golden ale, brewed with lightly kilned malts and Cascade hops.
In the pipeline is also a beer produced with all local ingredients, using local, organic-certified malt and Walla Walla hops. He plans to have fun with it and see where it goes.
The first brews were launched this summer at the tasting room, at 85728 Telephone Pole Road, Milton-Freewater, where there is comfortable indoor seating and lots of outdoor seating on the patios.
Lawns with a small pond cool the air against a background of the grand Blue Mountains standing poised in the distance.
The castle of happiness beckons visitors.
>>> Don't Miss Today's BEST Amazon Deals!
Originally Appeared Here