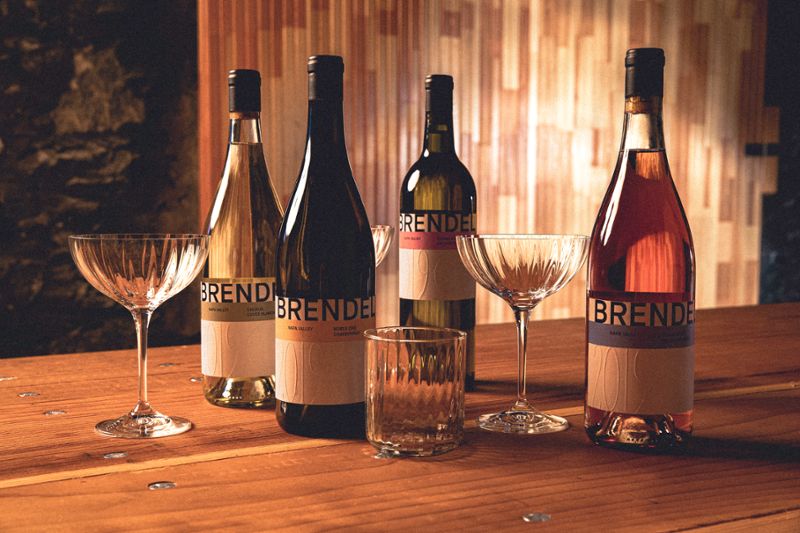 Napa Valley, CA (April 20, 2020) – Master Sommelier Carlton McCoy, Jr. and the Lawrence family are pleased to announce the launch of Brendel, a collection of distinct Napa Valley wines. In the coming weeks, Brendel will unveil its downtown Napa tasting room, which will open this summer.  Brendel is positioned to reconnect its consumers with celebrated roots in the Napa Valley.  As a creative outlet for Brendel's winemakers, these exceptional wines explore historical styles and showcase rare grape varieties. 
Inspired by purity and edge, the wines pay homage to Napa Valley pioneer Leon Brendel. In the 1950s, Leon bought a small plot of land to make one variety, Grignolino, a grape that could only be found in northern Italy at the time. This vineyard was sold to Joe Heitz with the promise to always preserve a small amount of Grignolino, a commitment that McCoy and the Lawrence family continue to honor. Brendel's namesake serves as a reminder to keep intentions pure in making wine that stays true to the land, one's roots, and most importantly, oneself.
"Brendel is a necessary addition to the dialogue of what the Napa Valley can offer. These wines are vibrant, elegant, and sourced from naturally farmed vineyards. They offer our team a platform to work with both traditional and experimental varieties. I'm thrilled to have Brendel as my everyday new house wine!" says Managing Partner and Master Sommelier Carlton McCoy, Jr. 
Brendel inspiration draws from a creative outlet for a collective of winemakers. Heitz Cellar's Head Winemaker Brittany Sherwood and Associate Winemaker Aaron Huntsberger crafted the inaugural 2019 vintage of Brendel. Additional winemakers and special cuvées will be announced with future vintages.
Helmed by Brand Director Cassandra Felix, Brendel's wines are free of unnecessary ingredients, and made with organically farmed 100% Napa Valley fruit. In short, the winemakers let the soil do its job and the grapes speak for themselves, with minimal interference from budburst to bottle.
"Brendel is about breaking down barriers and drinking delicious wine without pretension. It stands for creativity and authenticity. It also serves as a reminder to have fun and stay true to yourself –with no regrets," Cassandra Felix says. "These wines pay respect to history while refuting the status quo, demonstrating the diversity of wine styles produced from Napa Valley soil. Our talented winemakers are applying historic techniques as they work with our organic fruit, making wines that are imaginative, expressive and approachable at the same time."
Having relocated to California last year from West Palm Beach, Florida, Felix is an Advanced Sommelier through the Court of Master Sommeliers and brings nearly a decade of experience in wine and spirits to Brendel. Prior, Felix served as the head sommelier and beverage manager at the award-winning Flagler Steakhouse, located at prestigious resort The Breakers Palm Beach. As Brand Director for Brendel, Felix is the steward of this new venture established by the Lawrence family.  Under her leadership, she is the creative vision behind their downtown Napa tasting bar opening this summer, working with Brendel's collective of winemakers to deliver a lineup of unique varieties that lends itself to a laid-back atmosphere.
The Brendel portfolio includes:
Young Leon Frizzante Rosé 2019 (SRP: $30): This wine was inspired by Leon Brendel, an innovator in Napa Valley. In the early 1950s, he started making rosé, a wine that was not common at the time in Napa Valley. On the contrary to popularity and demand, he continued making the wines and did it well. This sparkling rosé is a tribute to him, made with organic grapes, and a hint of rebellion.
Everbloom Sauvignon Blanc 2019 (SRP: $28): Spring in a bottle, this wine was inspired by the floral-styled Sauvignon Blancs made in the Loire Valley, France. Sourced from organic grapes in the Napa Valley and harvested earlier in the season, this wine is crisp, mineral driven, and stays true to the storied soils from which it comes.
Noble One Chardonnay 2019 (SRP: $30): There is no cleaner portrayal of the Chardonnay grape than that in the Burgundian style. This inspired Sherwood and the winemaking team to create Noble One, an unoaked and mineral expression made with only the finest Chardonnay grapes. 
Chorus Cuvée Blanc 2019 (SRP: $28): The blended white wines of Friuli, Italy inspired the creation of this incredibly complex and aromatic cuvée – offering an outstanding blend of flavor and minerality. Much like a chorus, the blend of grapes – while each one is special on its own – work together in perfect harmony to create a wine that is greater than the sum of its parts.
Chorus Cuvée Rouge 2019 (SRP: $30): This field blend is reminiscent of Napa Valley's adolescence, composed of varieties that might be unfamiliar to some, such as Tempranillo, Tinta Cao, and Trousseau. Its lean texture is balanced by tension and finesse.
Cooper's Reed Cabernet Sauvignon 2019 (SRP: $40): This wine is a modern nod to history. Aged in large vessels sealed with reeds, this pure expression of Cabernet Sauvignon evolves with each sip and gracefully unfolds on the palate. A slightly bashful beginning leads to an exuberant end. 
Brendel wines will be available online at brendelwines.com.  Additionally, Demeine Estates will represent Brendel in the wholesale market. The Lawrence family works closely with Demeine Estates, the sales and marketing partner for each of its estates.
About Brendel
Brendel wines, a collection of heritage offerings established by Master Sommelier Carlton McCoy, Jr., and the Lawrence family, showcase the historical style of Napa Valley winemaking reminiscent of a revered era for the region. These wines are inspired by the philosophies of our namesake, Leon Brendel. Beginning with the inaugural 2019 vintage, they are defined by experimentation and authenticity, and handcrafted for early consumption and enjoyment. Brendel is a creative outlet for the winemakers of our historic estates.