Popular Producer of Acclaimed Central Coast Wines now Welcoming Visitors to Remodeled Facilities and New Tasting Experiences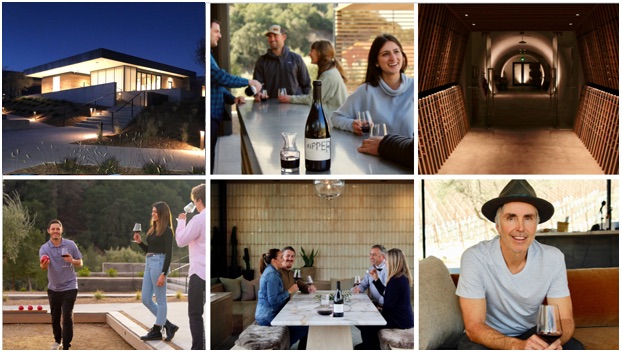 Paso Robles, CA (March 2021) – Booker Winery, one of Paso Robles' premiere boutique producers of Rhone-style red blends and Cabernet Sauvignon cult wines, is pleased to announce the opening of its newly constructed visitor's center and tasting room facility, now taking reservations online. 
Three years in the making, the renovations feature a 5,874-square-foot expanded outdoor tasting room, 10,070-square-foot underground wine caves, bocce courts and picnic areas overlooking the vineyards, ideal for lovers of great décor, music and wine. 
Led by owner and winemaker Eric Jensen, Booker now offers new experiential packages along with traditional tastings of the collector-worthy Rhone-style red blends the brand is known for: Oublie, Ripper, Fracture, Vertigo and a selection of winery-only offerings, as well as acclaimed Cabernet Sauvignon varietals My Favorite Neighbor and Harvey & Harriet. 
"We are beyond psyched to open the doors on this project after years in the making and tireless work from our team and partners," says Jensen. "We're finally giving our loyal fans and new customers the home base they deserve when we welcome them to Booker. Coming out of 2020, we're optimistic that fresh air, this awesome ambiance and world-class wines will be just the right remedy as people start to get out of the house again safely. Let's go!" 
Built by local architect Juan Carlos Fernandez of Signum and local builders RP Construction, the space incorporates a network of wine caves under the hillside, complete with a full wine library in the side wing and VIP tasting room, all underground. Directly above the caves sits the new 2,584-square-foot open space main tasting room, an "island in the vines." The hilltop space boasts a large patio outfitted with fire pits and a pergola for shade cover. 
The inside space features a large bar, ample seating, a vinyl lounge (where guests can play their own records or choose from Eric's storied collection) and a VIP terrace on the other side of the building with its own private fire pit.  Each room was decorated by small boutique designers with a heavy assist from Eric's wife Lisa Jensen, using organic and raw materials as much as possible and decorated with sustainable pieces. 
New experiential packages include: 
Cave Experience

Price: $150 
Timing: Private seatings at 10am and 1pm available
Duration: 120 minutes
Looking for an elevated experience that isn't pretentious, but easy and fun? Kick things off by going through an adventure  on the property with your own personal wine educator. Followed by a blind tasting to expand your senses and focus on the most important aspect of wine – the taste and aroma. Guests will be able to relax, throw on your favorite vinyls, browse through Eric's personal library of wines and enjoy some of Booker's finest.

 

Bottle Service and Bocce 

Price: $80
Timing: 10am, 12:30pm, 3pm seatings available 
Duration: 120 minutes
The perfect setting for a larger group, looking for an intimate  and fun social distanced setting to hang out with their friends, family or loved ones. Bottle Service and Bocce takes place in private outdoor lounge, featuring full vineyard views and bottle service – everything you need for a fun day with the gang.

 

Vineyard Picnic

Price: $80
*Seasonal availability
Duration: 90 minutes
Join Booker Vineyard for a private picnic experience among the vines and under a beautiful oak tree with breathtaking vineyard views. Each picnic experience will include a Kawasaki Mule ride out to the vineyard, a bottle of wine, and a Vivant Cheese plate. The experience is approximately 90 minutes and is available for groups 4+ people.

 

Terrace Tasting 

Price: $100 per guest
Tucked into Booker Winery's hillside estate vineyard, a private oasis from the tasting room, this refuge is the perfect place to relax. Enjoy club member exclusives for some of the most sought-after wines Booker has to offer.
Private events are also available for booking. Reservations can be secured by sending an email to info@bookerwines.com, booked online via Explore Tock or by calling 805.237.7367. For more information please visit https://www.bookerwines.com/.
About Booker Wines
Booker Vineyards is one of the leading boutique, critically acclaimed wineries representing the new generation of winemaking in Paso Robles, California. Located along the Central Coast in San Luis Obispo, the winery is equal distance between San Francisco and Los Angeles, just minutes from the beach – benefitting from the cool oceanic winds at night and daytime sunshine for ideal conditions for a versatile array of grapes from Grenache to Mourvedre to Cabernet Sauvignon. The name Booker comes from the two orphan brothers, Claude and Dick Booker, who purchased the land in the late 1920s. They dedicated their lives to being great farmers and humanitarians, leaving 100% of their estate to charity. Eric and Lisa Jensen purchased 100 acres of the property in 2001 with the intent of growing the best fruit for some of the best wineries in the area. After making wine with Justin Smith (of Saxum) for five years and Stephan Asseo (of L'Aventure Wines) for two years the Jensens decided it was time to create their own expression with Booker Vineyard. The 2005 Vintage was Booker Vineyard's first release with the wines being made by owner Eric Jensen.