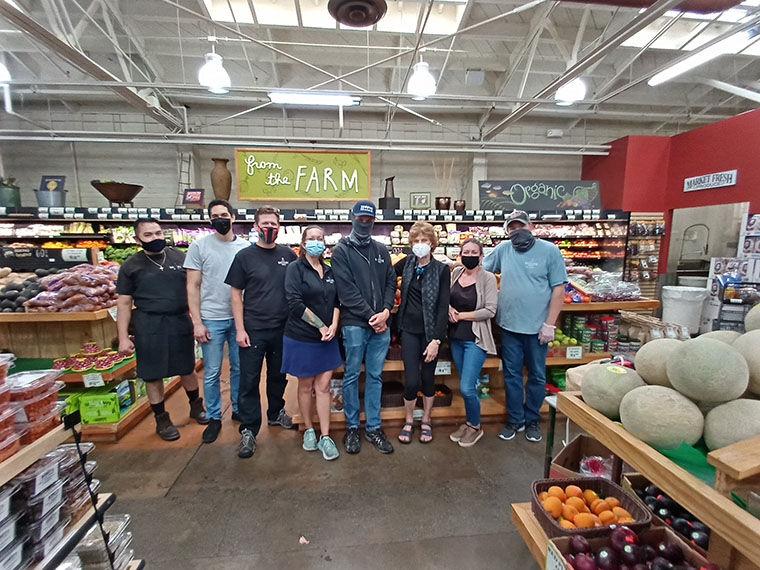 One local business that has become a mainstay and central part of the community is Boney's Bayside Market (Boney's, for short). Family-owned and celebrating 16 years in Coronado this October, Boney's prides itself on its foundation of health and wellness, both when it comes to groceries and to developing community.
Deborah "Debi" Boney, who owns the store with her sons, has a degree in health and wellness and sought to bring an alternative, locally focused grocery option to Coronado when she opened the store back in 2005. I spoke with Boney Bayside Market's longtime bookkeeper and human resources manager, Bobbi-Lyn Carter, who told me of the long history the Boney family has in the produce and grocery service, and how Debi Boney wanted to honor that in creating Boney's Bayside Market.
"The Boney family has been in the grocery service since setting up a little fruit stand in 1948," Carter recalled. "They've been in the grocery business since 1975, and Debi wanted to open a grocery store offering the best health and wellness to the community she lived in, to have that fruit stand feel and offer the best produce prices in town."
Coronadans have had larger chain grocers available to shop at on the island in the past, but when Boney's Bayside Market opened it offered a more locally-driven option.
"Most of the companies we work with are local," Carter said, explaining that their produce, meat, seafood, and dairy are all delivered fresh daily and are locally sourced. "I even had trouble with an invoice one time because it was from such a small, local vendor – a fruit stand – that we had to figure out the best way of who to make the payment out to. We've always made sure to have local connections with our suppliers who are sourcing fruit, eggs, honey, etc., in San Diego, even shops in Coronado. I think especially after the last year with COVID, everyone is realizing how important it is to keep things local, to keep them here at home where we need them."
Boney's has been able to remain open for the community throughout the pandemic, continuing to follow government and Cal/OSHA (Occupational Safety and Health Assistance) guidelines to provide a safe place for the community to shop and stay healthy. "[When] opening a store in Coronado, Debi's goal was to add to the wellness of the community, offering a natural health store option and making sure we're serving only the best products – the best produce, the best meat, everything. We've always passed inspection and continue to pass inspection, making sure we were following new protocols as COVID hit," Carter mentioned.
When the store had two employees test positive for COVID-19 last year, they immediately followed health and safety guidelines and precautions, being very transparent with alerting the community and detailing the steps being taken. "We never had to shut down," said Carter. "We always want to step up for our employees and the community so they feel safe. We had isolated incidents that were addressed very quickly following guidelines. We're always up with safety standards and training employees according to Cal/OSHA guidelines."
As the tiered pandemic restrictions were lifted as of Tuesday, June 15, vaccinated shoppers are no longer required to wear masks inside the store, however employees at Boney's will continue to be masked until Cal/OSHA determines it to be safe for employees to do otherwise. "We will continue our cleaning practices and whatever Cal OSHA sets as we move out of COVID, and going above and beyond requirements like keeping the spacing dots on the floor for extra safety," Carter stated.
Boney's had also been offering extra services free of charge to members of the community at greater risk and who could not get to the store physically to get their groceries, and will continue to assist these Coronadans as much as possible.
Boney's Bayside Market also reflects Debi Boney's lifestyle and values of commitment to the community. Carter, who also grew up in Coronado and has known Debi Boney's family for many years, has seen her dedicate her time and efforts to this community in as many ways as she can.
"Anyone who comes through the door with a Coronado need, Debi is ready to help out," said Carter. "We're constantly making wine and cheese gift baskets for donations for fundraisers for clubs and events around Coronado, we support the 4th of July Parade, teams and organizations like the Girl Scouts, and we haven't received the donation request this year yet, but we donate to the Coronado Schools Foundation every year."
Debi Boney's children were, and her grandchildren currently are, a part of the school system in Coronado and she knows the central place that building up the community plays in strengthening Coronado's foundation. Carter also sees Boney helping people in the store every day, whether it's listening to their health needs to help them find natural remedies to support their wellbeing or answering nutritional questions and offering assistance in the deli.
"Our main focus is on the community," Carter said, "and Debi is 110 percent invested."
Boney's Bayside Market is located at 155 Orange Avenue; open 8:30 a.m. to 8:30 p.m.; 619-435-0776.
>>> Don't Miss Today's BEST Amazon Deals!
Originally Appeared Here