Jan 03: The excise committee set up by the Delhi government in September 2020 to recommend changes in the excise policy for 2021-22 to increase the sagging tax revenues from the sale of alcohol, has been now put up on the website of the excise department for public to respond with suggestions by January 21, 2021 after which it will be rectified within 24 days to be put up in front of the Cabinet for approval and formulation of policy, writes Subhash Arora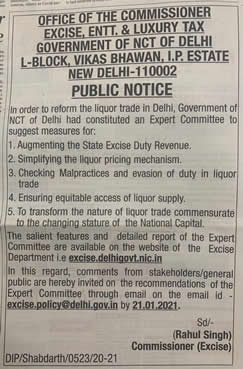 After the Delhi government released the Excise Committee Report last week recommending steps to improve the sagging tax revenues from alcohol, I received a call from a journalist of some newspaper. He wanted to know if I supported the proposed age reduction from 25 to 21 years, I replied in a strong affirmative. In fact, I reminded him that globally, most countries consider the legal age as 18 (and enforce it strictly too). I find it shocking that in India cancer-causing cigarettes can be purchased at 18, an age that people can vote, get a driver license and women can every marry but they have to wait for 7 years more to drink alcohol.
His argument was that this reduction would mean the youth start drinking early and this would increase road accidents and alcoholism. I don't agree. To start with, it is naïve to believe that these Zoomers wait till they are 25. Even when I was a student in IIT Delhi at 16, many of my friends used to drink occasionally but responsibly. Even today, that law is being broken every step of the way.  As an example, during the big fire in West Delhi a couple of days ago at a New Year's Party being held illegally in West Delhi, 2 young men and 2 women who were partying, were rescued by the fire department-they were all 20-24 years old!
Also Read : Reforms expected in Delhi Excise Policy for 2021-22
Even the NFHS Family Survey (Part 1) released recently considers the lower end of the age of 15 years for its data on alcohol drinkers in India-Several studies over the years show that many start drinking at the age of 14-15 years. What is important is to have school programs at an early age to discuss the adverse effects of alcohol and how to control them. I hate to see people less than 18 (16 in case of wine drinking), suffer in their healthy body growth due to alcohol, as any medical specialist will elaborate.
Promote 'Soft Liquor'
Perhaps for the first time, the government has chosen to promote wine and beer explicitly- though there have been instances like rebates on granting excise licenses for wholesalers and restaurants selling only 'soft liquor-' wine and beer. This will go far in keeping a check on the Zoomers in the 21-25- year age bracket, who should be encouraged to start and hopefully stick to this category as they get older.
Allowing department stores to sell wine and beer again is the call of the day. In fact, the government ought to target double the number of such stores -beyond the 145 that had the license last year till the government cancelled them. With a new set of department stores shining during Covid, it would be well worth it to target around 300 such stores which of course, must follow the rules with less restrictions than the previous occasion.
Trading under Government Corporation
An excellent recommendation has been made that the entire wholesale operation of IMFL trade should be brought under one government corporation. The reference seems to be to the system in Karnataka where Karnataka State Beverage Corporation (KSBC) as the controlling monopoly has been playing a tremendous role with practically no corruption. The stakeholders seem to be very satisfied with the system, not only because it reduces heavily the chances of corrupt practices. The  Delhi government had sent a delegation to Bangalore about a decade ago to study the details but had concluded that Delhi was not ready for it then. This will cut down a lot of red tape as well. It will also give more opportunity to individual producers and importers to promote their brands.
Retail Licenses through lottery system
It does not appear to be a fair idea to allot retail licenses every 2 years through lottery system, as proposed.  Haryana had a similar system and it resulted in roadside make-shift shacks selling wine etc. without proper air-conditioning. Modern Retail, if it has to develop, must have sustainability and longevity. One marveled at the way the liquor 'mafia' manipulated the system so that when different people got the retail licenses, there was simply shuffling of keys of the premises to the new allottees. They might even come back next year for the same location- at higher price, of course and the business was as usual within the syndicate.
More vends welcome
With Mumbai having 1190 retail vends and Bangalore even more-1794 vends, the 720 vends in Delhi are not adequate. The government needs to double the number in order to cater to the drinking population. This will not only give a hefty annual license fee but also make it more convenient for consumers. This can be done in phases in a period of 3-5 years. This can be tried on a lottery system. When the total number of vend target is reached, the government can then consider the system of lottery but for a minimum period of 3-5 years.
Service in open areas
This is again an excellent suggestion that will not only help increase sales and tax revenues, but will also help the consumers enjoy themselves, as Alfresco dining in balconies, terraces and any open space adds an extra dimension to the gourmet experience. Moreover, with Covid-19 not likely to leave us soon, it is better to encourage outside dining, the extreme weather in Delhi notwithstanding. The consumers and the government will really benefit with such a liberal step.
Also Read : NFHS Survey: Prohibition fails to reduce Alcohol Consumption in India
Government Exit Retail
This is yet another wonderful suggestion. There are several complaints from various quarters about the government operated stores and the open corruption can make plot for a non-fictional novel. Gradual withdrawal would make the market forces come into play and one can expect better stores, wider choice and no pushing of brands by the employees who are incentivised to push a limited number of brands only. It's best if the government controls the wholesale and let private Retail do its job.
A shining example is Gurgaon where there has been visible change during the current year alone, after the monopoly was eliminated this year. More modern stores have starting appearing in the horizon with Ahata licenses in demand to offer good food and allowing an opportunity to taste wines with food, which is fundamental to tasting but not easy to control operationally in a retail shop.  
Rationalise Brand Registration Fees
This is perhaps the most important aspect which the Committee has suggested but it's not clear whether the reduction is in the pipeline. The registration charges on a label for foreign wines work out to Rs. 60,000 a label which is ridiculously high. Consider that, it used to be Rs. 1,500, I believe, around 20 years ago and was later increased to Rs. 5,000. Rs. 10,000 and then straight to Rs. 60,000- making it the most irrational feature of the policy for wines. Some importers had over 600 wine labels in their portfolio but slashed them down to less than half. The smaller importers have had to cut down even more. The customer is thus devoid of a wider choice and when they want to trade up, the non-availability deters them from doing so.
With lower registration charges, the importers can experiment with much wider choice of labels that are popular internationally. This will make the sales go up many fold and yield much higher excise duty on the increase of sales rather than the one time- high registration charge.
Similarly, the high registration charges for Indian wines, of Rs. 200,000 a label and a cap of Rs. 1.4 million clearly suits the bigger companies which can afford to register higher number of labels of 15 or more, spreading the cost over a higher number of labels. A rationalisation is a must if we want to encourage more brands to enter the market, and obviously more sales. There are several boutique wineries which have extremely popular labels in the rest of India and even the world but due to their low availability and high costs cannot showcase then in the Capital. A pity!!
License fee
The licence fee for restaurants in premium areas like Greater Kailash or Aerocity is the same as in less popular areas with same seat covers. We welcome the committee recommending a review of this system and rationalising the licence fee on the basis of the locality/area instead of number of covers.
Other Points of consideration
Other points like service till 3 am (the law and order situation would still need to be studied) are welcome-there must also be a system of a Designated Driver (DD) at a table that needs to be introduced so that only the that person drives after the party and he does not imbibe any alcohol. In many places overseas, soft drinks are even on the house for them. Similarly, there should not be any problem with 24*7 operations as suggested.
With some of these steps in place, the restaurants would automatically be able to recommend better quality wines at higher prices which would yield higher tax revenues to the government.
Also Read : Delhi Excise Policy 2019-2020 announced with few Changes
The Delhi Government must not lose sight of the fact that Delhi is the Capital and the neighbouring States- Haryana and UP (and more specifically, the adjoining Gurgaon and Noida) should be envious of the policies in the cosmopolitan capital, rather than the other way around. The government is welcome to make the monitoring as stringent as they like- no one can grudge them that.
I urge wine drinkers in India and especially in Delhi to check out the details of the policy recommendations at www.excise.delhigovt.nic.in and give their suggestions to excise.policy@delhi.gov.in – the last date for such suggestions is 21 January, 2021. Remember, this is one way of appreciating the government for being progressive and have your opinion counted – make Delhi, the epicentre of wine culture in India
And remember to drink wine in moderation. A wine connoisseur never gets drunk:
Liquor for Nasha, Wine for Saroor,
Dono hee limit me peejiye Hazoor!  
Subhash Arora