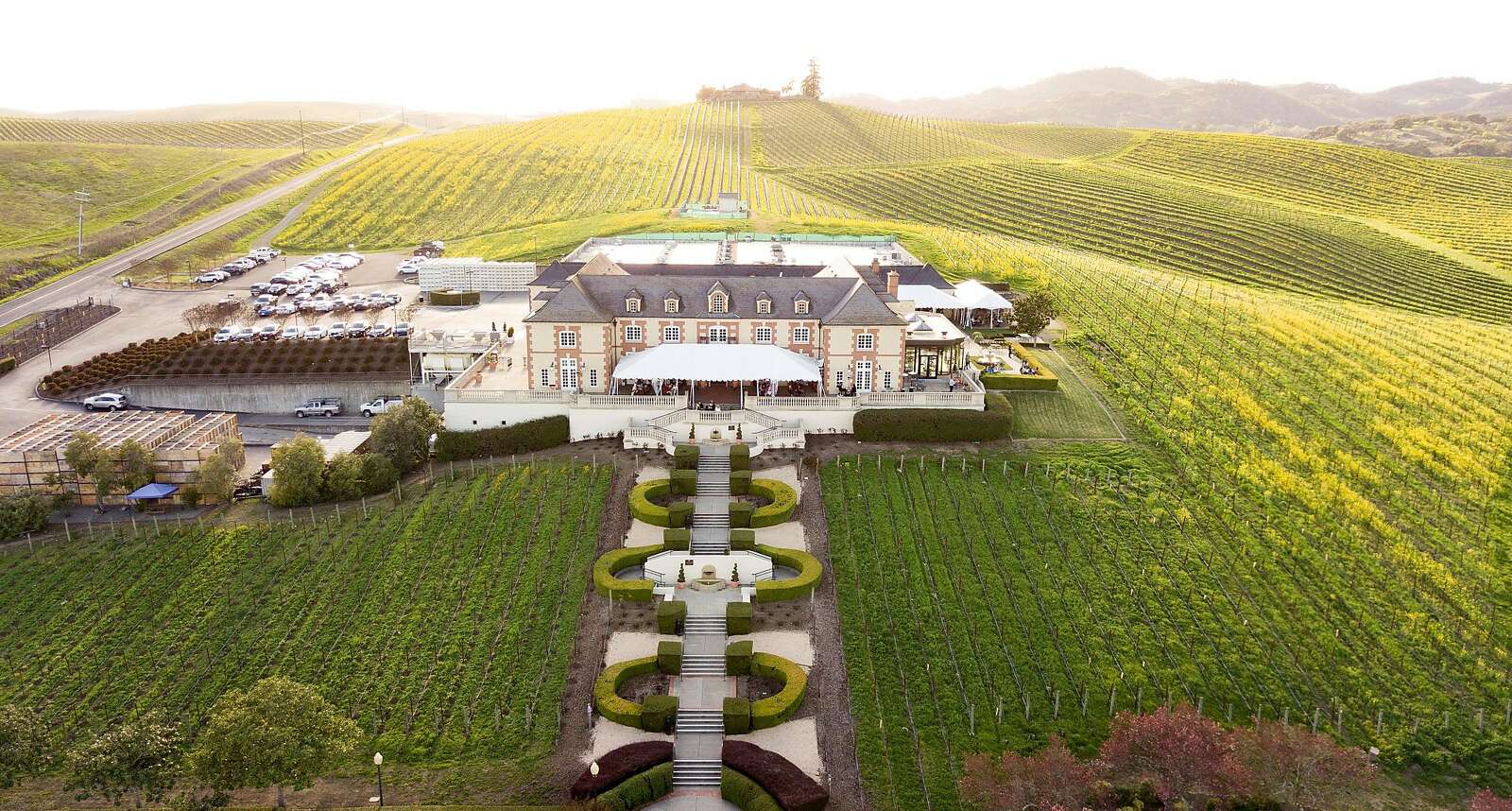 The grand, French-style chateau of Domaine Carneros in Napa
Spring 2021: Best Bay Area Wineries to Visit
Going wine tasting is one of the great Bay Area pastimes. Visiting a winery here is a chance to experience so many of the features that make this region special: the land's natural beauty, a rich tradition of artisanal craftsmanship and a deep, abiding love for eating and drinking deliciously.
Best of all, world-class wines are now made in all corners of the Bay Area — not just in the famous appellations of Napa and Sonoma counties, but also on mountains overlooking Silicon Valley and in former military bases in the East Bay. Today's Wine Country consists not only of palatial estates overlooking vineyards but also sleek tasting bars in downtown squares, industrial warehouses and, increasingly, sidewalks and parking lots, as urban wineries adapt to the needs of the COVID-19 era.
+ Read More
Check the boxes by your favorite wineries to create a wish list.
Ashes & Diamonds Winery
4130 Howard Ln., Napa
The winery that's trying to bring some midcentury cool back to Napa.
With its bright-white exterior, zigzagging roof and midcentury-modern digs, Ashes & Diamonds Winery looks like something you'd see in Palm Springs, not Napa Valley. That's intentional: The winery is going after a younger, hipper audience that might have written off Napa wines as something only their parents would drink. A survey of the crowd on any given day will make it clear that the strategy is working. The wines are solid, modeled on a rustic style of winemaking that was prominent in California a half-century ago. There are several showpiece, single-vineyard Cabernet Sauvignons from Napa Valley's hillsides, plus a rich Sauvignon Blanc blend and a fruity rosé. The tasting options here aren't cheap. But then again, almost nothing in Napa is, and the hearty, colorful snacks on offer make it one of the best wineries in town for a hungry traveler.
Tasting fee: $75
Phone: 707-666-4777
Website: ashesdiamonds.com
Auteur Wines

373 First St. West, Sonoma
A peaceful retreat for single-vineyard wines in a downtown Sonoma cottage.
An underrated stop near Sonoma's downtown square, Auteur Wines offers quiet, thoughtful wine tastings in an adorable bungalow. Though the space is small, visitors here will feel some privacy, whether sitting on the front porch, at tables in the backyard or in the sleek refurbished garage. Single-vineyard renditions of Sauvignon Blanc, Chardonnay, Pinot Noir and Cabernet Sauvignon come from all over Sonoma County; the wines are balanced and approachable, and the vibrant, tangy Chardonnay from the Hyde Vineyard in Carneros is one of the winery's most compelling bottles. Though the tastings are serious, with staff carefully guiding visitors through each wine, they feel laid-back, giving each party plenty of time to enjoy the wines on their own.
Tasting fee: $40
Phone: 707-938-9211
Website: auteurwines.com
Corison Winery
987 St. Helena Hwy., St. Helena
The holy grail of Napa Valley Cabernet Sauvignon.
All devotees of Napa Valley Cabernet Sauvignon will eventually find their way to Corison. Since 1987, winemaker Cathy Corison has made some of the most awe-inspiring wines in the valley, though it took a long time for her reticent bottlings to get as much attention as the flashier, more powerful Cabs being made at other Napa wineries. All tastings here begin with a guide through the Kronos Vineyard, directly behind the winery, where the grapes for Corison's top wine grow. Since tastings have moved from indoor to outdoor areas, the winery has been hosting visitors outside on the crushpad, with fire pits and blankets available for chilly days. The Corison Cabernets — elegant, long and graceful, often recalling raspberries and fresh herbs — are the highlights here, but the basic tasting also includes the winery's eclectic Gewurztraminer and a striking Syrah from the Sunbasket Vineyard.
Tasting fee: $55
Phone: 707-963-0826
Website: corison.com
Dashe Cellars
1951 Monarch Street Hangar 25, Alameda
A Zinfandel specialist with a light touch located in a former Alameda airplane hangar.
The specialty at Dashe Cellars is Zinfandel — but these balanced, bright, often single-vineyard wines fly in the face of any stereotypes of California Zin as jammy and boozy. The winery relocated in 2019 from Oakland to the area of the former Alameda Naval Air Station known as Spirits Alley, where a cluster of exciting wineries, distilleries and breweries has emerged. Dashe's setup is well suited to COVID safety: There's ample space outside of its warehouse winery at the southern edge of Alameda island, adjacent to a bird sanctuary and in prime view of the San Francisco skyline. Apart from the Zinfandels, make sure to try some of the wines under Dashe's Les Enfants Terribles label, a collection of crunchy, red-fruited, lightly extracted reds. The winery doesn't serve food, but food trucks come to the patio on Saturdays and Sundays.
Tasting fee: $20
Phone: 510-452-1800
Website: dashecellars.com
Domaine Carneros
1240 Duhig Rd., Napa
This grand, Champagne-inspired chateau is a tourist destination for a reason.
The ornate chateau that is Domaine Carneros certainly stands out among the rolling hills of Napa's Carneros region. If it looks very French, that's because it is: Its owners also own Taittinger, the famous Champagne house, and you may feel like you're in a French period-piece movie when you're sipping Domaine Carneros' sparkling wines above its geometric, manicured hedges. You can't tour the interior of the chateau for now, but the view is better from the outdoor terraces anyway; tents provide shelter on chilly days. Don't come here if you're seeking an intimate, off-the-beaten path experience. Domaine Carneros is busy and bustling, and can be a lot of fun if you're seeking that energy. There are regular, non-bubbly Pinot Noirs available to taste — and if that's your jam, you can choose to taste an entire flight of different Pinots — but the pro move here is going for one of the all-sparkling tasting flights. In case you arrive hungry, caviar, charcuterie, cheese and smoked fish platters are also available.
Tasting fee: $40
Phone: 707-257-0101
Website: domainecarneros.com
Faust Wines
2867 St. Helena Hwy., St. Helena
Modern Napa Cabernet in a gothic Victorian manor.
Come for the vibe, stay for the wine. The Faust Haus is one of Napa Valley's newest tasting rooms, having opened in summer 2020, and is also one of its most stylized. A refurbished 1870s Victorian mansion has been outfitted with lavish interiors meant to recall the sensual pleasures sought by its namesake, Dr. Faustus, the literary character who made a pact with the devil. Flights of Faust wines, dominated by rich and plush Cabernet Sauvignons, are served alongside small bites like veggies with tzatziki dip in the shaded outdoor patio areas, all of them overlooking terraced vineyards and busy Highway 29 in St. Helena. Like Flowers, its sister winery in Healdsburg, it's highly Instagrammable. The basement of the mansion has a stone-walled speakeasy, purportedly haunted, but you'll have to wait until the pandemic ends to trek into it.
Tasting fee: $55
Phone: 707-200-2560
Website: faustwines.com
+ Show all
More Chronicle Wine Stories
Find more of our critic's recommendations for exceptional wines and wineries in the Bay Area.
---

Follow our wine critic, Esther Mobley!
By subscribing, you agree to our Terms of Use and acknowledge that your information will be used as described in our Privacy Notice.
Have feedback about this project?
E-mail The Chronicle's Food & Wine team at food@sfchronicle.com.