Wednesday, February 10th 2021, 1:37 pm – Nearly 70 per cent of all carbon emissions released from wine production comes from shipping and transportation
Driving through the rolling hills of the Okanagan, British Columbia, every turn offers a view more stunning than the last. On one side of the road you can see the deep blue tones of Lake Okanagan that sits across the breathtaking cascade mountain range. In between the lake and the mountains lie endless rows of green vines growing grapes that will eventually be turned into some of the most desired wines on Earth.
The Okanagan has become internationally known for producing award winning vintages and experts say the climate here has a lot to do with that. Summer day time temperatures reach 40°C, but cool winter nights allow the grapes to maintain their natural acidity. This allows for both crisp whites and bold reds to grow successfully.
However, wine experts are worried that certain regions won't be able to grow the grapes they are famous for as the climate changes. In fact, a study published in Proceedings of the National Academy of Sciences found that 50 per cent of the current global wine growing regions would be climatically unsuitable for major wine grapes if temperatures increase by more than 2°C.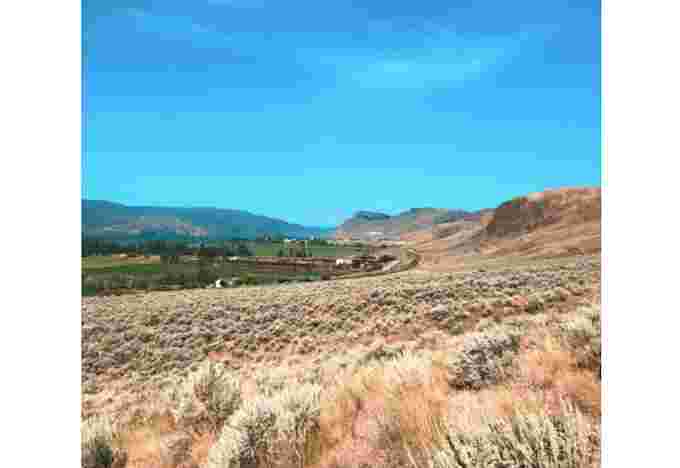 The Okanagan landscape. Credit: Mia Gordon
Joanne DiGeso, wine educator and founder of Sommwine, say it isn't just the temperature changes that has the wine makers concerned, but weather changes associated with climate change as well, as she informed The Weather Network.
"France doesn't change their wine laws easily, but recently they approved seven different varieties of wine to grow in Bordeaux for testing because they don't believe they are going to be able to produce those ageable wines made with Cabernet Sauvignon and Merlot in the future," DiGeso explained.
"Wineries are struggling because it is raining more. Rain during harvest time swells the berries and then they split, and once that happens they have to deal with rot and a lot of that gets thrown out."
The weather is also less predictable than it used to be. Grapes are being impacted by floods and fires and as the wine industry sees the impacts first hand, many vineyards are trying to find ways to reduce their carbon emissions to hopefully help save the varieties that grow in the region.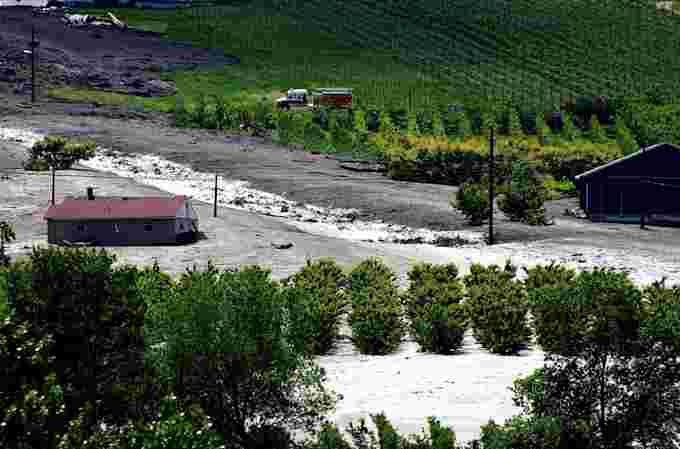 A massive mudslide that hit the Okanagan Valley in June 2010. Credit: Darren Kirby/ Wikimedia Commons. (CC BY-SA 2.0)
From the machines and fertilizers that help grow the grapes to the fermentation process itself, which produces both alcohol and carbon dioxide, to shipping the wine to the final destination, carbon emissions are part of the process. TXB Fine Wines says that each bottle of wine produces about 1.5 kg of carbon dioxide in its lifetime and 15 percent of the carbon emissions comes from growing the grapes.
With this in mind, wineries have been coming up with creative environmentally friendly ways to grow the vines. Blue Grouse Estate has found a way to recycle their waste water by processing it through bioreactors in the ground that adjust the pH levels and then filter it, while Burrowing Owl is using solar hot water panels for energy at the winery.
Off The Grid Organic Winery has made it a priority to be more environmentally cautious. They are currently building a facility that will use gravity to produce the wine, which minimizes the need for electricity.
While many of these wineries are incorporating sustainable practices onsite, the biggest polluter of all is the shipping and transportation of wine, which accounts of 68 per cent of all carbon emissions from wine production. Heavy 750 ml glass bottles are one of the items that produces a significant amount of greenhouse gases while being transported. DiGeso told The Weather Network that to tackle this area of concern, the industry has been looking at different packaging for the wine.
"You will see bag-in-the-box on the shelves now, you will also see tetra pak containers. These are really great because they are square so they fit into freights perfectly and use up the space wisely. The problem with those though is that they also use single use plastics, and a lot of those plastics end up in the ocean."
DiGeso believes that there is one solution that could really work: aluminium cans. "When you think of the life cycle impact, they are probably our best bet because 75 per cent of the aluminum ever mined is still in use today. The companies make money from the aluminum and usually it is the aluminum that pays for the recycling on everything else at a recycling depot."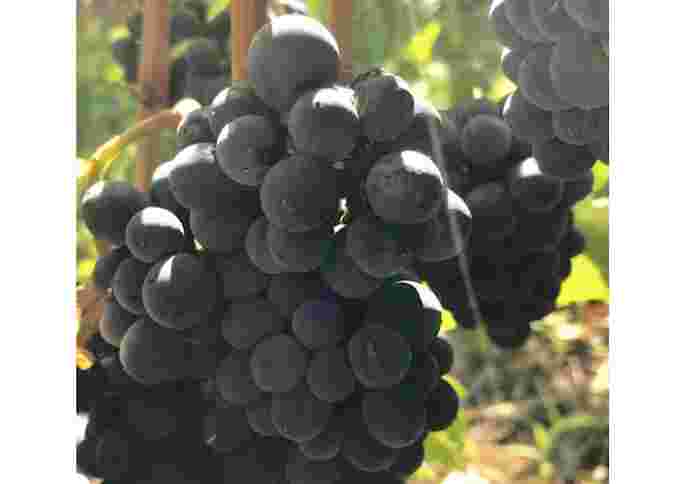 Pinot Noir grapes growing in the Okanagan. Submitted by: Robin Carmichael
At the end of 2020, Canadian wine giant Arterra announced new packaging that was 20 per cent lighter than their original bottles while family owned Castoro de Oro in Oliver B.C. has started making wine in a can. On top of looking at how to ship wine in a way that reduces carbon emissions, companies are also looking at when to do it.
"What global freight and logistics company Hillebrand is doing is looking at carbon emissions released per packaging by truck, plane, and shipping. By doing this they figured out that if they ship wines at a certain time of year, they have to pay for air conditioning, but if they send the wines at a different time, they could just use an insulated container and that lowers carbon emissions," DiGeso told The Weather Network.
There is no crystal ball that will tell us exactly how viticulture will specifically be impacted by climate change in the future, but what is certain is that the warming temperatures are changing the grapes, which is going to change the wine industry. Vineyards big and small in Canada and across the globe need to adjust how they'll grow them and also work together to try and find solutions when it comes to the impacts of climate change.
Thumbnail credit: Maja Petric via Unsplash