As the birthplace of Rudolf Steiner, the father of biodynamic winemaking, Austria has long been a leader in organic and biodynamic winemaking, but it's also building a reputation for orange wines, as a recent webinar hosted by the Austrian Wine Marketing board explored.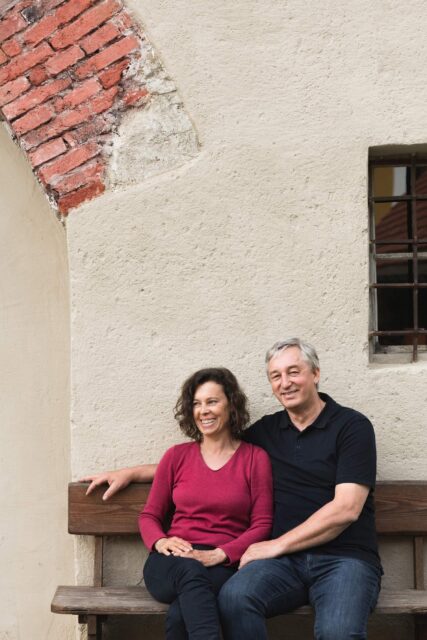 Overall, Austria produces around 2.4m hectolitres of wine a year, relatively small on a global scale, but comparable to countries such as Greece (2m hl), Hungary (2.9m hl) and New Zealand (3.3m hl).
The vast majority of producers are small structured, family run vineyards, and so more readily lend themselves to the production of small scale, organic and biodynamic wines.
Of its 46,515ha of vineyards, a third are managed organically, with 15% certified organic, making it the wine region with the highest proportion of certified organic vineyards in the world.
A further 12.4% of its vineyards are certified 'sustainable' under the Austrian Winegrowers Association, a scheme introduced in 2014 that also takes social responsibility into account. Another 2.77% are certified 'biodynamic', covering 1,290ha (with the Sattlerhof winery in Styria recently converting), under the Demeter and Respect bodies – the latter being a vintners' association managed by wineries across Austria, Germany and Italy.
The remaining vineyards (around 3/4 of all vineyards in Austria) are managed according to 'integrated viticulture', a more flexible set of regulations that allows limited herbicide and pesticide use under strict conditions and broadly seeks to put conservation and human health at the forefront of production.
ORANGE WINES 
So, Austria offers rich pickings for sustainably-produced wines. But while Austria is famed for its Eiswein, it was winemakers' growing focus on skin-fermented (orange) wines – white wines that have been made with extended skin contact/maceration during fermentation – that stood out during the Austrian Wine Marketing Board's Crisp & Fresh tasting.
Maria and Sepp Muster were among the first to make serious skin-fermented wines in Styria, starting from the 2007 vintage. Their 2018 Gelber Muskateller 'Vom Opok' is an organic, natural and biodynamic, barrel-aged white wine made with Muscat Blanc à Petits Grains.
"I think it's very interesting to see the spread of skin-fermented white winemaking throughout Austria," said Simon Woolf, founder and editor of The Morning Claret and one of four guest panelists, who extolled Austria as being "one of the most exciting countries in Europe" for orange wines, following in the footsteps of Italy and Slovenia.
Woolf drew a link between Styria being the heartland of Austria's skin-fermented winemaking movement and its proximity to Slovenia and the Adriatic coast.
"We aren't far away from the heartland of orange wines on this whole corner of the Adriatic where they have been popular and it's really interesting to see how people like Sepp and Andreas Tscheppe are taking to this style. They all show that Sauvignon Blanc, from Stryia in particular, is such a big character when skin-fermented and shows a different side of what that grape can do and the way that it can make the terroir speak. They have put a very Austrian slant on orange winemaking.
"Then it spread into Burgenland where you have a totally different style, more fruit-focused, so I think for me Austria is one of the most exciting countries in Europe for orange wines, not withstanding Slovenia, Italy and so on. It's great to see, and I love the Muster orange wines – very serious, very structured and complex wines that you can just age forever really."
FIELD BLENDS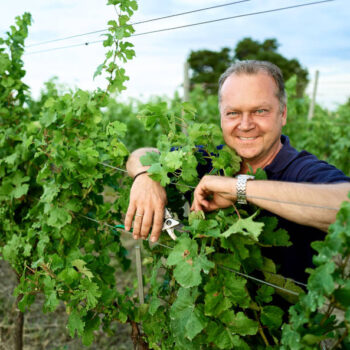 Field blends too, or Gemischter Satz – the traditional field blend wine of Vienna – also drew attention via the wines of Fritz Wieninger, a leading producer of the style who is widely credited with its revival as a quality wine.
Historically, Gemischter Satz was most commonly considered a 'jug wine', drunk in heurige wine taverns. However, since 2006 a small group of winemakers – WienWein, led by Fritz Wieninger – has been working to transform the image of Gemischter Satz by making and promoting premium field blend wines from the Vienna region's best vineyard sites.
In 2013 Wiener Gemischter Satz became the Austria's ninth DAC (Districtus Austriae Controllatus) – the first time Austria had recognised a wine style rather than a geographical region for DAC status.
"It's easy to forget that over the past couple of decades we have moved from an era where everything was about varietal wines," adds Woolf. "Let's have a Sauvignon Blanc, a Chardonnay. The whole idea of Gemischter Satz where it's a field blend, varieties co- planted and co-fermented, was really a bit out of fashion and people like Fritz really had to do a lot of work to get that back on the table to realise that this can mean quality and terroir expression."
The approach was originally designed to protect yields and minimise risk during poor harvests. Typically, A Gemischter Satz will contain varying proportions of Grüner Veltliner, Riesling, Chardonnay, Weissburgunder (Pinot Blanc), Welschsriesling, Neuburger, Müller-Thurgau, Sauvignon Blanc, Traminer and Gelber Muscateller (Yellow Muscat).
But while its production can appear chaotic, and somewhat haphazard in its approach, it's anything but, Woolf points out.
"What I love about Gemischter Satz is that it's not random," he says. "We think of the idea of a field blend – it's everything thrown together, whatever was growing in the vineyard. It was never random. People planted these mixed vineyards with some care. They would always be 5-10% of an aromatic variety in there somewhere, such as Traminer, to give it a bit of lift and feeling of freshness and perfume on the nose. Each variety plays a part and they are planted in a vineyard with a view to how it will end up in the final blend."
Vineyards in the Gemischter Satz DAC have to include at least three quality white grape varieties, planted together, and must be listed as Wiener Gemischter Satz in the vineyard land registry. The first grape variety must constitute no more than 50% of the blend, and the third at least 10%. The wine must be dry, no more than 12.5% abv and should not have a 'strongly recognisable expression' of wood. Single vineyard wines made under the DAC must be at least 12.5% abv, do not have to be dry and cannot be released until 1 March in the year after harvest.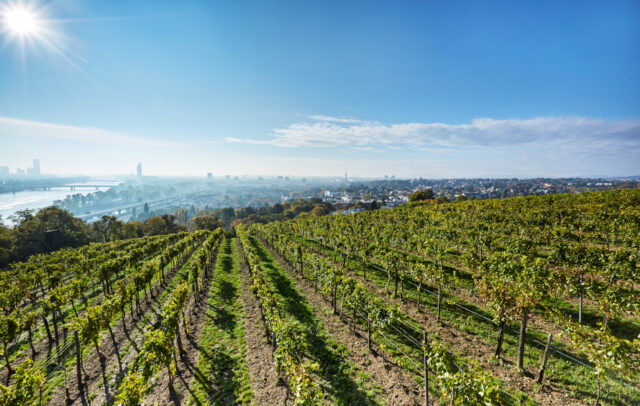 "Fritz has also innovated in a number of other ways," adds Woolf. "I love what he's done working with colleagues, raising the quality, first converting to organic – he was a pioneer in that respect – and now biodynamic. He's really pulled everyone up with him and this to me is how wine regions develop and improve, because of people like Fritz, by saying we can work together and show people something special."
Fritz' 2018 biodynamic Gemischter Satz DAC Ried Ulm, is made from grapes grown on an ancient marine terrace with a subsoil of Viennese sandstone and a high proportion of limestone on hillsides surrounding the city of Vienna (above).
"It's full of interesting bits and pieces and they combine to make more than the sum of the parts, and that's what makes a good Gemischter Satz," adds Woolf. "You don't have to focus on that variety, or another – it's about how they come together in the vineyard and give this lovely complex wine that's full of depth and nuance."