'Hidden Gems' of Australian wine take center stage in new web series
4/28/2021, 11:21 a.m.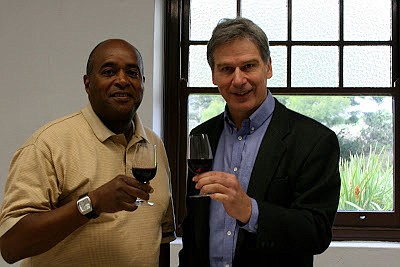 Dwight Casimere with Bernard Hickin, Winemaker Emeritus at Jacob's Creek Winery, Barossa Valley, Australia
Australian wine is coming on strong for 2021 with its new web outreach program, Australian Wine CONNECT. Australia began making wine over two centuries ago. The country is loaded with family-owned wineries with long histories. It is only in the last few decades that the world, and the US in particular, have become familiar with these food-friendly and fruit-forward wines.
Australian wine is extremely diverse with its many small regions with unique microclimates. The country is best known for its Grenache, Shiraz (they pronounce it Shih-RAZZZ!), and its powerful Red Blends. Over the next twelve months, Australian Wine CONNECT will offer unique opportunities to communicate directly with winemakers and participate in virtual tastings. A regular series of virtual tastings will offer a variety of experiences that will enhance the appreciation of Australian wine.
"Australia is always pushing the boundaries," said Australia Connect Host Mike Bennie. "We pride ourselves with always being on the cutting edge. It's part of our DNA!
"To the rest of the world, we're a new industry," Bennie continued, "but in reality, we have a history that goes back to the origins of the country. What's different about us is that we've been able to harness all of the history and that knowledge and move it into the current age with new technologies."
While best known for its indigenous grapes, Australian winemakers work with more than 40 grape varietals to create truly interesting and dynamic wines. More new wines are on the horizon.
With more than 60 winemaking regions to its credit, there's always something new.
"Winemakers are bending more toward creating more 'field blends' with various types of grapes growing in close proximity, as opposed to creating 'bench blends' in the cellar.
"There's already a bedrock of interesting varieties in Australia," Bennie explained. "What's clear is that there's a never ending source of materials to bring more into Australia to keep diversification alive and well for us."
Australia has a number of lesser-known, unsung regions, that are yet to be discovered by US wine lovers.
Katherine Brown of the Brown Family Wine Group in King Valley, Victoria, is one such unsung winery. "When people ask me about some of the hidden gems of the Australian wine industry, my mind turns to some of the beautiful, but small regions that we have across the country. Areas such as Robert Glen, which is in the northern part of Victoria and has beautiful fortified wines. You would not find these wines any place else in the world. They are truly unique.
"Speaking of uniqueness, I'm looking over to the remote area of Franklin River in Western Australia. This region makes beautiful Rieslings that are steely, slatey, with just that hint of citrus. These regions are so diverse and so different. We are truly fortunate to have such a big country with so many regions that have their own style and terroir. There's also a difference in philosophy that drives the winemaking process."
Mike Bennie summed it up best. "I'm a big fan of stepping out there and discovering the diversity of wine that comes out of these hidden gems. What we intend to do with Australian Wine CONNECT is to help people discover what makes a wine express its specificity, its regional style. I'm a massive fan of reaching out to those wineries and wine regions that don't necessarily hit the radar."
"Regional expression IS a style," said Virginia Willcock of Vasse Felix winery in Margaret River, Western Australia. "If you respect the produce (the grape), it creates a certain style. I believe that style comes from a region and that the individual estates and their winemakers will create the nuances."
What are some of the more successful varieties that are emerging on the scene? Ashley Ratcliff of Ricca Terra in Riverland, Southern Australia, offered this profile. "Fiano is an Italian variety that is gaining a reputation for creating full flavored, aromatic wines that have notes of honey, nuts and spices. Vermentino, another Italian varietal, is also gaining traction among the white wines, both as a single variety wine and as a significant player in white blends."
The choices are endless, and Australian Wine CONNECT opens the internet portal to discovery. Visit connect.australianwine.com to learn more.