At-home hobby evolves into online business targeting brewers and winemakers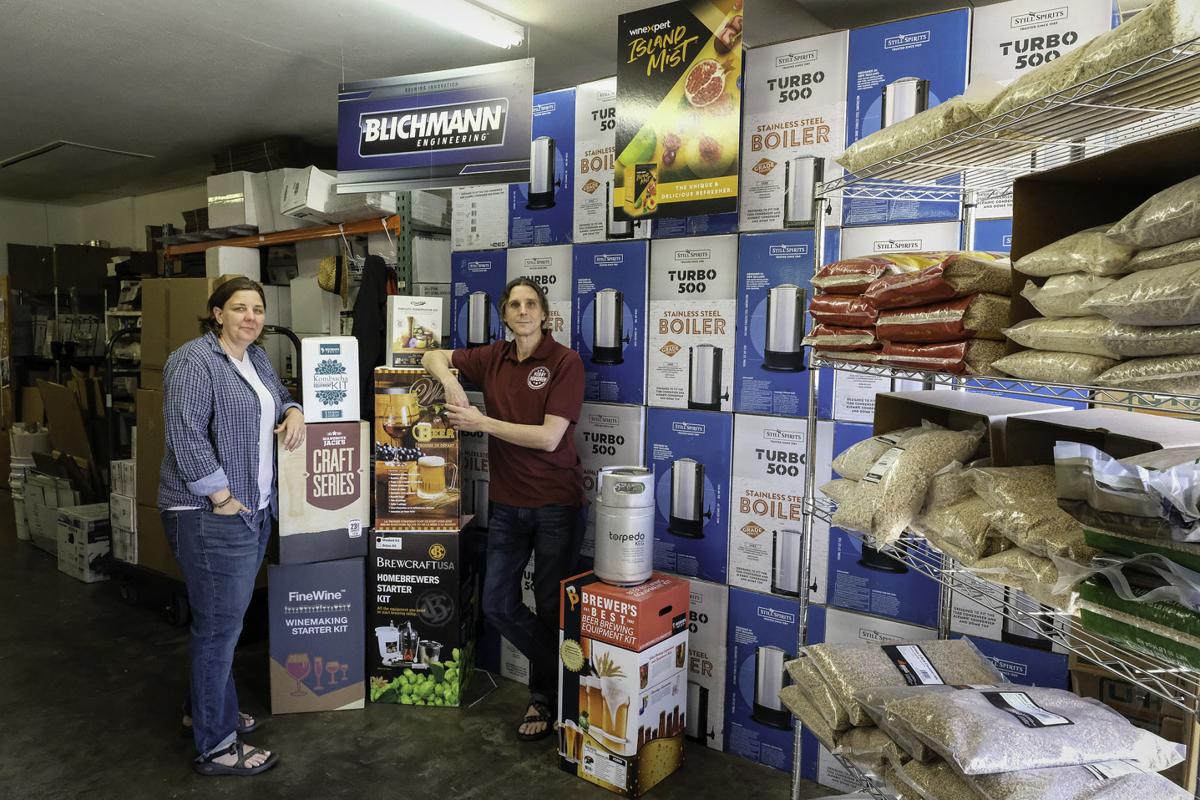 LES O'DELL
For The Southern

Charlie Strusz may not have realized it at the time, but as he was furthering his hobby of making wine at home, everything was in place to turn his pastime into a full-time business.
Combining Stursz's need to pass along extra bottles and other items he had purchased, a background in information technology, a long-held dream of owning a mail-order business and passion for brewing, he took a kitchen-counter hobby, and turned it into a garage and spare bedroom side business.
Eventually, it became a full-time Carbondale-based retail and e-commerce business providing home brewing equipment, ingredients and related products to hobby and professional brewers and winemakers across the country.
"Hobby Homebrew, the name of our company, tells exactly how we got started," Strusz tells of the business he owns and operates with his wife and two children. "It was my hobby. It's one of those stories of how a hobby grows and gets wild on you. That's exactly what happened to me."
Strusz said everything began in about 2004 when he discovered the least expensive way to purchase wine bottles was purchasing them by the pallet.
"So that's what I did. I kept what I needed and I started selling the rest online," he recalls. "Pretty soon I needed other equipment. I would always order more than I actually needed for my personal use and I'd sell the rest online."
The more the Struszs offered online, the bigger their inventory and customer base grew. By 2016, Strusz and his wife both had retired from their jobs, focusing solely on Hobby Homebrew and moved out of the spare bedroom and garage and into a larger, dedicated facility in Carbondale. Today, Hobby Homebrew in one of the nation's top 20 homebrew stores in the United States, shipping more than 165,000 items in the last year.
"We sell equipment and ingredients for making your own wine, beer, soda – anything that you brew yourself," he explains, adding that the company's product line is growing and now includes more than 2000 products. Among them: Gourmet food ingredients as well as flavorings, spices, and barbecue sauces and rubs.
"Hey, beer and barbecue go together," Strusz said with a laugh.
Strusz said while some customers shop in their Carbondale location, as much as 99% of the company's sales are online. He adds that Hobby Homebrew has gained new online customers as similar retail shops around the country which did not have a web presence closed during the pandemic.
"We're fortunate that our business is always online and this year we even worked with some customers who had never before purchased anything on the internet," he said.
Many of the online offerings are Southern Illinois-based products like Cairo-brand barbecue sauce and Sauced Up Smokers brand products from Murphysboro. The company is also expanding into survival gear and camping equipment, harkening back to one of Strusz's childhood dreams.
He recalls being an adolescent of 13 or 14 who loved all things camping and would spend hours peering through advertisements for camping gear.
"I had this dream of having a camping supply mail-order store," he said. "I actually made up a catalog of what I was going to sell. It was all like a hand-drawn comic. That was a childhood dream that has been fulfilled."
He said plans are for his children to continue to grow both his customer base and inventory as well as to have his children take the reins of the company.
"It's going to be Chuck and Chris completely running things by the end of the year," he said, sporting a wide smile. "This has been fun. We are blessed and we enjoy what we do."